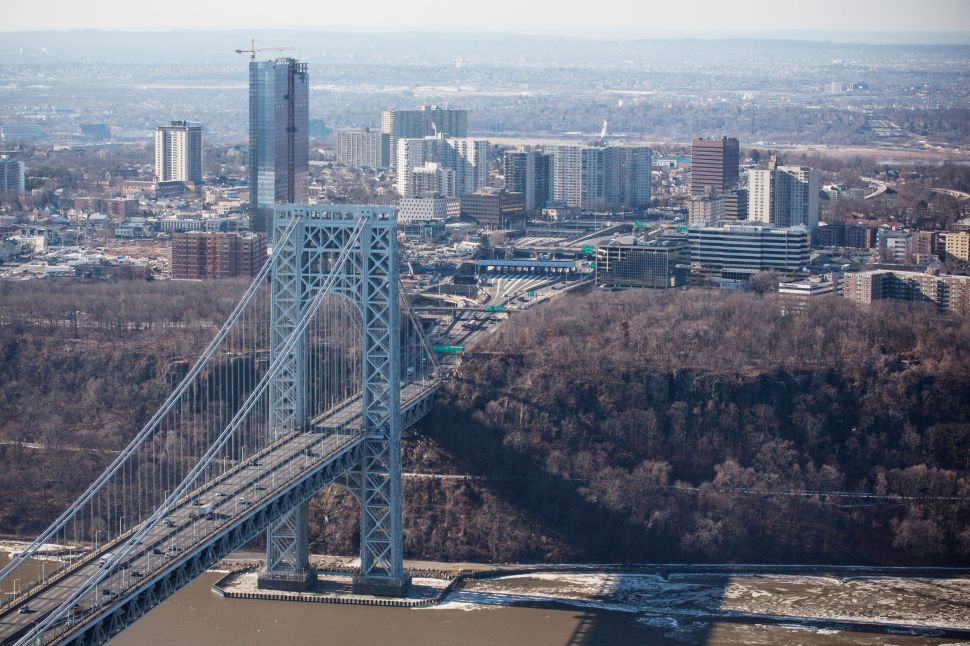 Following the Bridgegate scandal, officials at the Port Authority of New York and New Jersey, as well as top politicians from both states, strove to clean up the scandal-plagued agency's image and implement measures to rein in problems.
Now, New Jersey Gov. Phil Murphy appears ready to undo at least one measure that reformers say was an important step to bring order to the bistate agency.
On Tuesday, The New Jersey Globe reported that Murphy will resurrect the post of deputy executive director and appears likely to appoint a former state transportation official with strong Democratic ties to the post that once paid $289,000.
Murphy, however, will need support from New York Gov. Andrew Cuomo to reinstate the post, which was eliminated in 2015 based on the recommendation of a panel charged with reforming the agency, according to the Globe report. A Cuomo spokeswoman told POLITICO that the New York governor is opposed to a change in the agency's leadership structure.
The panel had called for hiring an executive director who would be supervised by the Port Authority's Board of Directors. However, a national search has failed to identify a candidate who can win the approval of both governors, according to POLITICO.
Reformers say the old leadership structure allowed former Deputy Executive Director Bill Baroni to order the lane closures on the George Washington Bridge without Port Authority Executive Director Patrick Foye knowing about it.
"The split authority between the executive director and deputy executive director was the source of the politicization of the Port Authority and directly led to Bridgegate. We cannot take steps backward," Cuomo spokeswoman Dani Lever told POLITICO.
Baroni and Bridget Anne Kelly, who once served as deputy chief of staff to former Gov. Chris Christie, were convicted in federal court for their roles in the bridge scandal.
David Wildstein, who masterminded the lane closures and later cooperated with investigators, is now editor-in-chief for the Globe, which broke the story.
The Globe reports that Joseph Fiordaliso, who served as chief of staff to the New Jersey Commissioner of Transportation under governors Richard Codey and Jon Corzine appears to be the frontrunner for the post if Murphy can get it reinstated.
Fiordaliso's father, Joseph Fiordaliso Sr., is a Livingston politician who now serves in Murphy's cabinet as president of the New Jersey Board of Public Utilities, the Globe reported.
Quote of the Day: "We're not going to have the windfall that we're all hoping for based upon the ruling. But I still think you will see something in the $20 and $30 million range." — Senate Budget Committee Chair Paul Sarlo, on tax revenue from legalized sports betting.
Fiordaliso Headed to Port Authority, Sources Say
Sources say that Gov. Phil Murphy has decided to resurrect the deputy executive director post at the Port Authority of New York and New Jersey, with former state transportation official Joseph Fiordaliso emerging as the leading candidate for the post.
New Jersey Globe Read more
Murphy to Reinstate Scandal-Tarred Port Authority Position
New Jersey Gov. Phil Murphy plans to restore a position at the bistate Port Authority that reformers blame for facilitating the George Washington Bridge scandal and that New York Gov. Andrew Cuomo and former New Jersey Gov. Chris Christie had agreed to abolish.
Politico Read more
Sarlo: Sales Tax Hike 'Off Table'
He didn't quite say, "Read my lips, no new taxes." But Senate Budget Committee Chair Paul Sarlo, D-37th District, came close in remarks to reporters following a Tuesday committee hearing and said Gov. Phil Murphy's push for a sales tax increase is now 'off the table.'
NJBiz Read more
Senate Leadership Unveils Tax Rates for Sports Betting Revenue
Hours after a court decision set the stage for legalized sports betting in the Garden State, elected officials were ironing out how to cash in on the new revenue.
NJBiz Read more
Drugs and Prostitution: What Might Be Next for New Jersey
Not long from now, you may be able to light up a spliff in the Metlife Stadium parking lot, take your seat at the Giants game and revel in unbridled excitement after betting your whole paycheck on the final score.
The Record Read more
When Can You Bet in New Jersey? Five Questions on Sports Betting
When will betting start? As soon as possible. Lawmakers have already drafted legislation to allow sports betting and Gov. Phil Murphy said he looks forward to "working with the Legislature to enact a law authorizing and regulating sports betting in the very near future."
The Record Read more
NJ Sports Betting: Monmouth Park Chasing Sports Leagues for Damages After Court Fight
Monmouth Park officials say they will file an application in U.S. District Court seeking to recoup hundreds of millions of dollars in damages that resulted from opposition to sports betting from the major professional sports league and NCAA.
Asbury Park Press Read more
NJ Sports Betting Monopoly on the East Coast Won't Last Long
New Jersey is in a position to become the only state east of Nevada with full-fledged sports betting, with the operators of Monmouth Park saying they could begin begin taking wagers on Memorial Day.
NJ.com Read more
Sports Betting Could Make AC Attractive to Millenials
A panel of experts is predicting a bright future for Atlantic City and vicinity in the coming weeks and months.
NJ101.5 Read more
McCabe Says Just $50M From Exxon Settlement Will Go to DEP
Acting Department of Environmental Protection Commissioner Catherine McCabe said Tuesday that $50 million of the state's $225 million settlement with Exxon Mobil will go directly to the DEP.
Politico Read more
New Medical Marijuana Bill Would Open the Door for More NJ Patients
New legislation designed to "significantly increase" access to New Jersey's medical marijuana program would allow more dispensaries and cultivation centers to open and permit more medical professionals to refer their patients, NJ Advance Media has learned.
NJ.com Read more
Phil Murphy Just Spoke to Progressives in Washington… Here's What He Said
Gov. Phil Murphy had a friendly audience Tuesday as he spoke to a crowd of progressive Democrats.
NJ.com Read more
Lonegan Pushes Abortion Issue in CD5
Former Bogota mayor Steve Lonegan is looking to make abortion an issue in the fifth congressional district.
New Jersey Globe Read more
Rep. Rodney Frelinghuysen Makes Comments at Rare Public Appearance
Rep. Rodney Frelinghuysen kicked off what seems to be a final lap of District 11 on Monday with an appearance at the Morris County Chamber of Commerce.
Daily Record Read more
DHS Explains Plans and Christie Era Reforms at Budget Hearing
New Jersey officials are eager to improve life for the state's most vulnerable residents by modernizing health and welfare programs and improving their oversight of the system, while also working to fine-tune reforms already underway and incorporate lawmakers' priorities in the process.
NJSpotlight Read more
Murphy's State Bank Would Help Working Families, Boost Local Economy
The Garden State's numerous credit downgrades, budget shortfalls, crumbling infrastructure, chronic underfunding of critical programs and priorities are well known. The source of these issues isn't a lack of capital or wealth. New Jersey is among the nation's wealthiest states with a growing millionaire population.
NJ.com Read more
15 NJ Arts Organizations Awarded $1.3M in Grants
Fifteen of New Jersey's arts organizations were awarded grants totaling more than $1.3 million to expand arts and culture programs in the state.
ROI-NJ Read more
Roseland Councilman Charged With Trying to Trade a Vote for a Favor
One year ago, Roseland councilman Richard Leonard sparked a public furor when he helped publicize a string of racially and religiously insensitive text messages between borough officials.
NJ.com Read more
Report Has Lawmakers Asking If Crime Victims Are Being Cheated
The New Jersey Victims of Crime Compensation Office costs almost tripled between 2014 and 2016—but payouts made to victims of crime in New Jersey have decreased by more than $1.5 million during the same timeframe.
NJ101.5 Read more
Lawsuit Over Lakewood's Eagle Ridge Golf Club Survives Initial Challenge From Developer
A complex lawsuit aiming to stop a 1,000-home development from taking over a golf course here has survived an early effort by the developer to kill it.
Asbury Park Press Read more
22-Year Cop Who Punched Cuffed Man Cuts Deal to Avoid Prison; Might Get His Pension
A Piscataway cop who punched a handcuffed man in the back of his police cruiser earlier this year has cut a deal in to avoid prison and potentially still get his pension.
NJ.com Read more
White Man in NJ Run Over With Car in Racial Attack, Prosecutors Say
A brutal attack on a freelance photographer this month was racially motivated, according to a preliminary investigation by Monmouth County Prosecutor's Office detectives.
NJ101.5 Read more
Golden: Not Too Soon To Call Murphy Agenda a Failure
It's the middle of May, the weather has turned pleasant, trees are in full leaf, patio furniture has reappeared, backyard pools have been uncovered, and Gov. Phil Murphy's legislative agenda is in shambles.
NJSpotlight Read more
Bergmann: 'Equity' for Undocumented Inequitable for Citizens
Gov. Phil Murphy signed a law last week that enables undocumented college students to be eligible for financial aid. Driver's licenses for the undocumented could be next.
Asbury Park Press Read more
Editorial: A Welcome Move Toward Smoke-Free Beaches
New Jersey lawmakers are taking another stab at banning smoking on public beaches.
The Record Read more
Editorial: Addiction. Thrown games. Here's the Dark Side of Sports Betting
The multibillion-dollar sports industry entered a new era Monday, when the U.S. Supreme Court tossed out a longtime federal ban on sports gambling—a ban New Jersey has been opposing for years.
Times of Trenton Read more