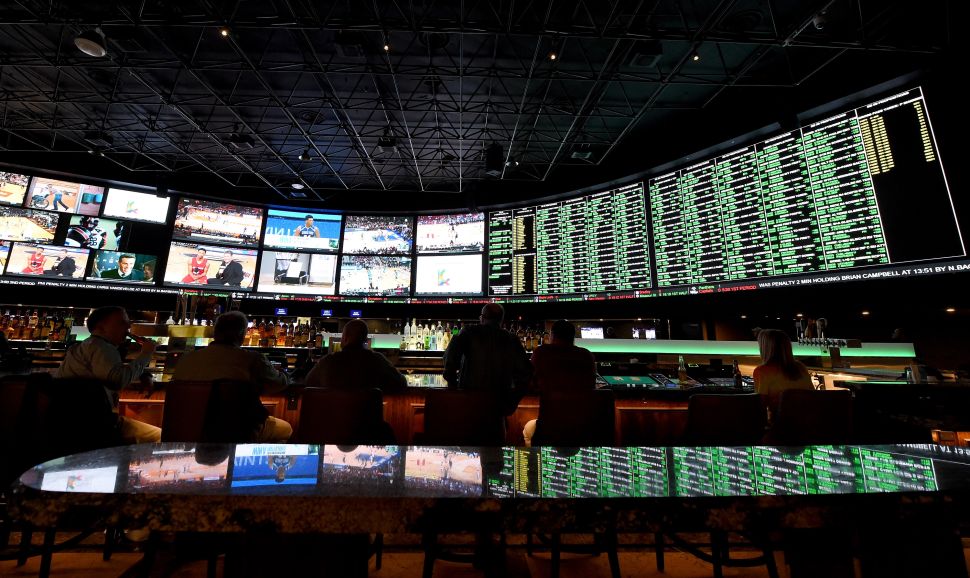 When the U.S. Supreme Court announced its decision to strike down a federal law banning sports betting in most states, New Jersey seemed on the fast track to allow people to start laying their money down.
But now those efforts have been slowed down, and it's the state's politicians who are responsible.
The Asbury Park Press reports that Monmouth Park has put its plan to start offering sports betting on May 28 on hold after Senate President Stephen Sweeney said the state needed more time to establish regulations for the gambling.
Sweeney is the sponsor of a measure introduced this week regulating sports betting that specifically bans anyone who operated a sports pool in the year before passage of the legislation from receiving a state license, according to NJ.com.
The Senate's next voting session is June 7, and Sweeney has issued a statement promising to move quickly on the measure, according to the Asbury Park Press report.

New Jersey officials expect sports betting to generate $20 to $30 million in tax revenue in the next fiscal year.
Quote of the Day: "I don't wake up every day to be liberal for the sake of being liberal." — Gov Phil Murphy.
Just $50M From NJ's Exxon Settlement Will Go to the Dept. of Environmental Protection
Only $50 million from New Jersey's controversial $225 million pollution settlement with ExxonMobil will go to the Department of Environmental Protection (DEP), acting commissioner Catherine McCabe said Tuesday.
Christian Hetrick, Observer Read more
New Jersey Won't See Tax Windfall From Sports Betting, Lawmakers Say
New Jersey won't see a windfall of tax revenue from legalized sports betting, state lawmakers acknowledged on Tuesday.
Christian Hetrick Read more
NJ Can Forget Immediate Legal Sports Betting… Here's Why
Hold onto your bets, sports fans. Monmouth Park's plan to become the first place in New Jersey to offer legalized sports betting on May 28—Memorial Day—has hit a wall.
NJ.com Read more
NJ Sports Betting Put on Hold by Monmouth Park, Lawmakers
Monmouth Park officials said they are delaying the launch of sports betting at the request of state lawmakers, scuttling work to begin taking wagers on sports such as baseball and basketball on May 28.
Asbury Park Press Read more
New Jersey Senate Leader Casts Doubt on Governor's Plan to Raise Taxes
New Jersey's top-ranking state lawmaker told business leaders that higher taxes won't solve the state's budget woes, a direct challenge to Governor Phil Murphy's plan to raise $1.5 billion of revenue to support his progressive agenda.
Bloomberg Read more
Justice Department Launches Probe Into Edna Mahan Correctional Facility for Women
The U.S. Department of Justice has launched an investigation into conditions at Edna Mahan Correctional Facility for Women, a state facility rocked by allegations of widespread sexual abuse of inmates by guards.
The Record Read more
Polish President Visits NJ Statue at Center of Trans-Atlantic Row
Polish President Andrzej Duda stopped at Exchange Place on Wednesday as Jersey City and the region's Polish community remained locked in a fight over the city's plan to relocate the Katyn monument.
NJ.com Read more
NJ Transit Far From Meeting Federal Demand for Speed Control to Keep You Safe
The most recent federal report shows New Jersey Transit still has a long way to go to meet a year-end deadline to install an automated speed control on its tracks designed to keep you safe.
NJ.com Read more
Top Amtrak Exec Is Latest to Warn About Need for Gateway Project: 'There Is No Plan B'
There is no Plan B. If the tunnels under the Hudson River failed tomorrow, the nation's busiest region for rail transportation would come to a standstill.
ROI-NJ Read more
Murphy Puts Assets Into Blind Trust, Fulfilling Pledge
New Jersey Gov. Phil Murphy has signed an agreement putting his financial assets into a blind trust that his brother-in-law will oversee, honoring a campaign pledge roughly four months after taking office.
Associated Press Read more
New Jersey Emerges as a Liberal Bulwark Under Murphy
A recently adopted equal pay law has put New Jersey at the forefront of national efforts to narrow the gender wage gap. The state's new automatic voter registration law ranks among the most sweeping in the country, while its funding of Planned Parenthood, package of gun control laws, renewable energy legislation and a measure to provide state financial aid to immigrants who came to the United States as children are all part of the progressive playbook.
New York Times Read more
Republicans Silent on Murphy Non-Profit
Top Republicans in the state have maintained a steely silence on disclosure for 501(c)(4) non-profit groups like the one backing Gov. Phil Murphy, dodging calls and obfuscating their stance on the issue for weeks.
New Jersey Globe Read more
What NJ's Anti-Trump Wave Means to Democrats in 5 House Races
Democratic chances just improved to win four Republican-held House seats in New Jersey and retain one of their own, according to one of the Washington-based publications that track congressional races.
NJ.com Read more
'Skinhead Cop'—NJ School Official Freaks Out in Traffic Stop Video
A group of black parent activists are calling on a black school board member to step down after she was caught on video calling a white police officer's chief a "skinhead cop" during a traffic stop.
NJ101.5 Read more
NJ Immigrant Families Prepare to Be Split up Under Trump
The Deferred Action for Childhood Arrivals program gave Mexican native Yaritza Ortega protections from deportation and a work permit while she pursued a medical assistant's certification in New Jersey.
Asbury Park Press Read more
What We Learned in 1-page Arrest Report of Superintendent Accused of Public Pooping
A brief arrest report of the infamous superintendent accused of pooping daily near the Holmdel High School running track provides some insight into the evidence police have against him.
NJ.com Read more
Toxic Secrets: Phil Murphy Says DuPont Pollution in Pompton Lakes Still Under Review
Gov. Phil Murphy on Wednesday said his administration is still determining how to handle DuPont's toxic pollution in a Pompton Lakes neighborhood days after his nominee for environmental commissioner indicated she was satisfied by a decades-long effort to deal with the threat of cancer-causing vapors to 450 homes.
The Record Read more
Leasing A Pet? Lawmaker Says It's A Cruel Scam
You've heard of leasing a car or a house, but what about leasing a pet?
State Sen. Kristin Corrado, R-Passaic, said she was stunned to find out that unscrupulous companies were leasing living creatures to people, so she's introducing a bill to ban the practice in New Jersey.
NJ101.5 Read more
At Rutgers-Camden, Anita Hill Among More Female Commencement Speakers as #MeToo Reverberates
About three months ago, amid the national backlash against powerful men accused of sexually harassing women, the chancellor at Rutgers-Camden reached out to fellow law professor Anita Hill.
Inquirer Read more
Embattled Judge Russo's Lawyers Fire Back After He Was Kicked Out of Courthouse
Lawyers for Superior Court Judge John F. Russo Jr. say the embattled Ocean County jurist "personally observed the highest standards of conduct," despite a complaint accusing him of violating the state code of judicial conduct.
Asbury Park Press Read more
Atlantic City Considers University District Zone Near Stockton
As part of an effort to transform the city blocks around Stockton University and to spur economic development there, officials are trying to dub the area a University District.
Press of Atlantic City Read more
Brookdale Names Home-Grown Leader as Next President
Not one or two standing ovations were enough for Brookdale Community College faculty, staff and board of trustees to express their joy over the new home-grown president of the 14,000-student school.
Asbury Park Press Read more
Scrambling to Upskill NJ With Hollowed Out Labor Dept.
At the heart of Gov. Phil Murphy's plan to address New Jersey's steep fiscal problems is a need to improve the state economy. Yesterday the administration's top labor official detailed a number of new programs that would take on that task by improving career training and addressing long-term unemployment.
NJSpotlight Read more
End of Debt Nightmare in Sight for Students Who've Defaulted on Loans
A Senate committee has taken another step to help those wrestling with student-loan debt, this time finally voting to require loan modification and consolidation for those who have defaulted on New Jersey college loans.
NJSpotlight Read more
Payroll Tax Proposed to Pay for Jersey City's Public Schools
Jersey City's underfunded public-school system could see a major boost under a plan devised by state Sen. Sandra B. Cunningham.
Jersey Journal Read more
Contenders Emerge to Fill Mayor-Elect's Seat on Paterson City Council
Mayor-elect Andre Sayegh said he will wait until June 30 to resign from his City Council seat representing the 6th Ward, but the contest to replace him is already shaping up.
Paterson Press Read more
Atlantic City Council Wants Expressway to Raise Toll to Benefit City
City Council passed a resolution Wednesday requesting the fare be doubled at the Atlantic City Expressway's Pleasantville Toll Plaza, with the additional revenue going to the city.
Press of Atlantic City Read more
Watchdog Group Files Lawsuit Over $1M Donation to Fulop-Linked Super PAC
A legal watchdog group is suing the Federal Election Commission over a $1 million donation made in 2015 to a super PAC once linked to Jersey City Mayor Steve Fulop's gubernatorial bid.
Jersey Journal Read more
Gov. Murphy Signs Bill to Send Earle Students to Colts Neck
A bill that will send students living at Naval Weapons Station Earle to Colts Neck was approved by Gov. Phil Murphy today.
Asbury Park Press Read more
Former Hudson County Sheriff Cassidy dies at 76
Hudson County's longest serving sheriff, Joseph "Butchie" Cassidy, died Tuesday at his Jersey City home, surrounded by friends and family. He was 76.
NJ.com Read more
Bergen 'in a Pickle' Over New Courts at Overpeck
If you build it, we won't come.
The Record Read more
Editorial: Paterson Cops' Paid Leave Standard Far Too Generous
Twenty years ago, the city of Paterson agreed to a preposterous subsection in its contract with the Policemen's Benevolent Association that placed a 30-day limit on unpaid suspensions for Paterson police officers facing criminal charges. The upshot of that deal is that by Memorial Day, there will be four Paterson officers enjoying the fruits of a labor deal that is overly generous and uncommon in most North Jersey jurisdictions.
The Record Read more