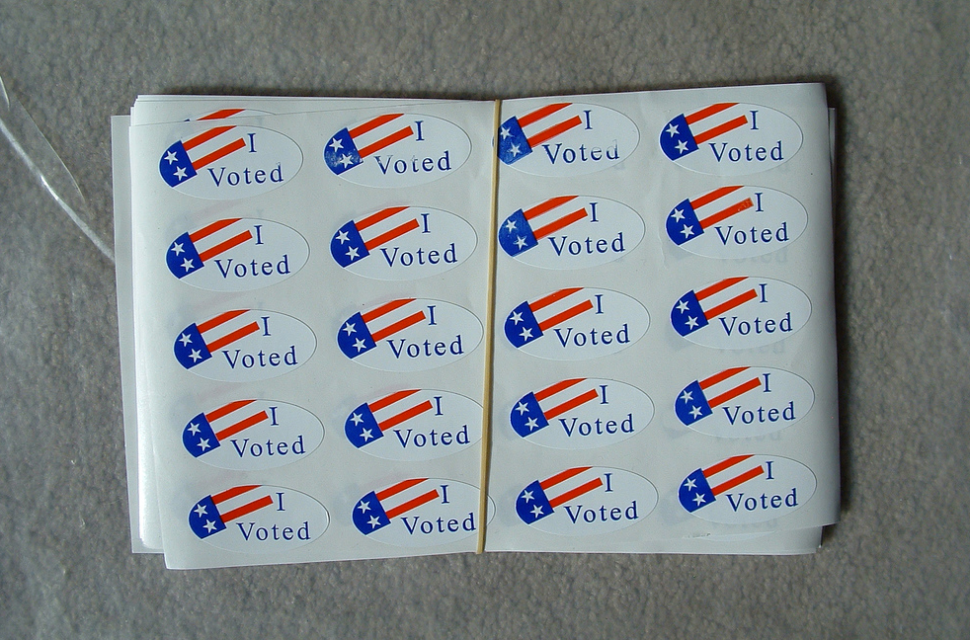 New Jersey's election system is among the least secure in the nation, and a new plan to correct that could see the state return to keeping paper records of votes cast as a way to prevent election hacking.
Those are among the proposals in the New Jersey Elections Security Act, which is designed to increase security of the state elections, according to a report by NJSpotlight.
At a hearing this week on the proposed legislation, all those who testified agreed that the state needs new voting machines that allow for paper records of votes cast, according to the report.
Such a backup system is needed to assure that votes are "accurate and legitimate," said Assemblyman Vincent Mazzeo (D-Atlantic), a co-sponsor of the bill, according to the report.
New Jersey's voting system received a D grade from the Center for American Progress because most counties use touchscreen voting machines that leave no paper records. The proposed legislation would require the state switch to paper ballots that are optically scanned but leave a record of the votes cast, according to the report.
Mazzeo's bill calls for the new machines to be phased in over four years, for the state to pay the cost of purchasing them and requires partial audits after each election to assure the paper tally matches the reported results, according to the report.
Quote of the Day: "The IRS should not play politics." — New Jersey Attorney General Gurbir Grewal, threatening to take the federal agency to court if it challenges the state's plan to provide residents a way to deduct their state and local taxes as charitable deductions.
AG Grewal Says New Jersey Could Sue IRS Over SALT Tax Guidance
New Jersey Attorney General Gurbir Grewal threatened to take the Trump administration to court on Thursday after the Internal Revenue Service (IRS) said it would issue new rules that could stop the state from circumventing part of President Trump's federal tax overhaul.
Christian Hetrick, Observer Read more
New Jersey Assembly Shelves Vote on Banning Child Marriages
The Assembly shelved a vote Thursday on a bill that would make New Jersey the second state in the nation to ban marriages under the age of 18.
Christian Hetrick, Observer Read more
Poor Security of NJ Election System Prompt Move to Revamp
Voting in New Jersey would go retro, using paper, pens and scanning machines, under legislation designed to increase the security of the ballot in the state.
NJSpotlight Read more
Trump's Opposition to Gateway Tunnel Doesn't Stop House Panel From Voting to Fund It
Funding for the Gateway Tunnel project was included the transportation spending bill heading to the House floor, despite opposition from President Donald Trump.
NJ.com Read more
Port Authority Chairman: No Need for a Deputy Executive Director
Add New Jersey's top appointee at the Port Authority to the list of people who take issue with New Jersey Gov. Phil Murphy's decision to restore a scandal-tarnished position at the powerful bistate agency.
Politico Read more
After Caren Turner Incident, Port Authority Looks to Take Away Badges From Commissioners
Port Authority commissioners could lose their gold badges, the credentials which show they are board members of the bi-state agency.
NJ.com Read more
Byrne Bows Out of Key Investment Council
Less than a year after being reelected as the leader of the New Jersey State Investment Council, Tom Byrne is now leaving the panel that plays a key role in how the state's roughly $77 billion in public-employee pension assets are invested.
NJSpotlight Read more
How Is NJ's Public Worker Pension Fund Doing? Here's the Latest
New Jersey's pension fund for government workers returned a hair over seven percent on its investments so far this fiscal year despite recent weak returns.
NJ.com Read more
New Jersey's Busiest Marijuana Dispensary Is Now the Biggest on the East Coast
The medical marijuana dispensary that opened inside a former T-shirt factory in Bellmawr three years ago has moved into a modern new space across the street and is now the largest retail purveyor of cannabis on the East Coast.
Inquirer Read more
Legal Weed Advocates Believe Victory Is Near in Washington
Proponents of legalizing marijuana descended on the U.S. Capitol in droves Wednesday, saying that their efforts are moving toward success.
NJ.com Read more
South Jersey Employers Open Doors to Recovery Court Participants
Luana Cordeiro has survived sexual assaults and abusive relationships, recovered from addictions to alcohol, heroin and other substances, regained custody of her two sons and most recently graduated from the Atlantic and Cape May County Recovery Court program.
The Press of Atlantic City Read more
The Judge Did What? Here's Why More People Are Formally Protesting NJ Judges
What do you call someone who tells a rape victim to keep her legs closed, has a secretary do her son's homework, or in one case, allegedly hampered a police investigation of a boyfriend?
NJ.com Read more
What IRS Targeting New Jersey Means for Your Taxes
An announcement by the Internal Revenue Service this week cast doubt on whether a workaround to a New Jersey law designed to ease the sting of the new federal tax law will work.
The Record Read more
Paramus Bus Driver Charged With Causing Deaths of Child, Teacher in Mount Olive Crash
The 77-year-old school bus driver who crashed last week after he allegedly crossed three lanes of traffic Route 80 in Mount Olive with 44 passengers on board was charged Thursday with recklessly causing the deaths of a child and a teacher, according to criminal complaints.
The Record Read more
Paramus Superintendent 'Shocked' by Reports About Bus Driver in Fatal Crash's Record
The superintendent of schools in Paramus said she was "shocked, saddened and angry" following reports of tickets, moving violations and license suspensions for the driver of the school bus that collided with a dump truck last week, killing two people.
The Record Read more
A Gift to So Many People: Beloved Paramus Teacher Laid to Rest
Jennifer Williamson-Kennedy, the beloved fifth-grade teacher who died in last Thursday's horrific school bus crash on Route 80, started her lesson plans young.
The Record Read more
Murphy Said He Would Stop the Bear Hunt; Why Some Think He Won't
When Gov. Phil Murphy was elected last fall, bear hunt opponents rejoiced because Murphy campaigned on a pledge to stop it.
NJ.com Read more
Anti-Trump Activists Plan Memorial Day Weekend Rallies in Bedminster
The People's Motorcade is preparing for a long weekend of protests.
The Record Read more
Sorting Out District 2's Crowded Field
Voters in New Jersey's southernmost congressional district have a crowded primary field to choose from on Jue 5. Four Democrats and three Republicans are vying to replace longtime Congressman Frank LoBiondo, a moderate Republican who is retiring after 24 years in the House.
NJSpotlight Read more
Hurricane Season: Are New Jersey Beaches Ready?
Winter wasn't kind to Jersey Shore beaches. Taken together, four snowy coastal storms that ripped past New Jersey during consecutive weeks in March caused more beach erosion than all but four storms since 1980, according to an expert from Stevens Institute of Technology.
Asbury Park Press Read more
Going Swimming This Memorial Day? Not at These 2 NJ State Parks.
Memorial Day weekend signals the start of the summer, and for many people the iconic American holiday wouldn't be complete without a cool, refreshing dip in a lake.
NJ.com Read more
Newark Airport Repeatedly Finishes Last in This Category
Summer is when many vacationers take flight. But for those traveling out of Newark Liberty International Airport, those flights are often late.
NJ.com Read more
Anger Over Polish Statue Relocation on Display at Marathon Meeting
Dozens of Polish-Americans from across the region spent hours Wednesday night urging the City Council to reject Mayor Steve Fulop's plan to relocate the Katyn monument from its longtime home at Exchange Place, keeping council members on the dais until well past midnight.
Jersey Journal Read more
Bill to Delay Jersey City Reval Won't Get Vote, Lawmakers Say
A bill that would let Jersey City stall the implementation of its long-delayed property revaluation is DOA, according to two of its sponsors.
Jersey Journal Read more
Ocean County Prosecutor Works With Religious Leaders to Fight Bias
Diverse religions across Ocean County will try to speak with one voice this weekend—that's the goal behind the 'Love Thy Neighbor' message, an effort by the Ocean County Prosecutor's Office and local religious leaders to stand up against hatred.
Asbury Park Press Read more
Not Guilty: After Representing Himself, NJ Weedman Freed
New Jersey's most notorious pothead has called himself "conviction proof." He could be right.
NJ101.5 Read more
Mushine: Desegregation Lawsuit: Let All the School Funding Really Follow the Child
We conservatives have always believed that the focus of education should be on the children, not the adults who make their livelihood off them.
NJ.com Read more
Golden: Threat of a Government Shutdown Embarrassment will Nudge Murphy Toward Sweeney/Coughlin
Seemingly undaunted by his continuing inability to persuade the Democratic legislative leaders to support his $1.7 billion tax increase package, Gov. Phil Murphy plunged deeper into dangerous political waters when he intimated he'd be open to additional tax increases in the future if revenue growth fails to meet expectations and jeopardizes his ambitious agenda.
InsiderNJ Read more
Sweeney: Sports Betting in New Jersey Will Bring Economic Boost
For the seven-and-a-half years since New Jersey voters passed a constitutional amendment authorizing sports betting, the state Senate and the Governor's Office have been fighting an expensive legal battle against the professional sports leagues to implement sports wagering.
The Record Read more
Editorial: Prosecutor Must Provide Details on Bus Crash
Last week's horrific school bus crash on Route 80 West near Waterloo Village that left one student and one teacher dead and dozens of others injured has weighed on the hearts and minds of North Jersey residents. To compound that anguish, as of today, a full week after the crash, we still know little about what actually happened, and officials charged with informing the public about it have been alarmingly close-mouthed on their findings.
The Record Read more