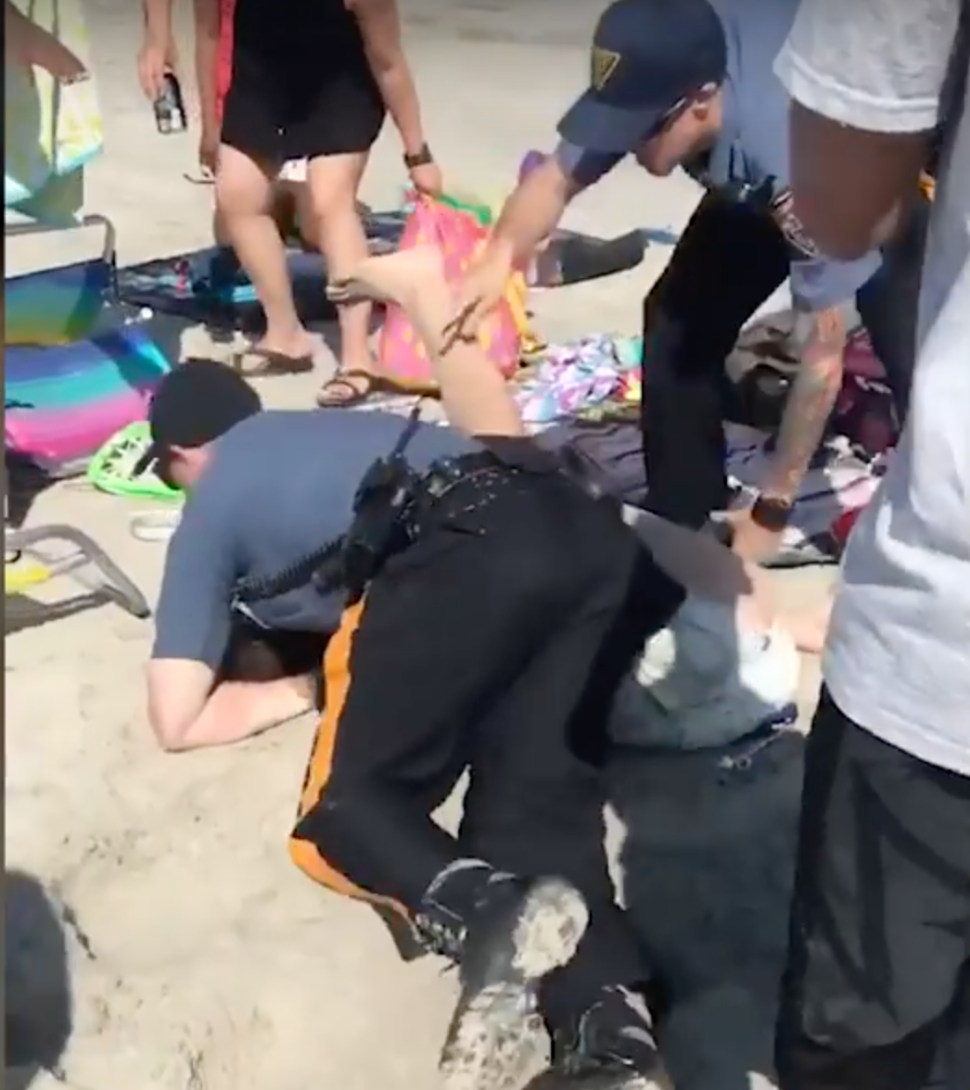 Another holiday weekend, another viral New Jersey video.
In probably the most viewed New Jersey video since former Port Authority Commission Caren Turner's ill-advised confrontation with police following an Easter weekend traffic stop, a Wildwood police officer is shown punching a woman in the head during a Memorial Day weekend confrontation on the South Jersey beach.
And state politicians are weighing in with their views on the incident.
Wildwood Mayor Ernie Troiano Jr, didn't let the fact he hadn't seen police bodycam video of the fight stop him from supporting his officers and their actions.
"She refused to comply," the mayor said about the seaside incident, according to an NJ.com report. "Unfortunately, this is what happened."
The mayor said there would be a thorough investigation of the actions of the class II officers, but said he couldn't confirm if the body cam footage showing the incident would be released.
Emily Weinman, 20, of Philadelphia, was charged with aggravated assault on a police officer, aggravated assault by spitting bodily fluids at a police officer, disorderly conduct, resisting arrest, obstruction and minor in possession of alcohol, according to NJ.com.
Weinman claims that while she was in possession of unopened containers of alcohol, she passed a breathalyzer test and that the incident began when she asked police if they didn't have anything better to do than follow her.
Weinman claims she didn't spit on police, according to an Inquirer report. The woman said she was merely spitting out sand after police pushed her face into the ground.
Gov. Phil Murphy also said he hadn't seen the video, but nonetheless said descriptions of the incident are "pretty darn disturbing," according to NJ.com.
Wildwood police have said they are conducting an internal affairs investigation into the incident and the officers involved have been reassigned to administrative duties pending the outcome.
Quote of the Day: "Unless you've had your head in the sand for the past 10 years, you know that New Jersey's onerous property tax burden is the single most cited reason for what ails the state. Trenton lawmakers have avoided tackling this problem for too long, and we now see it eroding satisfaction with life in the Garden State as a whole. Given these results, it's no surprise that more and more New Jerseyans are choosing to vote with their feet by simply moving out of the state." — Patrick Murray, director of the Monmouth University Polling Institute.
New Jerseyans' Views of the Garden State Hit Record Low
New Jerseyans' views on living in the Garden State have hit a new low, according to a recent poll.
Christian Hetrick, Observer Read more
Most New Jerseyans Don't Want to Share Sports Betting Revenue With Leagues
A majority of New Jersey residents don't want the state to share any revenue from legalized sports betting with professional teams, according to a new poll released Tuesday.
Christian Hetrick, Observer Read more
Wildwood Mayor Says Woman Who Was Punched in Head by a Cop 'Refused to Comply'
Although he has not seen the body camera footage and said he doesn't know the full story of what led a Wildwood police officer to strike a Philadelphia woman multiple times in the head over the weekend, Mayor Ernie Troiano, Jr. said that "the police were doing their job."
NJ.com Read more
Woman Punched by Police on Wildwood Beach Says She Didn't Spit on Cops
Mayor Ernie Troiano defended the actions of his police department Tuesday in tackling and twice punching a woman on the Wildwood beach Saturday, saying the woman was "by far the aggressor here," and adding that women in general can be more difficult to subdue than men.
Inquirer Read more
Murphy Responds to 'Pretty Darn Disturbing' Video of Wildwood Officer Punching Woman in Head
Gov. Phil Murphy said Tuesday he hadn't seen the video from Memorial Day weekend that shows a woman on a Wildwood beach get wrestled to the ground and punched multiple times in the head by police.
NJ.com Read more
Your Rights in NJ, What You Should Do When You Are Under Arrest
A viral video that captures a violent confrontation on the Wildwood beach between police and a young woman fails to reveal what led cops to pull out their cuffs.
NJ101.5 Read more
Underage Drinking a Jersey Shore Problem Not Easily Solved, Officials Say
A routine police citing for underage drinking turned into a violent arrest Saturday on the Wildwood beach, in part, because the woman cited told officers they had better things to do than patrol for people drinking underage.
Press of Atlantic City Read more
All US School Buses Should Have Seat Belts After Fatal NJ Crash, Lawmakers Say
The school bus crash that killed a student and teacher from Paramus two weeks ago is spurring lawmakers to push for safety upgrades for school buses at the state and federal levels.
NJ.com Read more
Murphy's Cash Grabs to Balance NJ Budget Reminiscent of Christie
Before jumping into the governor's race two years ago, Phil Murphy criticized the environmental cleanup settlement Chris Christie's administration reached with ExxonMobil.
The Record Read more
Bill to End Banking of Sick Days Draws Angry Outcry from Public Sector Unions
Most New Jersey public workers would no longer be paid for future unused sick leave and would only be eligible to get $7,500 to pay for healthcare expenses after retirement under legislation that has begun moving through the Legislature, despite complaints from angry union leaders.
NJSpotlight Read more
Murphy Holds to Christie's Funding of Statehouse Rehab
Once a loud critic of the $300 million State House renovation launched by his predecessor, Gov. Phil Murphy is now carrying on the rehab effort, and his administration is also sticking with the project's controversial finance plan.
NJSpotlight Read more
Battle Is Red Hot Between Democrats Who Want to Take on Lance
Full of tension is how one could describe the Democratic primary race in New Jersey's 7th district. It's been identified as a "red to blue" race by the DCCC (Democratic Congressional Campaign Committee), with Republican incumbent Leonard Lance considered vulnerable. Although there are now three candidates among the Democrats, until recently the field was crowded with seven candidates.
NJSpotlight Read more
The 10 NJ Colleges Where Freshmen Are Most Likely to Drop Out
Tens of thousands of New Jersey high school seniors will graduate in the coming weeks and look forward to starting college in the fall.
NJ.com Read more
Phil Murphy Proposes Paying Interns, Cutting Student Debt to Help Boost STEM Jobs
In a twofold effort to reinvigorate the innovation economy he so frequently talks about, Gov. Phil Murphy announced plans Tuesday to pay interns and help relieve the college debt of workers in the science and technology fields known as STEM.
The Record Read more
Former Revel Casino Bringing in Heavy Hitter to Run Its Sportsbook
It won't be open for another month, but the Ocean Resort Casino in Atlantic City already has booked its first guest. In gaming terms, it has hooked a whale.
Inquirer Read more
What NJ Thinks About Sports Betting (and If Leagues Should Get a Cut of the Action)
Most New Jerseyans are OK with legal sports betting—but they don't think pro sports leagues should get a cut of the action.
NJ.com Read more
Trust Medical Marijuana, NJ's Top Health Official Asks Doctors and Medical Students
New Jersey's top doctor Tuesday encouraged physicians and medical students to embrace cannabis as another tool to help their patients, despite acknowledging that rigorous scientific research is lacking.
NJ.com Read more
Federal Agency Says NJ Must Bear Cost of $1.2 Billion Transmission Line
The Federal Energy Regulatory Commission has denied a bid by New Jersey officials to overturn a decision in a multistate dispute concerning who gets saddled with the costs of a $1.2 billion transmission upgrade.
NJSpotlight Read more
Murphy Won't Endorse Stack for County Chair
Gov. Phil Murphy would not endorse State Sen. and Union City Mayor Brian Stack for Hudson County Democratic Chairman.
New Jersey Globe Read more
Josh Gottheimer: Why NJ Will Win Charitable Contribution Case—and What All Politicians Need to Do to Help NJ Businesses
U.S. Rep. Josh Gottheimer (D-5th Dist.) recently sat with members of the ROI-NJ editorial board. Here are just some of his comments.
ROI-NJ Read more
Little Egg Contractors Used $1.4M in Sandy Money to Gamble, Buy Diamond Ring
A Little Egg Harbor couple admitted Tuesday to stealing more than $1.4 million from more than 20 victims of superstorm Sandy who hired them to fix their homes.
Asbury Park Press Read more
Newark Mayor's Campaign Treasurer Admits to Embezzling More Than $200K
The man who served as campaign treasurer for Newark Mayor Ras Baraka admitted the treasurer misappropriated funds from two campaigns between January 2014 and March 2017.
Asbury Park Press Read more
Jury Awards $1.7M to 'Whistleblower' Morristown Officer Removed From Detective Bureau
Town Officer Keith Hudson was awarded $1.7 million in damages Tuesday by a jury that found he blew the whistle on Police Chief Peter Demnitz's "double-dipping" and was thrown out of the detective bureau in retaliation.
Daily Record Read more
Horse Dies At NJ Rodeo
A national animal-rights group says a New Jersey rodeo treated a fatally injured horse with cruelty.
NJ101.5 Read more
New Jersey Town and University Bridge Their Divide, and Both Reap a Reward
Joseph A. Brigandi Jr. remembers when his father ran a sub shop in the heart of this southern New Jersey town in the 1960s, when there were only four or five restaurants downtown and no out-of-town shopping malls threatened the survival of local businesses.
New York Times Read more
Seaside Heights Could Revoke Karma Nightclub's Liquor License
The borough has just about had it with Karma.
Asbury Park Press Read more
Red Bank 'Puppy Mill' Ban Might Be Put on Hold
The Borough Council may be having second thoughts about moving forward on a controversial "puppy mill" ban, in the face of opposition from the downtown business community and a lawsuit threat by the only puppy dealer in town.
Asbury Park Press Read more
Editorial: Former Schools' Chief's Bonus Is Way Out of Whack
No doubt, many school teachers in the Paterson schools would love a $10,900 bonus check along about now. It wouldn't exactly be like winning the lottery, but it would be a little something for the hard work they do, and are doing as the school year winds down.
The Record Read more