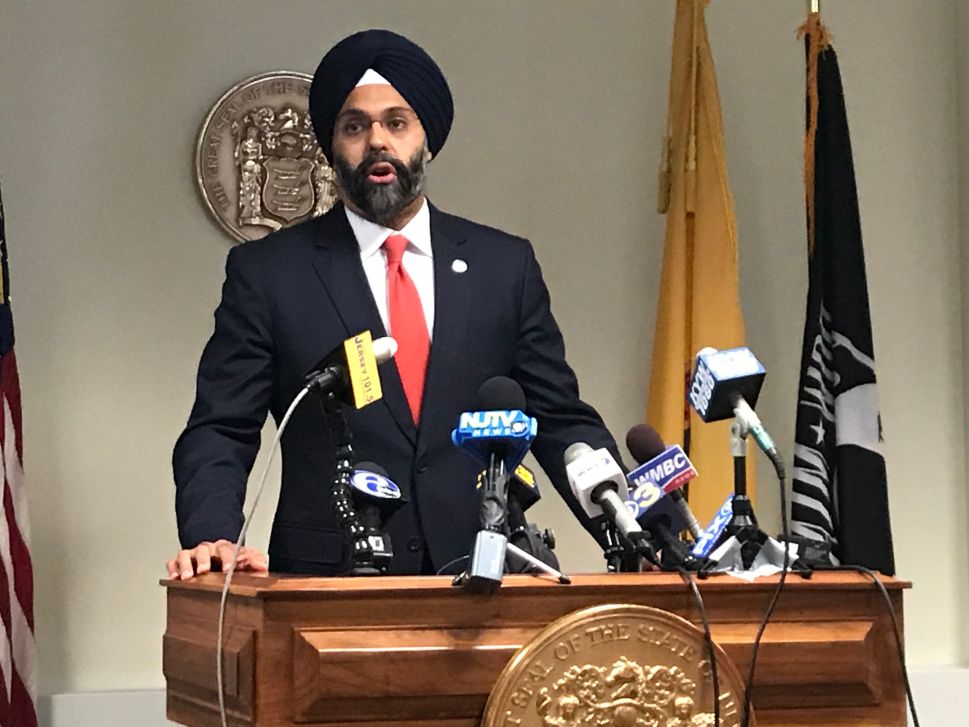 Two towns that attempted to ban non-resident traffic from its streets have been told by the state attorney general to quit it.
Attorney General Gurbir Grewal said he's told officials in Leonia and Weehawken they were wrong in their efforts to prevent drivers from using local streets to avoid traffic jams leading to the George Washington Bridge, according to a report by NJ101.5.
Grewal told an Assembly committee such efforts had to get approval from state transportation officials. The local officials have agreed to stop enforcing their restrictions, the attorney general said, according to the report. Out-of-town drivers in Leonia could have been hit with a $200 fine if they were caught using sidestreets during rush hours. The rules went into effect in January, and Weehawkin followed suit shortly afterward.
Officials in the two towns had said the restrictions were necessary because traffic apps like Google Maps and Waze were directing drivers to roads not intended for such heavy traffic.
But the plan was controversial from the start, with at least one lawsuit being filed and businesses complaining the ban was driving customers away.
The state got involved in March, Grewal said, adding that there are now efforts underway to "come up with an appropriate fix," according to the report.
Quote of the Day: "Here's the deal: I've tried marijuana literally once or twice many years ago, and I don't have any desire to partake again." – Gov. Phil Murphy.
Is the Rush to Judge Ex-Port Authority Commissioner Caren Turner Unfair?
People are always quick to condemn a politician for doing things they might have done themselves under similar circumstances. Is it fair to paint Caren Turner with the David Samson brush based on the video of her exchange with a Tenafly police officer?
Donald Scarinci, Observer Read more
Phil Murphy Says Contract With State Workers Will Cost $148.9 Million
A day after Gov. Phil Murphy said he didn't know how much a new contract for 35,000 state workers would cost taxpayers, the governor's office announced the deal's projected cost: $148.9 million.
Christian Hetrick, Observer Read more
New Jersey Gov. Phil Murphy: Yes, I've Smoked Pot 'Once or Twice'
New Jersey Gov. Phil Murphy has come clean.
Yes, the pro-pot governor has smoked marijuana before. But he says he won't toke ever again.
Christian Hetrick, Observer Read more
North Jersey Towns Ordered to Stop Banning Non-Resident Drivers
Efforts by two towns near major thoroughfares into New York will have to find a new way to help locals get around during high traffic times.
NJ101.5 Read more
After Undercover Videos, NJ Teachers Union Says It Will Look At Itself
The state's largest teachers union will examine its own members' conduct after undercover videos published by a conservative group showed union officials in two districts discussing how they use questionable means to defend teachers accused of wrongdoing.
NJ101.5 Read more
NJ Union President On Video: Sex With a Student … Don't Worry
Another New Jersey local teacher's union president was caught on video discussing how the union can protect teachers accused of wrongdoing — and it has resulted in the district suspending her from the job.'
NJ101.5 Read more
Kenilworth school chief arrested, pooped at Holmdel track 'on a daily basis': Police
Call it the case of the public super pooper.
Holmdel police have charged Kenilworth Public Schools Superintendent Thomas Tramaglini with relieving himself in public early Monday morning after school officials reported finding "daily" deposits of excrement by an athletic field.
Asbury Park Press Read more
NJ Gym Teacher Who Got PTSD From Students Can't Get Full Pension
After being physically attacked by students for the third time in a school year, Jaclyn Thompson had enough.
A doctor diagnosed her with post-traumatic stress disorder, she never returned to work and filed the paperwork work for retirement.
NJ101.5 Read more
Toms River GOP councilman: Someone 'in the club' should get township job
Township Council Vice President George E. Wittmann Jr. is in hot water after he mistakenly sent an email to hundreds of township employees that seemed to suggest members of Toms River's Republican Club should get preference in hiring for a job opening in the law department.
Asbury Park Press Read more
Down the Shore, A Vast Criminal Syndicate Involving Teachers, Firefighters and Workers
Their houses are nice, if unremarkable, a few within walking distance of the chatty Linwood bike path, not far from the now-vacant house that was the home of the late Dr. James Kauffman and his murdered wife, April.
Inquirer Read more
Shore schools: NJ shortchanging us on state aid, and we'll fight for it
Crowded classrooms. Unfilled staff positions. Layoffs. Another year where overdue building repairs are put off once again.
Asbury Park Press Read more
NJ Transit to cancel some trains to catch up on required safety system
Facing increasing difficulty meeting a year-end deadline to install a collision-avoidance system, NJ Transit plans to discontinue some trains through the beginning of 2019.
The Record Read more
Murphy signs order to crack down on employee misclassification
Gov. Phil Murphy signed an executive order Thursday establishing a task force on employee misclassification to punish contractors who commit fraud by classifying their employees as independent contractors.
NJBiz Read more
Pallone Wants to Expand Medicare
Seniors and disabled individuals would no longer need to pay out-of-pocket for long-term residential care or for help at home with daily living tasks — situations that often deplete their savings entirely — under a New Jersey congressman's proposal to expand the scope of services covered under Medicare.
NJSpotlight Read more
Menendez questions opponent's ethics
Sen. Bob Menendez went on the offensive on Thursday, accusing his likely Republican opponent, a former pharmaceutical executive, of "unethical" actions, a week after Menendez himself was admonished by the Senate Ethics Committee over his relationship with Florida eye doctor Salomon Melgen.
Politico Read more
Using Murphy gaffe, Hugin attacks Menendez
U.S. Senate candidate Bob Hugin is using a gaffe made by Gov. Phil Murphy to attack U.S. Sen. Bob Menendez over taxes.
New Jersey Globe Read more
Hondurans nervously await Trump administration announcement on Temporary Protected Status
About 86,000 Honduran nationals, including nearly 5,000 in New Jersey, are nervously waiting to find out if the Trump administration will remove them from a program that granted them temporary permission to live and work in the United States.
The Record Read more
Trump protesters to return to Bedminster this weekend
After hibernating for the winter, the People's Motorcade is gearing up and is poised to protest President Donald Trump every weekend this spring and summer.
Daily Record Read more
Ex-NJ legislator joins Trump administration
Former Assemblywoman Caroline Casagrande has joined the U.S. Department of State as a special advisor to Assistant Secretary of State for Educational and Cultural Affairs Marie Royce.
New Jersey Globe Read more
This city worker says the ex-mayor confessed his love for her. Now she's suing him
A former mayor who resigned suddenly on Christmas Eve—after twice crashing a city car, taking a medical leave and revealing that he was diagnosed with bipolar disorder—forcibly kissed a female subordinate in a hotel room and told her he loved her, according to a lawsuit.
NJ.com Read more
No hard feelings? Firefighter plays soccer with mayor day after arrest
What's a little arrest between soccer buds? Jersey City Mayor Steve Fulop and city firefighter Christian Sir kicked a soccer ball around during a pick-up game at Berry Lane Park on Wednesday night … the day after police arrested Sir on a charge he used a city car without permission.
Jersey Journal Read more
State lawmakers question Denville leaders on school security
State lawmakers have noticed steps taken by the Denville police and the Denville School District to address school security.
Daily Record Read more
Offshore wind giant Orsted opens Atlantic City headquarters
Workers were installing new signage on windows and awnings at the New Jersey headquarters of offshore wind energy giant Orsted Thursday morning, as company representative Nicole Brogan-Dumas supervised.
Press of Atlantic City Read more
Paterson Starts on Long Road Back to Local Control
Starting in the late 1980s, New Jersey's takeovers of its most troubled school districts made it a national pioneer in state intervention in local public education.
NJSpotlight Read more
Jersey City, Polish officials trade barbs over massacre statue
The proposed removal of a memorial to the victims of a 1940 Polish massacre is officially an international incident, with Jersey City Mayor Steve Fulop and Polish Senator Stanislaw Karczewski trading barbs about plans to find a new home for the statue.
NJ.com Read more
Mayoral candidate Jason O'Donnell sees unchecked development, Bayonne veering off course
The ship is running off course, Jason O'Donnell says, and he wants to start steering it in the right direction.
Jersey Journal Read more