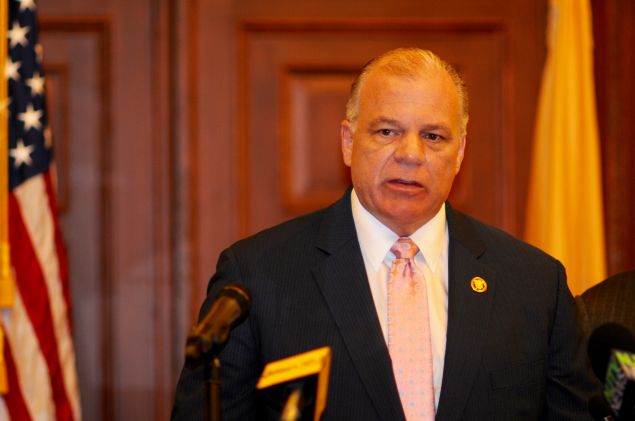 The release last week of hidden-camera videos allegedly showing teachers' union officials bragging about how they protect teachers accused of wrongdoing is prompting action from the state Senate.
Senate President Steve Sweeney on Monday said the senate's education and labor committees would hold hearings into the videos by by the conservative nonprofit organization Project Veritas.
The videos appear to show union officials from Union City and Hamilton Township discussing strategies they use to protect members of the union for alleged infractions that include having sex with students and physical assaults. Both officials were suspended following release of the videos.
[youtube=https://www.youtube.com/watch?v=cGfa9pDYRPs&w=560&h=315]
"When we find problems, we fix problems. And unfortunately that was an eye-opening experience watching those videos of people bragging about the behavior that was taking place," Sweeney said, according to a report by radio station NJ101.5.
Gov. Phil Murphy on Monday said he support's Sweeney's call for hearings but also warned that Project Veritas is known for selectively editing videos.
"On the one hand, this guy's very famous for selective editing. So I'd like to see the whole tape," Murphy said, according to the radio station. "On the other hand, if it's true, it's completely unforgivable and unacceptable, what was said on that."
The New Jersey Education Association (NJEA) has said it's conducting its own investigation into the videos and "welcomes the opportunity to discuss these important issues further with legislators."
The NJEA and Sweeney have been feuding since the senate president reached a deal with Gov. Chris Christie that resulted in union benefits being reduced. The union last year spent $5 million supporting Sweeney's Republican rival in the November election.
Quote of the Day: "Obviously, someone has found a way to game the system, so we have to understand the system to correct it so they can't game it." — Sen. President Steve Sweeney, announcing a joint hearing of the Senate education and labor committees on hidden-camera videos by Project Veritas allegedly showing local teachers' union officials discussing how they protect teachers accused of wrongdoing.
NJ Gov. Phil Murphy Appoints Bill Castner as Gun Safety Advisor
New Jersey Gov. Phil Murphy has appointed Bill Castner, a top Horizon executive and former chief counsel to Gov. Jon Corzine, as senior advisor to the governor on firearms.
Christian Hetrick, Observer Read more
NJ Senate investigating whether officials tried to protect teachers accused of sex abuse
New Jersey senators will investigate allegations in undercover videos that appear to show teachers' union officials discussing how they protect teachers accused of sexual abuse toward students, according to a statement from Senate President Stephen Sweeney.
The Record Read more
Port Authority's top cop leaves agency. Was it because of Rush Limbaugh?
The Port Authority of New York and New Jersey Police Department's top cop is leaving the agency a month after conservative talk-show host Rush Limbaugh bragged that he'd been given a personal escort by the department to a Manhattan fundraising gala.
The Record Read more
Caren Turner and the accused Mystery Pooper both stepped in it. Can their careers be saved?
Ensnared in scandal, and disgraced by bizarre, shocking behavior for all the world to see — that's the twin fate of accused Mystery Pooper Thomas Tramaglini and disgraced ex-Port Authority Commissioner Caren Turner
NJ.com Read more
As Phil Murphy pushes to make weed legal in NJ, should he pardon past pot convictions?
Gov. Phil Murphy repeatedly insists that raising tax revenue is not his main motivation for legalizing marijuana.
The Record Read more
NJ marijuana legalization: The teen brain on weed
Woe the teenager smoking weed.
That's the view of many policymakers, social observers and others frowning upon efforts to legalize recreational marijuana use in New Jersey.
Asbury Park Press Read more
Gov. Murphy names former mayors as state's new shared services czars
Two former mayors have been appointed by Gov. Phil Murphy to become the state's first "shared services czars" for New Jersey's 565 municipalities.
Daily Record Read more
What Do High Scores on NAEP Mean For Muphy's PARCC Plans
When New Jersey's latest scores on the national NAEP tests came out in April, they were reason for celebration among education leaders who touted how the state does as well or better than any other in the country.
NJSpotlight Read more
Charity organization paid for some Murphy inaugural events
Gov. Phil Murphy's inaugural committee entered into an unusual fundraising agreement in which a charity it raised money for picked up the tab for several inaugural-related events.
Politico Read more
Murphy won't ask group to immediately disclose donors
Gov. Phil Murphy on Monday would not call for a non-profit started by three of his top campaign advisers to follow through on a promise to immediately disclose their donors.
New Jersey Globe Read more
National Republicans endorse Hirsh Singh for LoBiondo's Congress seat
Local Republicans vying for outgoing U.S. Rep. Frank LoBiondo's congressional seat were left with a sour taste after a high-ranking GOP leader questioned their qualifications for their role in Congress.
The Press of Atlantic City Read more
Joe Piscopo bashes 'SNL' skit with Stormy Daniels, Twitter (and Alec Baldwin) hits back
Joe Piscopo had just barely departed from the stage at Sunday's New Jersey Hall of Fame induction ceremony in Asbury Park when he appeared on Fox Business Network on Monday morning.
NJ.com Read more
Reynolds-Jackson plans to keep county chair role
Assemblywoman Verlina Reynolds-Jackson (D-Trenton) plans to stay on as Mercer County Democratic Committee chairwoman now that she's in the statehouse.
New Jersey Globe Read more
Syrian refugees sue landlord, Paterson over housing conditions
When the Safour family moved to the United States last year as refugees fleeing violence in their native Syria, they faced the expected challenges of learning English and finding work in their new country. They did not expect to be battling mice, roaches and leaking ceilings.
The Record Read more
Pagans may be planning a 'violent' expansion into North Jersey
The brutal beating of a Hells Angel associate in Newark late last month is part of a broader attempt by the Pagans Motorcycle Club (PMC) to expand its territory into northern New Jersey, NJ Advance Media has learned.
NJ.com Read more
Slur-Filled Flyer Roils Paterson Race
A flier referring to four politicians by slurs or by ethnicity was left at homes over the weekend as primary campaign season continued.
NJ101.5 Read more
Affordable-housing fight will account for about half of Park Ridge property tax increase
Money spent last year to fight a developer that wants to build large-scale multifamily housing in town will cost an average taxpayer about $68 this year.
The Record Read more
Panel lays into state judge who hampered her boyfriend's arrest
After five years, Superior Court Judge Carlia M. Brady is free and clear of criminal charges and back on the bench in Middlesex County.
NJ.com Read more
For Sale: Small Music College, Beloved by Some, Future Uncertain
Two decades ago, Rider College was hailed as a savior in the music world when it acquired neighboring Westminster Choir College, a beloved but struggling institution in downtown Princeton. It was vital, Rider officials said, to sustain a storied history replete with students who had sung on the original "Fantasia" soundtrack, and worked with Bernstein and Toscanini.
New York Times Read more
Cedar Grove manager named Passaic Valley Sewerage Commission chairman
Cedar Grove Township Manager Thomas Tucci Jr. has been reappointed chairman of the Passaic Valley Sewerage Commission chairman, a position he has served since 2015.
The Record Read more
Lodi superintendent sick time payout could be more than $177,000 under new contract
The schools' superintendent has more sick leave than students have school days.
The Record Read more
Easy-peasy election season for two Dem mayors running unopposed — again
As Bayonne Mayor Jimmy Davis fights for his political life in Tuesday's municipal contest in Peninsula City, two of Davis' counterparts in northern Hudson County do not even have to break a sweat on the campaign trail.
Jersey Journal Read more
Editorial: O'Keefe may be a fifth-rate attack schnauzer, but his NJEA footage demands scrutiny
Typically, it's pointless to call attention to anything James O'Keefe manufactures with his hidden camera unless he films his pet viper doing something whimsical, because he tends to use deceit, amateurishly selective editing, and general wing-nuttery to launch himself into mainstream discourse.
Star-Ledger Read more
Editorial: Making the right call on Liberty State Park
The misguided attempt to add three golf course holes to the long-protected Caven Point peninsula in Liberty State Park was always a bad idea, and it seems the Murphy administration has come around to recognizing that fact.
The Record Read more