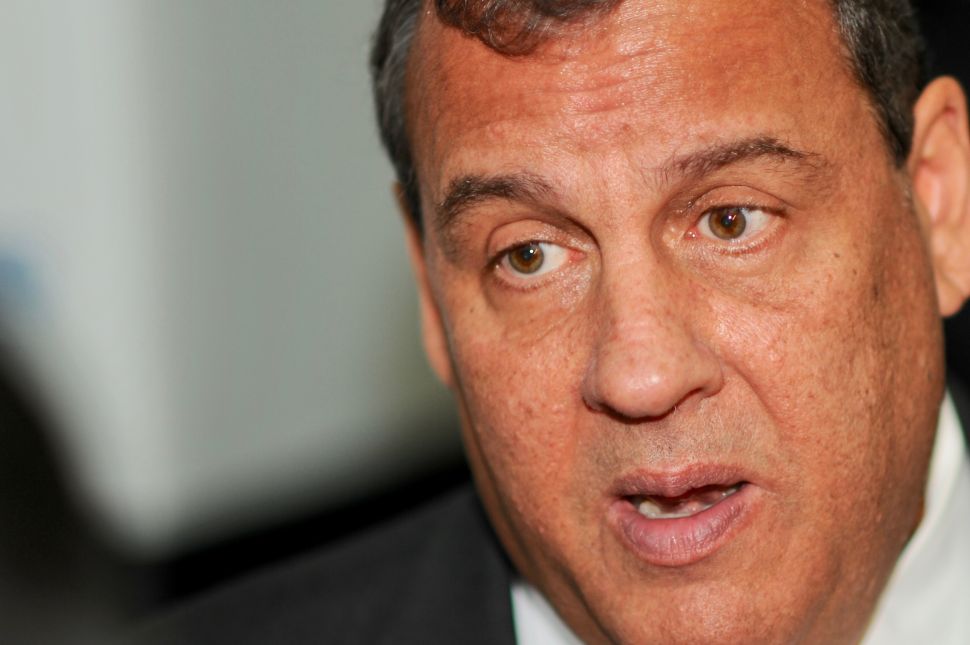 He was a big proponent of allowing legalized sports betting in New Jersey, and now former Gov. Chris Christie thinks his former colleagues in state government are blowing it by delaying the date when folks can start laying down bets.
"We should allow Monmouth Park to start taking bets on Memorial Day," Christie—who still refers to state government as "we"—told Advance Media for a story posted Sunday.
Not only will that start generating tax revenue, but it will also help the state economy by drawing visitors to the New Jersey shore for the long holiday weekend, Christie said in the report.
State officials, however, say June 7—the day of the next legislative voting session—is the earliest sports betting can go ahead following the U.S. Supreme Court's decision in favor of New Jersey's argument to allow for the spread of legalized sports betting.
While Monmouth Park had originally planned to start accepting sports bets on May 28, it backed off the date when Senate President Steve Sweeney included provisions in the proposed state legislation regulating betting that would ban anyone who accepts bets before the measure is approved from accepting future bets.
Under Christie, the state has been waging a campaign since 2011 to overturn the federal law that prevented the state from accepting sports wagers.
But now it looks like Delaware will be the first East Coast state to allow people to place single game bets on professional and college sports. That state has allowed multi-game betting since 2009, and on Thursday state officials said there was nothing stopping the state from moving ahead with plans to expand gambling choices, according to Delaware Online. Delaware Gov. John Carney has said betting could start by the first week of June, according to the report.
New Jersey officials have said they expect the state to reap between $20 and $30 million from sports betting in the coming fiscal year, though some estimates have been as high as $60 million. There is some question as to how sports betting will impact Atlantic City's future, with supporters hoping it will prove a boon to the struggling gambling resort while others saying the spread of sports betting will lead potential Atlantic City tourists to other states.
Quote of the Day: "It was completely overwhelming. You're being followed everywhere and screamed at and yelled at with questions and charges." — Former Gov. Chris Christie, on dealing with the fallout from the Bridgegate scandal.
Will Sports Betting Be a Boon for Atlantic City Casinos?
The U.S. Supreme Court's decision to strike down the federal ban on sports betting was seen by some this week as a game-changer for Atlantic City, the East Coast gambling mecca that lost five casinos in two years and once teetered on the edge of bankruptcy.
Christian Hetrick, Observer Read more
Chris Christie Compares Bridgegate to Mueller Investigation
Former New Jersey Governor Chris Christie compared his career-ending Bridgegate scandal to Special Counsel Robert Mueller's Russia investigation.
Davis Richardson, Observer Read more
Phil Murphy Signs Bill Boosting Salaries for Judges, Cabinet Officers
Gov. Phil Murphy signed a bill into law Friday that will boost salaries for New Jersey's judges, cabinet officials, county prosecutors and top legislative aides.
Christian Hetrick, Observer Read more
Planner to New York and New Jersey: Forget Trump, pay for Gateway yourselves
One prominent planner has a message for New York and New Jersey leaders: Give up on the Trump administration and pay for the new cross-Hudson rail tunnels yourselves.
Politico Read more
Gateway Development Corp. announces funding for small portion of project, welcomes Zaro to board
The Gateway Program Development Corp. continues to move forward while hoping the project's funding issue will get resolved.
ROI-NJ Read more
Chris Christie says N.J. sports betting should have started on Memorial Day
Chris Christie spent six years pushing for legalized sports betting.
Now, the former governor says New Jersey lawmakers shouldn't waste any more time. He thinks people should be allowed to place wagers here as soon as possible.
NJ.com Read more
Will Delaware beat N.J. to the punch on sports betting?
New Jersey now has a clear opponent in the race to be the first place on the East Coast with full-scale legal sports betting: the state directly below us on the map.
NJ.com Read more
Big marijuana company entering N.J. market hires Norcross lobbying firm
As Acreage Holdings, one of the nation's largest cannabis cultivation, retail and real estate companies, enters the New Jersey market, it's apparent the firm wants to break into the Garden State in a big way — and is making deals and hiring influential players.
NJ.com Read more
This Republican was only Jersey politico to back bill that would have cut N.J. food stamps
New Jersey Rep. Tom MacArthur went his own way again last week.
NJ.com Read more
Will Phil Murphy make good on his pledge to suspend NJ's bear hunt?
Gov. Phil Murphy has been unequivocal in his opposition to New Jersey's bear hunt, saying repeatedly on the campaign trail that he would impose a moratorium this year and shift the state's focus toward non-lethal means of population control.
The Record Read more
Murphy signs bill boosting public-sector labor unions
Gov. Phil Murphy has signed a law expanding the rights of over 300,000 public-sector employees.
NJBiz Read more
N.J. city's '80s-era topless ban, sex toy restrictions may be history
Jersey City may say "ta ta" to its ban on women going topless in public.
NJ.com Read more
New Regulations For NJ Freelance Workers
As technology continues to reshape the state economy, more and more New Jersey residents are choosing to work for companies on a freelance basis. In response, state lawmakers are proposing a new set of labor regulations to help ensure freelancers are treated fairly and get paid on time.
NJSpotlight Read more
The 20 most dangerous jobs in N.J. and why fatalities are rising
You might be bored sitting at your desk for eight hours every day and wishing you were outside, but for some workers in New Jersey, the worksite was a very dangerous place.
NJ.com Read more
Aid offices scale back after preparing for a wave of refugees who never came
Pillows and bedding were stacked against a wall, while pots, pans, dishware and cleaning supplies spilled from boxes in rows of overloaded bookcases. In two other rooms, piles of folded clothing, shoes and toys shared space with hand-me-down sofas and dressers.
The Record Read more
Traffic Cam Confirms School Bus Crossed Three Lanes After Missing Exit
The school bus in a crash that killed a Paramus fifth-grade student and teacher appears to have missed its exit and then rapidly crossed three lanes of traffic before it was struck by a dump truck, according to officials who have seen video of the collision.
NJ101.5 Read more
Paramus school bus accident GoFundMe pages raise tens of thousands for school, families
More than $95,000 has been pledged to on crowdfunding sites in the wake of the Paramus school bus crash that killed one teacher and one student from East Brook Middle School.
The Record Read more
After Deadly New Jersey Crash, Scrutinizing the Safety of School Buses
The field trip to Waterloo Village had been planned for some time. Ricardo Pedraza remembered signing the permission slip at least a month ago for his 10-year-old son to spend a day at the old-time village, with its blacksmith and sawmill, about 40 miles and well over a hundred years from East Brook Middle School.
New York Times Read more
NJ sports betting: Justify bonus likely to be tied to future bet
Monmouth Park officials are leaning toward tying a $5 million bonus designed to attract Kentucky Derby/Preakness winner Justify to the betfair.com Haskell Invitational to a future bet on the 2019 Super Bowl winner.
Asbury Park Press Read more
Some Shore gun-control student activists 'demoralized' after Texas shooting
After the massacre in Parkland, Florida, 17-year-old David Buneta slowly started to feel that changing what he saw as the complacency surrounding gun violence was possible.
Asbury Park Press Read more
Nice try. Yet another attempt to narrow N.J. public records law gets smacked down.
The state's public records law can be used by anyone in the country and is not limited to residents of New Jersey, a narrow argument used in the past several years by public agencies to deny records, according to a new state appellate ruling.
NJ.com Read more
Webber says attack ad meant to boost Sherrill
Jay Webber's campaign manager says a labor union is paying for a TV attack in the Republican primary to help the GOP nominate a weaker opponent against Democrat Mikie Sherrill in the fall.
New Jersey Globe Read more
As N.J. colleges expand recovery housing, here's what others can learn
Cassidy's first two weeks as a Rutgers student did not go well.
There was lots of drinking and smoking pot. It went far beyond a typical inaugural college experience and spilled into something more toxic and dangerous.
NJ.com Read more
Mulshine: In New Jersey, drinkers may finally triumph uber the liquor cartel
In all my travels south of the Mexican border I have never come across a beach town, no matter how small, that lacked a store that would sell you a cold beer on the same terms as a cold soda.
NJ.com Read more
Lawmakers Seek to Expand Medicaid Coverage for Smoking Cessation
New Jersey lawmakers are considering a plan to expand insurance coverage of smoking cessation programs for Medicaid members — who are nearly twice as likely to smoke cigarettes as the population at large — in an effort to improve health, reduce deaths, and save money over time.
NJSpotlight Read more
'It's dirty in Linden.' Councilman accuses mayor of assaulting him
It's election season in Linden. Things were bound to get ugly.
NJ.com Read more
Hudson political civil war bell tolls in WNY
Hudson County's Democratic Party civil war gives observers the look of an asteroid field where chaos is constant, but in reality, there is always a point to the histrionics. Campaigning and whining is past, present and future at the same moment, a gravitational singularity. This why we say, "We've seen this before."
NJ.com Read more
Cherry Hill principal apologizes for 'insensitive' prom tickets
The principal of Cherry Hill High School East has apologized for "insensitive" language on tickets for the upcoming senior prom.
Courier Post Read more
NJ School Board President Had Child Porn, Won't Go To Prison
A former president of this borough's Board of Education was sentenced to four years of probation for having child pornography, despite prosecutors asking for a prison sentence of up to six months.
NJ101.5 Read more
Meet the 4 school leaders who want to be Newark's next superintendent
The four candidates seeking to lead Newark's public schools made their pitch to the public on Friday night, each angling to become the first schools superintendent picked by the local school board in 22 years.
NJ.com Read more
Remembering Prince Harry's visit to the Jersey Shore
Three years before Prince Harry was set up on a blind date with Meghan Markle – five years ago this past week – the future royal groom paid a visit to Seaside Heights and Mantoloking to lend his moral support to the Jersey Shore which was rebuilding from superstorm Sandy.
Asbury Park Press Read more
Woodland Park police chief retires abruptly
Police Chief Anthony Galietti submitted his letter of retirement Thursday. It was effective immediately.
The Record Read more
Garfield's Columbus Park will not be turned into condos or commercial space
Columbus Park will remain a park, after all.
The Record Read more
Does New Jersey's anti-bullying law address racism in schools?
A Camden County lacrosse team's season was canceled this month after students from Haddonfield uttered a racial slur at a member of the Sterling High School track team in Somerdale.
The Press of Atlantic City Read more
Beyond boys' lacrosse, on Haddonfield sports teams, racial slurs 'just happened all the time,' parents say
When a Haddonfield boys' lacrosse player used a racial slur against a black female athlete from another school earlier this month, it was the latest in a disturbing pattern of behavior at the elite South Jersey school, parents, coaches, and former students say.
Inquirer Read more
Goethals Bridge Replacement Ending As New Span Opens Monday
The Goethals Bridge will stay closed on Sunday heading into New Jersey to prepare for the opening of the new westbound span on Monday.
NJ101.5 Read more
Moran: Jersey's segregated schools and America's racist past
Charity Haygood is a respected educator who has taught in Newark for 20 years, in three different schools, and has never had a single white student.
NJ.com Read more
Alec Baldwin tells APP: No nuclear power bailout in NJ
Gov. Phil Murphy has pledged an all-renewable energy future for New Jersey by 2050. He is to be commended.
Asbury Park Press Read more
Goreham: Offshore wind expensive, vulnerable to storms
Several eastern U.S. states are planning major investments in offshore wind. Wind turbines are touted as clean, green and economically sound. But experience from around the world shows that offshore wind systems are both expensive and at high risk for early system degradation.
Asbury Park Press Read more
Editorial: Federal intervention at a New Jersey prison
It's never a good sign when the federal Department of Justice begins an investigation into part of a state's criminal justice system, whether that probe has to do with its courts, law enforcement or prisons. Time was, the Justice Department spent a great deal of time looking into wrongdoing and discrimination among several jurisdictions in Southern states in the 1960s, when civil rights violations tied to racist policies were commonplace.
The Record Read more