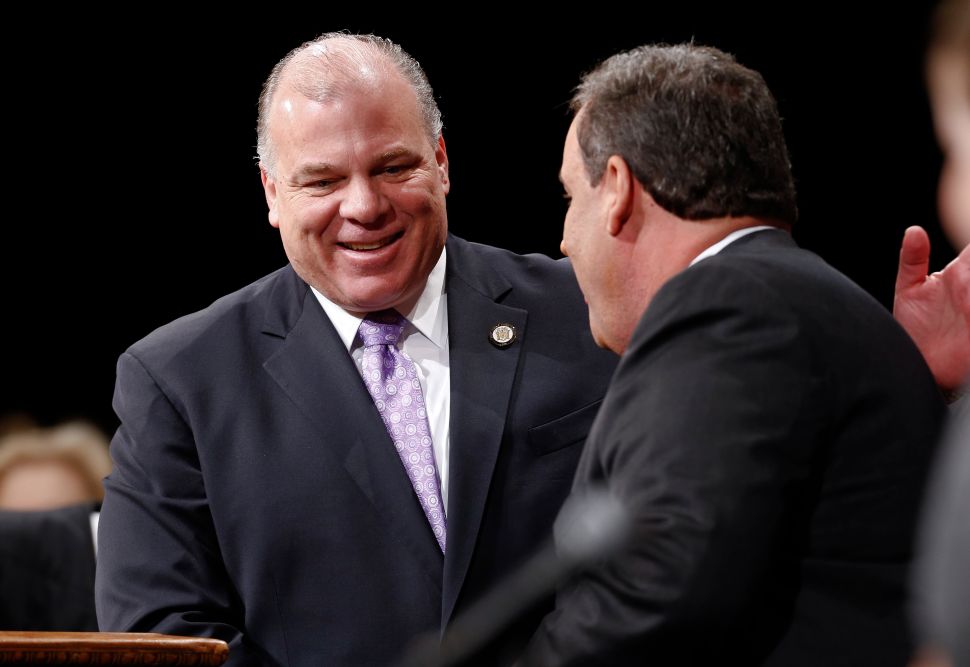 Now that a controversial bill forcing New Jersey ratepayers to provide a $300 million subsidy to nuclear power plants seems like a done deal, the chairman of the energy company that stands to benefit from the plan says the money could help benefit out-of-state power plants and their out-of-state customers, according to a report in NJSpotlight.
The bill was pushed through the legislature by Senate President Steve Sweeney, whose districts hosts plants that Public Service Enterprise Group threatened to close unless it received the state bailout. Gov. Phil Murphy has yet to sign the measure, which is opposed by the state ratepayer's advocate and environmental groups, but he is expected to do so.
In an earnings call on Monday, PSEG CEO and President Ralph Izzo acknowledged that the state's money could go to out of state nuclear facilities, such as Peach Bottom in Pennsylvania, a unit half-owned by PSEG, as well as other nuclear plants in the state, Limerick and Susquehanna, according to the NJSpotlight report. The bill would have New Jersey households paying about $40 more per year, with local businesses paying even more.
Critics of the legislation have pointed out that PSEG never proved its plants were not profitable. The measure largely keeps the state's Ratepayer Advocate out of deliberations involving if the subsidy should be granted. They also questioned why New Jersey customers ought to subsidize power going to out-of-state customers, according to the NJSpotlight report.
But Sweeney is concerned that shutting the plants could lead to job losses in his district.
Quote of the Day: "I don't want him coming here with a bunch of lies. I need to know the truth, so that we can bend the truth." – Hamilton Teachers Education Association president David Perry, in a video posted by Project Veritas.
New Jersey Gov. Phil Murphy Won't Say If He's Smoked Weed
New Jersey's pro-pot governor was finally asked the burning question.
Christian Hetrick, Observer Read more
Phil Murphy Says He Doesn't Know the Cost of Raises for State Workers
New Jersey Gov. Phil Murphy said Wednesday that he doesn't know how much a new contract that gave raises to roughly 35,000 state workers will cost taxpayers.
Christian Hetrick, Observer Read more
New Jersey Becomes 10th State to Guarantee Paid Sick Leave
New Jersey Gov. Phil Murphy signed a bill into law on Wednesday requiring employers to provide their workers with earned sick leave.
Christian Hetrick, Observer Read more
New Jersey's Nuclear Subsidies Could Go to Out of State Plants
If and when Gov. Phil Murphy signs a controversial bill to subsidize nuclear power, out-of-state plants could be among the beneficiaries.
NJSpotlight Read more
Lakewood yeshiva, Princeton seminary grants: NJ Supreme Court dodges decision
A New Jersey Supreme Court opinion handed down Wednesday and expected to decide whether taxpayer dollars can fund capital projects at religious schools instead avoided a final ruling on the constitutional question.
Asbury Park Press Read more
Morris churches ask Supreme Court to reconsider ruling that bars them from grants
Morris County churches, barred by last month's state Supreme Court ruling from receiving taxpayer-funded historic preservation grants to make repairs, have asked the state's highest court to reconsider its opinion.
The Record Read more
NJ Teachers Union President: We Bend The Truth to Defend the Worst People
The president of the Hamilton school district's teachers union was caught on video describing how he can "bend the truth" in order to protect teachers accused of wrongdoing and bragging about how he saved teachers who used drugs and shoplifted.
NJ101.5 Read more
NJ Transit probe ordered by Murphy hasn't even left the station
A comprehensive audit of NJ Transit's operations ordered by the governor in January hasn't even started, despite Gov. Phil Murphy's statement that it would be done "as fast as possible."
NJ.com Read more
Kean: Make N.J. affordable (so we don't lose folks to Texas!)
A recent opinion piece by Texas Gov. Greg Abbott encouraged overtaxed New Jerseyans to consider relocating to the Lone Star State.
NJ.com Read more
N.J. corrections commissioner retiring amid questions over sex abuse scandal at women's prison
New Jersey's corrections commissioner — whose renomination was stalled amid an ongoing inquiry into sex abuse allegations at the state women's prison — is retiring from the post, NJ Advance Media has learned.
NJ.com Read more
NJ High School Students Focus Energy, Efforts on Registering to Vote
New Jersey high school students are working to add their names to the voter rolls this week in a mass effort to increase civic engagement among young people, following their demonstrations in favor of gun control.
NJSpotlight Read more
All those bears you're seeing this spring? Why there could be a lot more next year
Gov. Phil Murphy campaigned on a pledge to halt New Jersey's controversial bear hunt, but has been mostly silent on the issue since taking office in January.
NJ.com Read more
NJ Councilman Claims DWI Arrest Was Police Conspiracy
A township councilman who got away with driving drunk is now claiming that his DWI arrest was part of an "organized conspiracy" by the police department.
NJ101.5 Read more
Arrested Spring Lake Heights councilman once charged with prostitution sex in cemetery
Councilman Robert T. Merriken Sr., arrested last month on a drug paraphernalia charge, has a prior history of prostitution arrests, including charges that he paid a woman $25 for sex in a Jewish cemetery.
Asbury Park Press Read more
Explosions, military helicopters cause a panic in Totowa
While it's no secret that the North Jersey Developmental Center is going to be redeveloped, it apparently was a well-kept secret that military forces had intended to use the site to train last month.
The Record Read more
Doctor, lawyer, and mayor? Mitchell Brown wants to 'rein in' Bayonne's spending
For months, it seemed it would be a two-man race for the Peninsula City's mayoralty.
NJ.com Read more
Bridge construction technique used in fatal Florida collapse is widely used in New Jersey
Accelerated Bridge Construction techniques, pre-fabricated materials like the construction used in the fatal collapse of the Florida International University pedestrian bridge, are widely used in New Jersey state bridge construction.
The Record Read more
NJ police brutality: State again targets bad cops after 'Protecting the Shield'
Twice in eight days, a state lawmaker and the top New Jersey lawman focused on rooting out bad cops by citing the Asbury Park Press' "Protecting the Shield" investigative series. The series exposed gaps in Garden State police accountability, including more than 100 police departments without a policy for random drug testing and limited outside oversight of police internal affairs issues.
Asbury Park Press Read more
Monmouth Democrats question Bob Hugin meeting at Holmdel town hall
Monmouth County Democrats are questioning a meeting Republican U.S. Senate candidate Bob Hugin had at Holmdel's town hall, accusing him of using taxpayer resources for politics.
Asbury Park Press Read more
State moves to return local control of Paterson's schools
The New Jersey Board of Education voted Wednesday to start the process for ending state control of Paterson's public schools, ushering in a new era for a district that has fought to rebuild trust, improve education and prove strong leadership over nearly three decades under state supervision.
The Record Read more
NJ criminal justice system becoming more just: Rabner
Craig Mallon's decision to plead guilty to fourth-degree joyriding in 2016 made sense from a practical standpoint.
Asbury Park Press Read more
NJ Transit train strikes, kills two pedestrians in Hackensack
Two pedestrians were struck and killed by an NJ Transit train Wednesday afternoon, police said.
The Record Read more
Editorial: NJ standing its ground on tax 'reform'
New Jersey leaders are gearing up for another fight with the federal government, this one over the GOP tax reforms that hurt our state more than any other.
The Record Read more