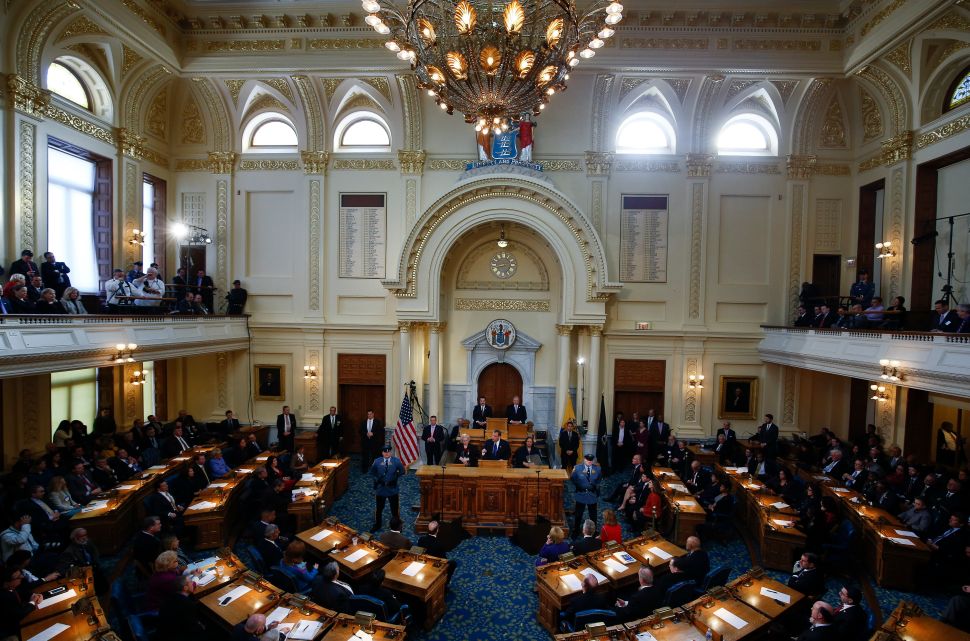 New Jersey lawmakers hoping to avoid raising taxes received bad news on Monday: There was no "April surprise" of robust revenue collections.
Tax collections for fiscal years 2018 and 2019 tracked closely with earlier projections, according to state budget analysts, meaning there was no significant surge in revenue to help pay for schools, pensions or infrastructure projects.
Lawmakers had hoped an influx of revenue collections in April—the largest month of the year for income tax collections—would reduce the need to raise taxes for the fiscal year that starts July 1. Gov. Phil Murphy has proposed raising $1.7 billion in taxes to help pay for his $37.4 billion proposed budget.
"With the revenue situation essentially unchanged, the difficult choices facing you as budget makers and lawmakers—for better and for worse—are similar to how they appeared six weeks ago," Office of Legislative Services (OLS) budget analyst David Dreshcer said during an Assembly Budget Committee hearing.
OLS lowered its revenue projections for the current and upcoming fiscal years by $45 million—less than 1/10 of one percent of the $72.8 billion in total revenue forecast for the two-year period.
The Assembly Budget Committee later heard testimony from Treasurer Elizabeth Muoio, who warned that New Jersey is on track for a $2.4 billion general fund deficit for fiscal year 2019 without new revenue initiatives. The state is not constitutionally allowed to run a deficit.
"Despite our best wishes, there is no April surprise. Instead, we have a May reality check—a reality check on the urgent need for new revenues," Muoio said. "We must take action to correct our serious structural deficit and structural fund imbalance. General Fund revenues are simply not keeping pace with our obligations."
The revenue forecast comes as Murphy and legislative leaders negotiate a spending plan for fiscal year 2019. A budget must be in place by June 30 to avoid a government shutdown.
Murphy, a Democrat who took office in January, wants to raise taxes on millionaires and large corporations, restore a recent cut to the sales tax and legalize and tax recreational marijuana. In addition, Murphy has proposed taxing ride-sharing services, Airbnb stays and e-cigarettes.
He would use the extra revenue to ramp up state aid for school districts, increase funding for the beleaguered NJ Transit and a make a larger payment into the cash-strapped public worker pension system. He has also proposed beginning a path toward free community college and a statewide expansion of preschool education.
But Democratic lawmakers—who voted for a millionaires tax five times under former Gov. Chris Christie—are reluctant to raise any taxes this time around, especially in the wake of the new federal tax law that scaled back the state local tax deduction.
Senate President Steve Sweeney (D-Gloucester) has said New Jersey "cannot tax our way of this fiscal crisis" and has called for unspecified changes to the state's fiscal policy and government structure. Assembly Speaker Craig Coughlin (D-Middlesex) recently said he "would prefer we do not" raise the sales tax from 6.625 percent back to seven percent.
Assemblywoman Eliana Pintor-Marin, the budget chair, said Monday that lawmakers may have to consider cuts to state programs. She said it was too early to say whether the legislature would craft its own budget blueprint or reach a deal with the governor on his spending plan.
"I think we're just going to have to measure exactly what it is we can afford to do and what we can't afford to do," Pintor-Marin (D-Essex) said.
Assembly Majority Leader Lou Greenwald (D-Camden) cast doubt on the notion that Murphy's proposed tax hikes would help fix the state's shaky finances.
"I don't believe in my heart that this is going to finally… solve the structural deficit of this state," he said. "I think what we're doing is we're bringing more revenue in, for a short period of time, that will slowly erode away."
During an unrelated event in Bayonne, Murphy said he was "very optimistic" he would reach a budget compromise with legislative leaders. He said conversations with lawmakers have been more focused on where to make investments within the budget, and less on how to raise the money.
"We feel confident we'll find the solution," Murphy said. "It's telling when most of your conversations are in the investment side. There's an acknowledgment we need the investment. Let's figure out those revenues."