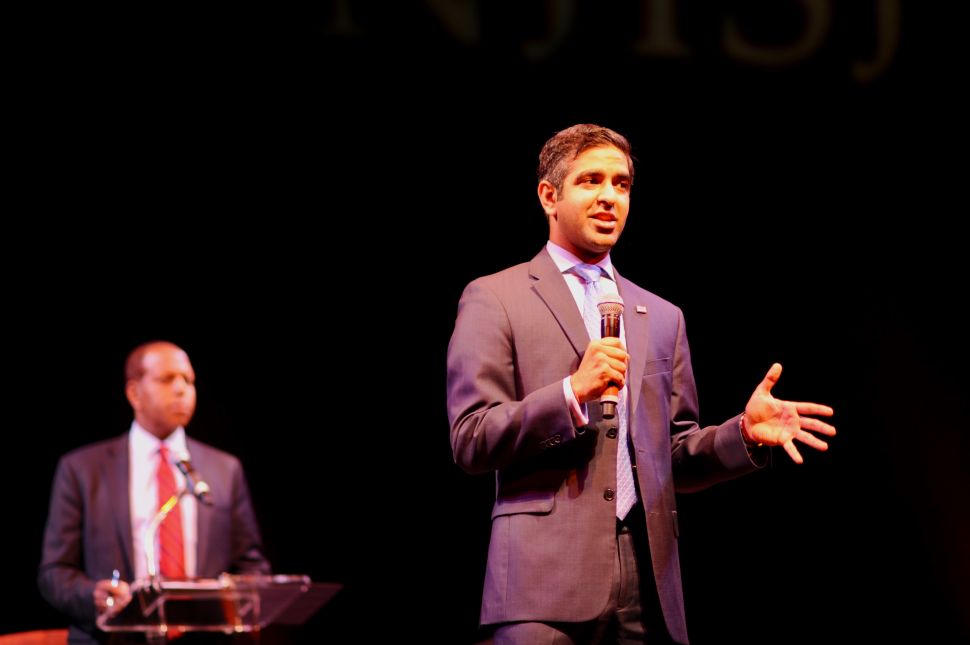 After seemingly waving the white flag in New Jersey's 2nd congressional district, National Republican Congressional Committee (NRCC) Chairman Steve Stivers said on Wednesday that he's confident the GOP will keep the seat after meeting with candidate Hirsh Singh.
Stivers met with Singh on Wednesday morning in his Washington, D.C. office, where the two discussed the chairman's recent comments calling the district "a recruiting hole" for the Republican Party, according to a GOP source familiar with the meeting.
Following the meeting, Stivers walked back those comments, calling Singh "an impressive candidate."
"We don't endorse in open seat primaries, but my comments were made before I had the chance to meet with any of the candidates," Stivers said in a statement to Observer. "I just met Hirsh Singh, who is an impressive candidate with a compelling personal story. If the other candidates are as strong as Hirsh, I am confident we are going to win the seat."
The retirement of Rep. Frank LoBiondo has reshaped the political dynamics in the sprawling South Jersey district. The seat has been held by Republicans for 24 years, but even Stivers acknowledged the district could fall into Democratic hands this fall.
"That one probably should be at least a toss-up or lean their way," Stivers said on April 26, according to NJ Advance Media. "I wish we had a better recruit in the LoBiondo seat, but we don't."
Singh, a South Jersey engineer and former candidate for governor, ended the first quarter of 2018 with $82,500 cash on hand, according to his filings with the Federal Election Commission (FEC). He jumped into the race in late February and only had a few weeks of first-quarter fundraising.
By comparison, the likely Democratic nominee in the district, State Sen. Jeff Van Drew, has $456,000 in the bank. After LoBiondo announced his retirement, Democratic Party leaders quickly coalesced around Van Drew (D-Cape May), who already has the support of South Jersey powerbroker George Norcross and all eight of the Democratic county chairs in the district.
Stivers was initially unhappy with the fundraising progress of the GOP candidates, said a source, who requested anonymity to discuss details of a private meeting.
"Obviously, there was more to be desired there," the source said.
But after the meeting with Singh, Stivers now says Republicans are all-in on keeping the district, regardless of who wins the GOP primary.
"There will be a competitive primary, but no matter who emerges, we're fully committed to keeping New Jersey's 2nd District in Republican hands," he said.
Former Assemblyman Sam Fiocchi, former Atlantic County Freeholder Seth Grossman and former FBI agent Robert Turkavage are also seeking the Republican nomination.