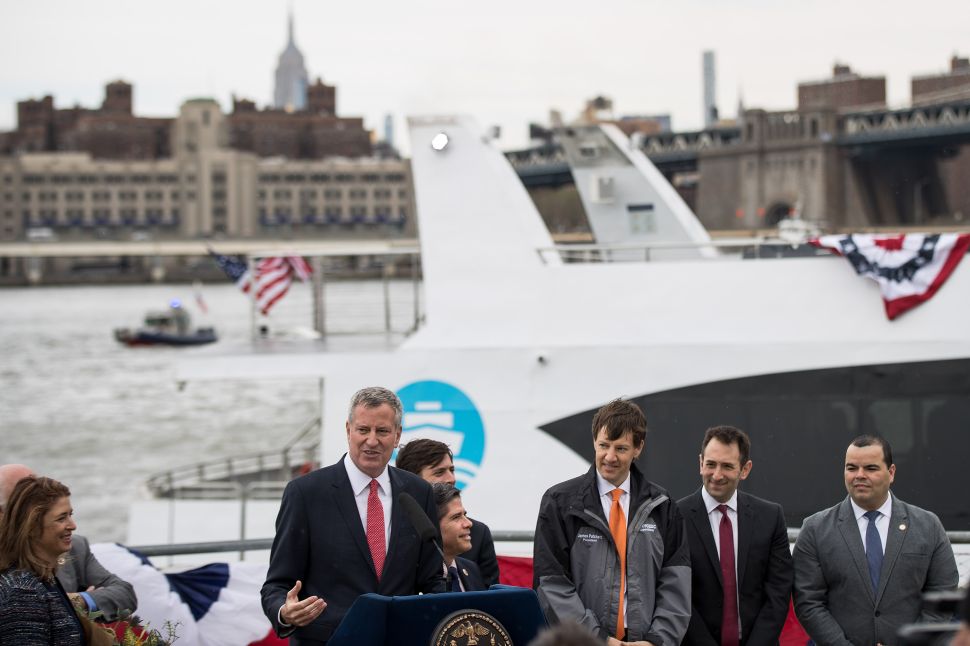 New York City anticipates that ridership for the NYC Ferry will reach nine million annual riders by 2023 and is investing $300 million to build more and bigger boats to meet that demand—a move that will help New Yorkers fed up with overcrowding in the subway and traffic congestion while driving.
The city initially projected that ridership for the NYC Ferry, which was launched a year ago, would hit 4.6 million riders—twice what the city is now expecting for 2023—once all six routes are up and running. The NYC Ferry had 3.7 million passengers in its first year, with only four routes operating and only two operating during the entire year in which the service has existed.
The city plans to invest $300 million in capital over the next five years, including $35 million in fiscal year 2019, for new 350-capacity ferries, improvements to piers and docks and a second homeport in which ferries will be taken care of and repaired.
"I wanna speak to all of the straphangers and all of the drivers who suffer in this city every day who are on the clogged highways, who are stuck in traffic, who are in a subway that is overcrowded on a platform where they can barely have enough space waiting for a train—all those New Yorkers, every day, are struggling," de Blasio said at the American Veterans Memorial Pier in Bay Ridge on Thursday morning. "They need new solutions, they need new options and they feel—a lot of them, I think a lot of them—the same way I felt: how are we not taking full advantage of all that's around us: our waterways?"
Indeed, he argued the NYC Ferry is a "key to a future" of New Yorkers being able to get around more easily. He pointed to the impact the NYC Ferry will have on underserved communities, particularly in the outer boroughs.
"If you don't have access to transportation that works, you don't have access to education, you don't have access to jobs and you certainly don't have the quality of life you deserve," de Blasio continued.
De Blasio argued that sufficient mass transit is needed "for all other things to be possible," including job creation and economic development. Since the NYC Ferry launched, it has employed more than 250 people and is currently hiring for more than 75 new positions, including captains, deckhands, customer service agents, ticketing and operations, according to the de Blasio administration.
And the mayor noted it "wasn't long ago" that the subways were not overcrowded—a phenomenon that has since changed.
"Now, you can be on the subway and obviously famously the L train and you wait, three or four trains go by, and you literally can't get on," he added. "That's not a supportable situation. You can fix the signals, that'll help a lot obviously, but it says we need more options."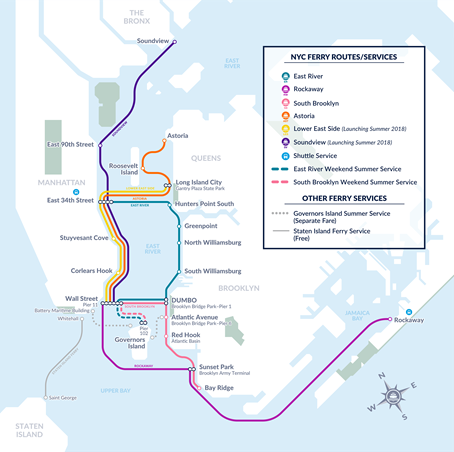 The NYC Ferry's current routes are the East River, Rockaway, South Brooklyn and Astoria. The final two routes of the first phase of ferry service—the Soundview section of the Bronx and the Lower East Side in Manhattan—are expected to start operating in late summer 2018.
NYC Ferry currently does not operate on Staten Island. The city's Economic Development Corporation (EDC) said it would study potential route expansions later this year.
The ferry currently costs the same as a subway ride, at $2.75. The city is spending a roughly $6.60 subsidy per rider based on the expansion. When asked if they are looking to adopt a free transfer system between the ferry and the subway, de Blasio said the city is ready to engage in dialogue with the Metropolitan Transportation Authority (MTA).
"We're not there," he explained. "It is our goal. It's something that we're gonna work on this year."
When asked if the NYC Ferry could drive up rents on the grounds that it could attract more people and yield gentrification, he said he does not foresee that happening.
And as to why he is spending $300 million in additional investments but did not include a proposal to fund subway fares for low-income New Yorkers in his executive budget, he argued adding transportation options for millions of New Yorkers is a "good thing" and touted his proposed millionaires tax as a way to fund reduced fares.
To tackle the anticipated growth, NYC Ferry will deploy three new 350-passenger capacity NYC Ferry boats by later this summer to provide service along the busiest routes and up to eight charter vessels this summer—each with a capacity between 250 and 500 passengers.
And starting Memorial Day Weekend, Governors Island will become the last stop on the East River and South Brooklyn routes. The city also plans to increase frequency, with boats arriving every 20 to 30 minutes on weekdays and weekends on all four routes, compared to 25 to 60 headways for the same service last summer.
"We're also reducing headways, which means the time between ferries, to an average of 25 to 30 minutes," James Patchett, EDC's president and CEO, said. "When you reduce headways, it means more reliable service for people. If they miss one boat, they can get on another vessel more quickly. It also means that there's more overall service because vessels are coming more frequently."
The city will additionally launch a new express service on the Rockaway route to and from Pier 11/Wall Street—one of the city's two main ferry terminals—during weekday rush hour and on weekends, doubling capacity. And the city will increase service from the Brooklyn Army Terminal by 20 percent on the Rockaway route as well as staffing at ferry landings to help riders with lining up and boarding.
The money will also go toward doubling the size of the ferry fleet, establishing a second homeport facility to house and maintain the expanded fleet and improving and upgrading the infrastructure of existing NYC Ferry barges and landings to address larger crowds.
And the funds will be used to improve the city's two main ferry terminals—Pier 11/Wall Street and East 34th Street—by including wider gangways (walkways providing passage) and new bow-loading locations to increase the number of vessels that can dock at the same time.
When Observer asked de Blasio how many people he anticipates will stop riding the subway or driving, de Blasio said he does not have a "perfect number" but anticipates more ridership.
"I think a lot of people want to, and the more service there is, the more frequent, the more consistent, the more they'll take it," he argued.
He also noted individuals in the Rockaways and in Bay Ridge had temporary ferry service after Hurricane Sandy in 2012 and that people often told him they would not use it "unless we believe in this."
"What I've heard people in the Rockaways is they now know this is really permanent and they know it is the same cost as the subway fare and that has now allowed them to plan their life and use it much more than they ever could in the past and that's just beginning," the mayor continued.
Brooklyn Councilman Justin Brannan—whose district includes Bay Ridge—told Observer the ferry helps people if they work in Lower Manhattan or want to transfer at 34th Street, for example, which is better than sitting in traffic on the Brooklyn-Queens Expressway or riding the R train.
"I think in the past, we've had stops and starts of ferry service and it was hard for people to incorporate that into their daily commute or routine 'cause they didn't know if someday, it was just gonna end," Brannan said. "So I think now that it's permanent, it's citywide, I think people are starting to rely on it more."