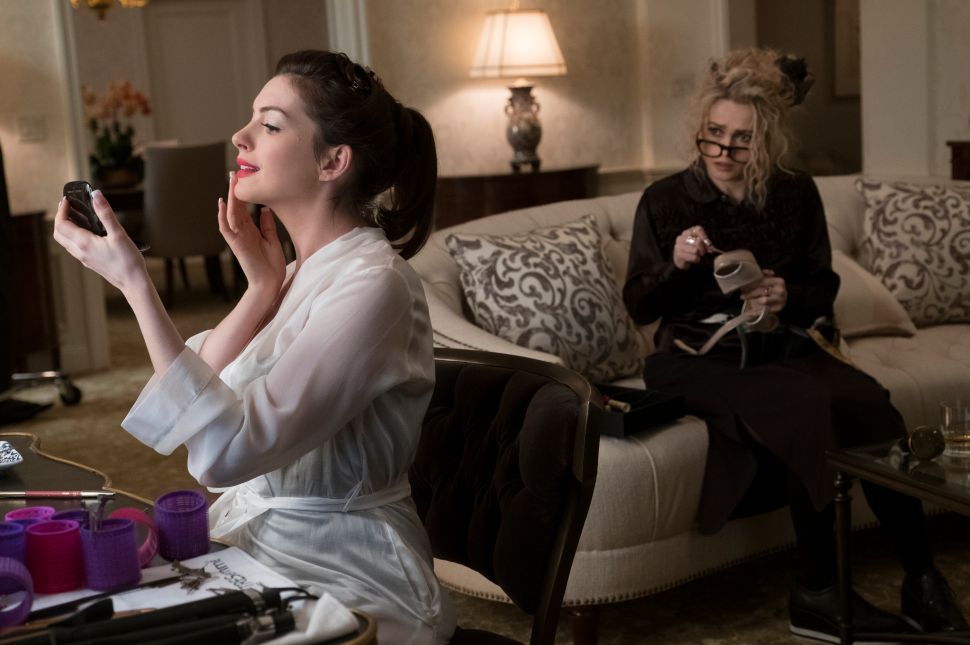 We'll be diving into the track record of gender-swapped movies and the layered reasons behind their successes and failures closer to the release of Ocean's 8, but for now, let's take a look at the movie's box office prospects and what Warner Bros. and Village Roadshow can expect.
According to Deadline, the star-studded female heist flick—which is a spinoff of the George Clooney-led Ocean's 11 trilogy—is tracking for an opening between $30 million and $45 million. The movie's biggest selling point, similar to Steven Soderbergh's rebooted trilogy, is its amazing cast.
Ocean's 8 features Sandra Bullock, Cate Blanchett, Anne Hathaway, Helena Bonham Carter, Rihanna, Sarah Paulson and a handful of other impressive names. Plus, for added value, Matt Damon's character is expected to make a cameo as well.
Social media buzz for the film has been solid thus far, though there remains a minority of fans who criticize the gender-swap of roles. However, while long-running and popular, the Ocean's franchise isn't nearly as revered in pop culture as, say, Ghostbusters, so general audiences should be more open to the female-fronted tentpole.
Given the action-heavy male-led blockbuster schedule of the summer, Ocean's 8 could take advantage of its counter-programming, small-stakes nature and breakout in a similar fashion to other recent female-led hits such as last summer's Girls Trip. As cynical as it is, diversity has become a strong selling point in Hollywood.
So what are the best case, worse case and most realistic case scenarios for Ocean's 8?
Best Case Scenario
The best-case scenario for Ocean's 8 at the box office is that it hits the high end of Deadline's tracking numbers and opens to $45 million domestic. After that, WB would love to see the movie play like 2001's Ocean's 11, which posted an impressive 4.8x multiplier and a 40/60 split between domestic and foreign earnings.
If Ocean's 8 were to follow that pattern, it would likely end its run with around $216 million domestic and $540 million worldwide. However, this is a particularly competitive summer, and it's unreasonable to expect Ocean's 8 to have the same type of legs as Ocean's 11, which benefitted from a December release.
Worst Case Scenario
The worst-case scenario for Ocean's 8 at the box office is that it plays like 2016's Ghostbusters, which opened to $46 million but was overpriced with a reported $144 million production cost. At an estimated $70 million, Ocean's 8 is far more manageable, but an opening on the lower end of the tracking projections would make for an uphill battle.
Let's say Ocean's 8 takes in $30 million in its first frame and posts a similar 2.7x multiplier as Ghostbusters and an equal 56/44 domestic and foreign split. Now we're looking at $81 million in North America and just $144 million worldwide. Typically, studios like to triple the production budget at the box office, so this would be considered an underperformer.
Most Realistic Case
For the sake of simplicity, let's assume that Ocean's 8 opens smack dab in the middle of Deadline's tracking numbers with a solid $37.5 million opening (which may actually be a lowball of its real opening). Averaged together, the three Clooney films in the series posted a 3.7x multiplier and domestic/overseas splits of 38 percent/62 percent.
If Ocean's 8 follows a similar path, it will total over/under $139 million domestic and $365 million worldwide, which would make it the second-highest grossing entry in the rebooted franchise.
From a non-scientific perspective, there's still more room for upside in that projection. Sure, The Incredibles 2 opens a week later, but Ocean's 8 is the type of movie that could stay afloat longer in a summer sea of capes, dinosaurs and crazy Tom Cruise stunts.
"First choice and definite interest for Ocean's 8 is the strongest among women over 25, while females under 25 are best in unaided awareness (the survey sector that indicates how strong the buzz is on a title among those who are unprompted in polling; a priceless stat off which studios buy their TV ads)," Deadline reports. "In overall audience tracking in definite interest and first choice, Ocean's 8's respective scores of 43 and 6 are very close to Ghostbusters' numbers (44,5) and ahead of The Heat (33,5), Spy (37,3) and Girls Trip (34,5)."
Ocean's 8 will hit theaters on June 8.