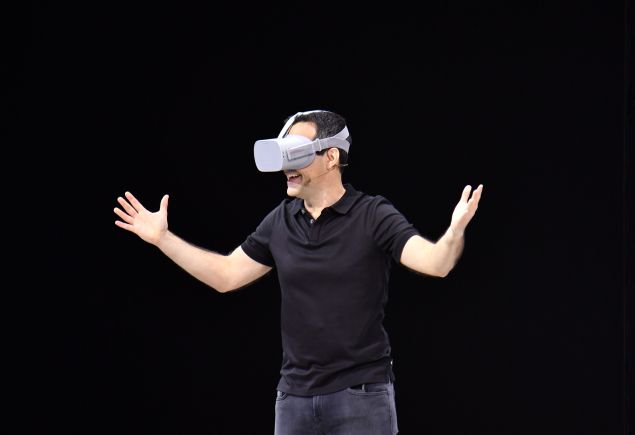 The Oculus Go may just provide virtual reality's Kindle moment: that point when the stars align for a promising but struggling technology and it moves from niche to mainstream.
E-books were around for quite a while before they really took off—Sony wrestled with them for close to a decade without ever breaking through—until Amazon jump-started the market with attractive hardware and ample content at mass-market prices. Going back further, Apple (AAPL) pulled off the same feat for digital music when it paired the iPod with the iTunes Store.
Now Facebook's Oculus unit is poised to do something similar. The new Go headset it unveiled this month solves a lot of the problems that have held VR back. It's simpler, less cumbersome and more accessible than anything else that's come before it.
VR is an undeniably cool technology, allowing for the kind of fully immersive experiences that were largely the stuff of science fiction not that long ago. How else could you swim the Great Barrier Reef, ride the world's wildest rollercoasters or go rocketing into deep space, all from the comfort of your own sofa?
And let's not ignore the possibilities for porn, which after all has massively shaped the development of consumer technologies from the video-cassette recorder to the World Wide Web itself. Porn is already a huge and growing source of content for VR devices, and the adult industry can hardly contain itself about the prospects for the future.
But up until now, the experience of using VR has been pretty terrible.
At one end, you have devices such as the Go's predecessor product, the Oculus Rift, which require you to (a) have and (b) remain tethered to, a powerful, pricey computer or video game console. At the other end are simpler solutions like Google's Cardboard and Daydream View and Samsung's Gear VR, which require you to insert your smartphone, thus rendering it both inaccessible for all the other things you use a smartphone for and a remarkably annoying experience if you receive a phone call in the middle of your VR session.
The Go, by contrast, is almost totally self-contained. All the tech needed for your VR experience—processor, power, audio, storage and connectivity—are built into the headset itself. The only external device needed is the battery-powered handheld controller included for pointing, making selections, and zapping aliens or whatever.
Oculus has managed to stuff all this tech into the Go while keeping it at consumer-friendly prices: $199, or $249 for a model with extra storage. It's done that by compromising on some things. I'd describe the video quality as "good enough" rather than "knock-your-socks-off great," for example. Your freedom of motion is limited. The built-in audio is surprisingly good, but you still may find yourself making use of the built-in headphone jack for a more immersive experience.
The Go's weight and materials make it reasonably comfortable for an hour or so, even for a glasses-wearer like me. But I still wouldn't be willing to use it to watch a two-hour-plus blockbuster movie, even if the Netflix VR app makes it appear to be shown on a 100-inch auditorium screen.
As far as I'm concerned, those are all acceptable tradeoffs in order to deliver a product at a terrific price that can introduce a mass audience to the pleasures of the technology. That's what the iPod and Kindle did, and it's what the Go does as well.
To be sure, there's no guarantee it will enjoy the same runaway success as those seminal devices. In fact, I'd be surprised if it does. The iPod and Kindle both benefitted hugely from the closed-garden approaches of their makers: You could only buy music for your iPod from Apple and books for your Kindle from Amazon. By contrast, you can use the Go to view VR content all over the place, not just from Oculus.
We also can't automatically assume that Oculus as a hardware maker will be immune from the shortcomings of its corporate parent. While there's nothing to suggest that Facebook's laxness about privacy and data security have infected what Oculus is doing, it doesn't take too much imagination to conjure up scenarios where VR can be used for scams, abuse and various forms of mischief. Some people may be inclined to avoid the Go solely on the basis of who owns it.
But at least in terms of introducing VR to a mass audience, there's no denying that Oculus has solved the major problems that have been holding it back, and in doing so has shown everyone else the path forward. Already, players like Google and Samsung, to name just a couple, are working on headsets that follow the same basic standalone template of the Go but add features the Go lacks, like the ability for the user to move forward and backward in space.
However, as virtual reality evolves, the Go marks the beginning of its future.
Rich Jaroslovsky is an Observer technology columnist and Vice President of SmartNews Inc. in San Francisco.