Pharrell Williams really loves glass houses. The musician, who just performed at the Billboard Music Awards (because yes, something other than the royal wedding happened this weekend), scooped up an über modern mansion in Beverly Hills, and it already has a celebrity pedigree.
The enormous 17,245-square-foot spread was sold by Tyler Perry, who bought the home from the estate of late billionaire physicist, philanthropist and inventor Alfred E. Mann. Mann built the property in 1992, and it appeared on the market shortly after his death in 2016, with an ambitious $30 million ask.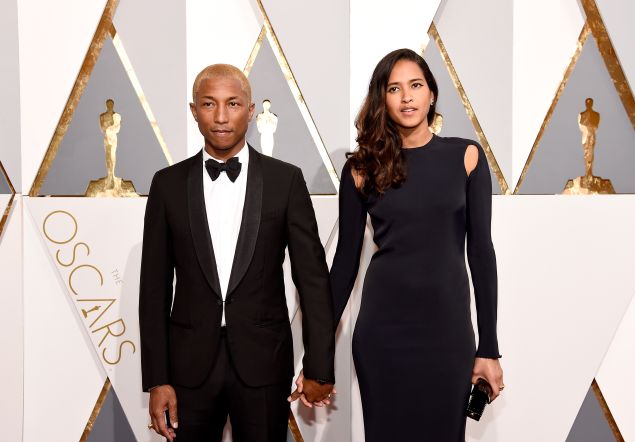 Perry swooped in by August 2017, and paid a mere $14.5 million for the 4.2-acre estate. Perry, however, was reportedly never planning on residing there, and promptly tossed it back on the market sans renovations just six months later, in February 2018. Despite the lack of work completed, Perry wanted to flip the place for $17 million.
Alas, Williams paid the filmmaker a discounted $15.6 million, as first reported by The Blast. Perry shouldn't feel too bad about the overall haul; he made out perfectly fine for less than a year of ownership.
A private driveway leads up to the abode, which is characterized by pyramid-shaped skylights, angular ceilings, five fireplaces and floor-to-ceiling glass walls, lined with steel beams. It's not a residence we would call cozy by any means, but its sheer size is noteworthy on its own.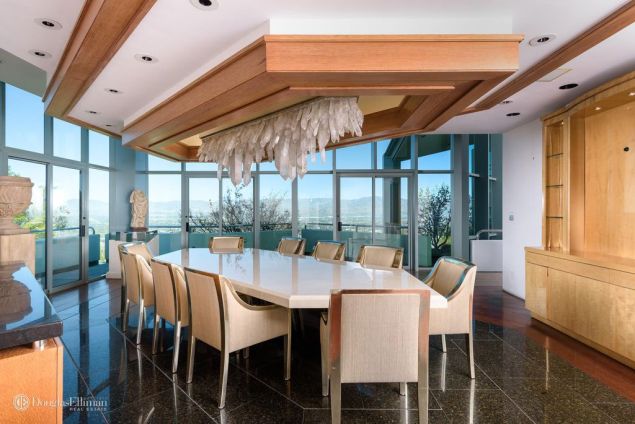 Dramatic, stone marble stairs connect the three floors. At present, the house is filled with so many empty, airy rooms that it's hard to distinguish between most of them. The dining room, however, stands out—perhaps due to the oversized crystal light fixture hanging over the table.
We're excited to see what Williams does with the 10-bedroom, 11-bathroom pad, besides hopefully removing the unnecessary carpeting immediately. After all, the Grammy Award-winning musician is also known for his design expertise and collaborations (never forget the €1,000 sneakers he created with Chanel and Adidas) and he's been on many a best dressed list.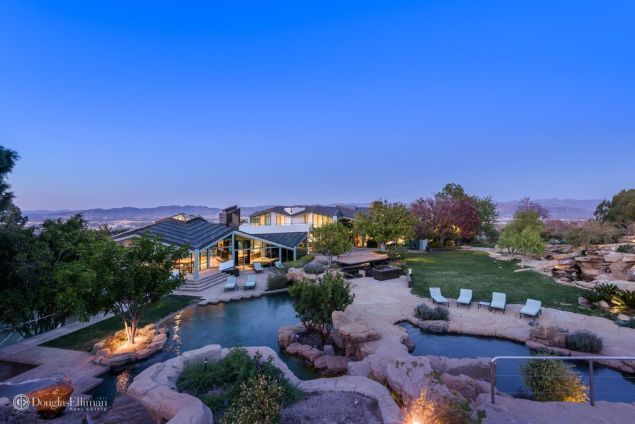 Williams, a dedicated auto enthusiast, must be thrilled about the motor court, which has room for more than 30 cars. Maybe passersby will spot the two-time Academy Award-nominee's Ferrari Enzo, Rolls Royce Phantom and Mercedes McLaren SLR in the driveway.
Outside, there's a koi pond, a stream and a pool with a sculpture and a slide. There's also a grotto, à la both the Playboy Mansion and Drake's Yolo Estate.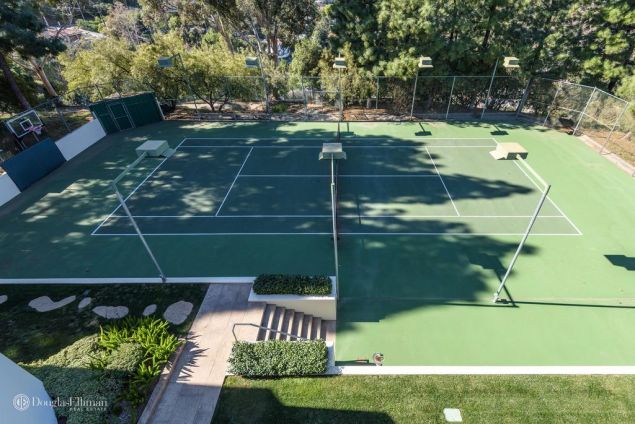 Don't forget about the lighted tennis court, so now Williams can show off apparel from the line of tennis gear he launched in 2017, or those Tennis Hu Icons sneakers. In less athletic matters, the property has an elaborate outdoor dining terrace that is "specifically designed for concerts, fundraisers, or holiday parties," according to the listing held by Josh and Matt Altman at Douglas Elliman (DOUG). The brokers had no comment on the sale.
Williams does already own an equally glassy, also-modern perch above Laurel Canyon. He paid $7.14 million for the six-bedroom house in May 2015—at the time, he and his wife, Helen Lasichanh, had only one child. In January 2017, the couple welcomed triplets, so perhaps they decided it's time for even more space. Considering their new house is nearly twice the size of the former, it's safe to say they will have plenty of room for the whole family.