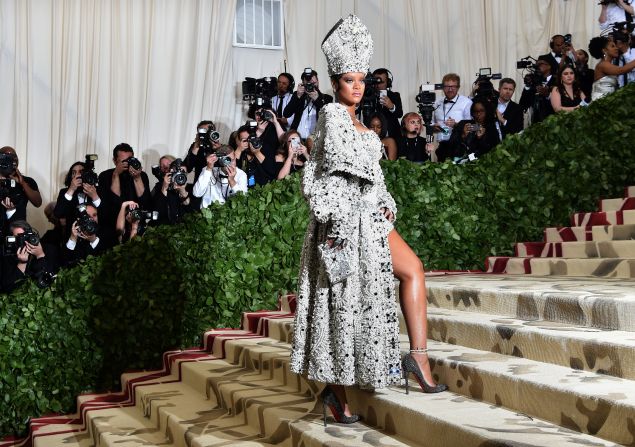 On Monday, the Met Gala previewed a new exhibition entitled "Heavenly Bodies: Fashion and the Catholic Imagination." As a result, many of the attendees to "fashion's night out" wore Catholic-inspired outfits.
Uproar ensued. Piers Morgan tweeted, "The Met Gala cowards would never have dared do this to Islam or Judaism. Shame on them for lampooning Catholicism." In fact, Lynda Carter did exactly that: Appropriating Jewish symbols in her hair, and leaving it uncovered to boot.
But "lampooning Catholicism"? While it's unclear how much Rihanna and Sarah Jessica Parker paid for their outfits, the idea that they were one step away from wearing clown shoes is absurd. One can argue the clothing looked a bit silly, yet the absurdity of what walks runways nowadays has been a punchline for well over a decade. To wear a hat inspired by the papal mitre is in no way equivalent to dressing as a sexy nun for Halloween—and even if it was, so what? There is a certain amount of irony lost on Morgan in his acting like a Puritan to defend the Catholic Church.
There is a growing awareness that our politics is degenerating into brazen tribalism. Both sides of the aisle have many examples of the opposition engaging in blatant flip-flops on issues depending on who occupies the White House. Would the Republicans have let Obama and the Democrats off easily if they passed the Omnibus bill in the manner that the GOP did? How many Democrats would call for Obama to get a second Nobel Peace Prize if what is currently happening in Korea occurred under his watch?
Amazingly, complaints like Piers' were regarded as absurd not long ago. A couple weeks ago, Utah high schooler Keziah Daum became the center of an internet controversy for wearing a prom dress fashioned after a traditional Chinese look. Her primary antagonist was one Jeremy Lam, whose Twitter bio claims he is "almost as intolerant to lactose as i am to your bullshit" and who lists "eating ass" as his location. Lam insisted, "My culture is NOT your goddamn prom dress." The ensuing controversy is still being covered in the New York Times this week.
One part of Chinese culture that Lam seemed to appropriate are public denunciations via struggle sessions. In these events—Maoism at its worst—citizens were called upon to publicly admit their wrongdoing. Their comrades denounced them for what they had witnessed as well. Eventually, everyone got equally harangued and supposedly became better. This is remarkably similar to the contemporary "Twitter mob."
Daum was not denigrating Chinese culture in any sense. She wasn't dressing like a geisha for a Halloween party or doing some stand-up routine in pidgin English. Prom is when a young woman tries to look her most beautiful and impressive. It was a lovely dress, and one poll showed Chinese people back in Asia supported her by over 90 percent.
What's brazen is that Lam took it upon himself to speak for Chinese people throughout the world. If there is anyone who can make a claim to speak for all Americans, it's whoever happens to be the president at the time. Do those concerned with cultural appropriation want Donald Trump speaking for them? Do they believe that he does so regardless? But at least our president was elected. On what grounds does a random pleb claim to speak for an entire culture, other than that mix of narcissism and messianic bossiness that is so endemic to the evangelical left?
Lam was widely and correctly denounced, especially from the right. In 2014, President Barack Obama wore a Mao suit, which is also known as a Yat-Sen suit after Mao's predecessor. One could argue that Yat-Sen's China is not the same culture as Mao's, but this is quibbling. Clearly Obama isn't a revolutionary communist any more than wearing traditional Kenyan garb to a wedding makes him a Muslim. No one on the left accused him of being a cultural appropriator.
Fashion is appropriative and it is irreverent. The flapper's bob was a throwback to the hairstyles of prostitutes from a few years prior. Long hair on men was an effeminate obscenity. Our founding fathers wore wigs; today it is the purview of drag queens and toupeed males who cannot accept that they are aging. In clothing as in humor as in literature, it is only by pushing the envelope that change happens or can happen. Cultural inertia is a necessary, stabilizing force—but it's rarely an attractive or interesting one.