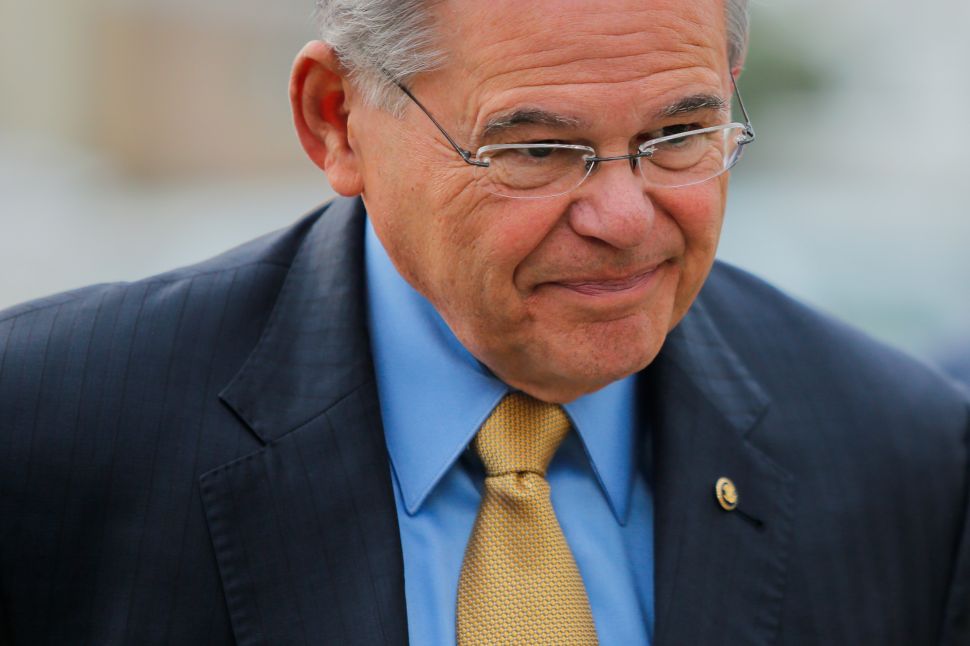 U.S. Sen. Bob Menendez holds a slim four-point lead over his likely Republican opponent, former pharmaceutical executive Bob Hugin, as he seeks reelection following his corruption trial,  according to a new poll.
Menendez, a Democrat seeking a third term, received the support of 28 percent of registered voters, while 24 percent said they would vote for Hugin, according to a Fairleigh Dickinson University survey. Forty-six percent are undecided.
The FDU poll results are much worse for Menendez than previously released surveys. A Monmouth University poll in April had Menendez leading Hugin by 21 points, while a Quinnipiac University poll in March showed him leading by 17 points.
"Senator Menendez's recent federal trial and bipartisan admonishment by his Senate colleagues are clearly taking their toll. It's not uncommon for incumbents to cruise to reelection, but these numbers suggest he's going to have to woo voters like he hasn't had to in a long time," Krista Jenkins, director of the poll and professor of political science at Fairleigh Dickinson University, said in a statement.
Menendez survived a nearly three-month corruption trial after the jury was unable to reach a unanimous verdict on any of the charges against him. He was accused of taking official actions to benefit his friend and co-defendant, Salomon Melgen, in exchange for gifts, trips and campaign contributions. He was also charged with intentionally omitting those gifts from his Senate financial disclosure forms.
In April, the Senate Ethics Committee "severely admonished" Menendez for accepting Melgen's gifts while advancing his friend and top donor's personal and business interests. The committee ordered the senator to repay the market value of all the impermissible gifts that he has not already repaid.
The ethical cloud hanging over Menendez appears to be hurting his standing with voters. The poll found the New Jersey Democrat has a net-negative favorability rating, 33 percent to 39 percent. Another 14 percent haven't heard of him.
"It probably works to the Senator's benefit that if he was going to be admonished by the Senate ethics committee, they got it over with sooner rather than later. He has time before November to reclaim a more favorable place in the heart of his constituents," Jenkins said. "Both men will pick up considerably more support as the race progresses as the undecideds begin to break for the candidate who shares their partisan leanings. With New Jersey a more Democratic state, Menendez is likely to pick up more of this group than Hugin."
Hugin remains largely unknown to voters. The survey found that 57 percent don't know him. Among those who did, 19 percent had a favorable opinion and 10 percent had a negative opinion.
In a statement, Menendez campaign chairman Michael Soliman called the poll "an outlier."
"The Menendez campaign is confident that as voters focus on the choice between Senator Menendez and his record of always standing up for New Jersey families, no matter how difficult the fight, versus greedy drug company CEO Bob Hugin, who got rich by ripping off sick cancer patients and denying them access to affordable medicine," Soliman added.
Hugin's campaign said it is "encouraged by the momentum so far."
"It's no surprise the race has tightened. When given the choice between a proven job creator and former Marine like Bob Hugin, and a corrupt ineffective career politician like Bob Menendez, voters will continue to move steadily in our direction," Hugin Communications Director Megan Piwowar said in a statement.
The poll of 856 registered voters was conducted from May 16 to May 21. It has a margin of error of plus or minus 3.5 percentage points.
Correction (1:17 p.m.) A previous version of this story mischaracterized the Senate Ethics Committee's reprimand of Menendez.