His Serene Highness Prince Albert II of Monaco.
Ellis Island was in its usual state on Friday afternoon. Large groups of frenzied tourists from all across the world made the trek to the fateful island, just a short ferry ride from Manhattan's Financial district. For many, Ellis Island represents some chapter of family history; an estimated 12 million incoming travelers were granted citizenship between the years of 1892 and 1954. This includes His Serene Highness Prince Albert II of Monaco, who himself arrived onto the island's shores this past Friday, escorted by an armored Police boat. "I really enjoy learning more—about not only my family history, but great moments and special contemporary history," His Serene Highness quipped to us while en route. "So as not to repeat our mistakes!"
Navigating his way through tourists on audio-guided tours, he and his modest entourage were welcomed by The Ellis Island Honors Society, which selected Prince Albert II, along with luminaries like actress Rita Moreno and art dealer Larry Gagosian, to receive their 32nd annual Medal of Honor. Though the award is often reserved for American citizens, an exception was made for the leader of Monaco given his service to the environment through his own Prince Albert II of Monaco Foundation, and his strong American roots—thanks to his mother, actress and Princess of Monaco, Grace Kelly. But before he could collect his well-deserved award, the self-proclaimed history buff was treated to a tour of the island by park ranger Danelle Simonelli.
Simonelli offered up a narrative tailored to His Serene Highness' family tree, in which his ancestors endured the month-long journey as second class passengers aboard a vessel from Ireland. It painted a stark contrast to his father, Prince Rainier of Monaco, who visited New York in 1856 with no less than 18 pieces of luggage.
His Serene Highness was then awarded his medal, to much fanfare from the Ellis Island Honors Society, during a reception full of uniquely American treats like soft pretzels and Coca Cola. "His Highness is proof that you don't have to be born on American soil to keep America in your heart," Chairman of Ellis Island Honor Society, Nasser J. Kazeminy, told guests before presenting a large bound file of immigration records to His Serene Highness. "I'm sure his ancestors dreamt of better life for heir children and children's children, and His Highness is the fulfillment of their dreams. He has returned to Ellis Island as a prominent world leader."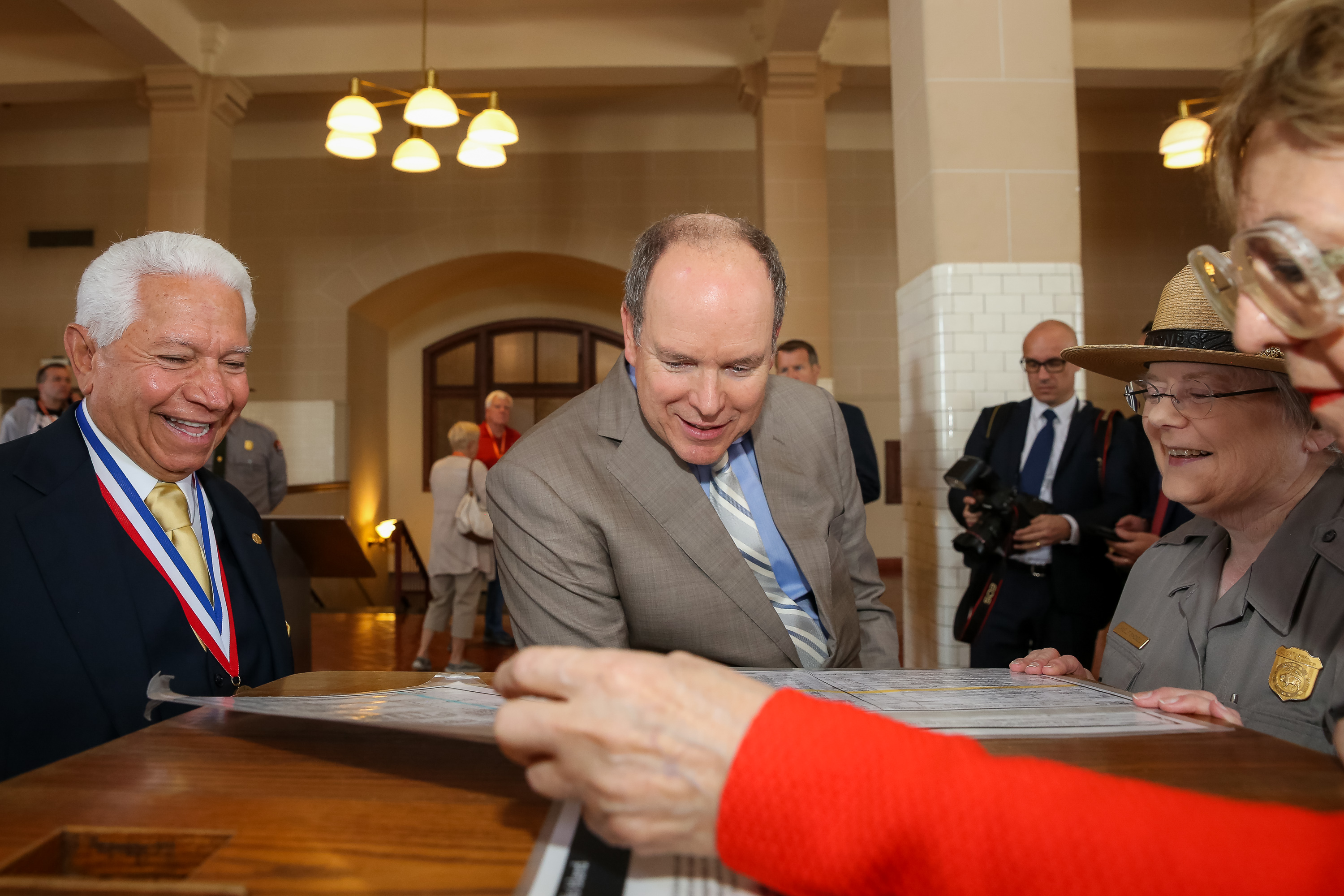 The Prince Albert II of Monaco Foundation has spearheaded a slew of ocean expeditions that aim to conserve natural wonders. "We have a series of programs, mostly dedicated to oceans," he recounted to us as we journeyed back to Manhattan. "We have expeditions ongoing that left Monaco last year, that will be going around the world with different scientific teams focusing on different coral reefs and marine protected areas. It's going to go around the world on this research vessel called the Yersin, and she'll go to all oceans and come back to the Mediterranean in early 2020."
His efforts extend beyond sea. "We also launched a few months ago, in collaboration with a German foundation, The Trillion Tree Campaign," he added. "That was a very successful pledge to plant a million trees, launched by the UN, and I was the co-chair of that back in 2010. It was very successful campaign that turned into seven million, and then 100 million, and then a billion, and now, it's a pledge to plant, within the next 5 years, one trillion trees around the world."
Following his visit to Ellis Island, Prince Albert II will continue on from New York, traveling via train to his mother's childhood home in Philadelphia, Pennsylvania. From there, back to Monaco to see his children. "What's most dear to me right now is to find time to be with my children, and I'll tell you it's a difficult exercise," he told Observer. "There are a lot of demands on my time for different functions and meetings and public appearances and so forth, but I have to balance that with any reasonable family life."