Before a certain former Deal or No Deal briefcase girl / ex-lifestyle blogger walked down the aisle and became the Duchess of Sussex, her family decided to give the world a dose of drama that was far more sensational than anything that played out in Lifetime's Prince Harry and Meghan Markle movie (an immediate classic).
For a good while, Markle's half-sister, Samantha Grant, was taking the cake with her Pushy Princess tell-all book and nasty tweets, though Markle's half-brother, Thomas Markle Jr., gave her a run for her money when he wrote an open letter telling Prince Harry not to go through with the nuptials. He said it was the "biggest mistake in royal wedding history," though he has since apologized.
Then there's the Duchess of Sussex's father, Thomas Markle, who staged paparazzi photos prior to the royal wedding, including snaps of him reading an England guidebook (Grant took the blame for those).
Thomas Markle was supposed to walk his daughter down the aisle, but was unable to attend the wedding because he suffered a heart attack and needed to have surgery. Kensington Palace released a statement from Thomas Markle, saying "Sadly, my father will not be attending our wedding. I have always cared for my father and hope he can be given the space he needs to focus on his health."
Markle walked herself halfway down the aisle, and then Prince Charles stepped in. The wedding went along smoothy, with plenty of Suits stars, two of the redheaded prince's exes and George Clooney reportedly handing out tequila shots.
The newlyweds did not, however, immediately jet off on their honeymoon. Instead, as Kensington Palace previously announced, they attended Prince Charles' 70th birthday garden party, their first royal engagement as a married couple.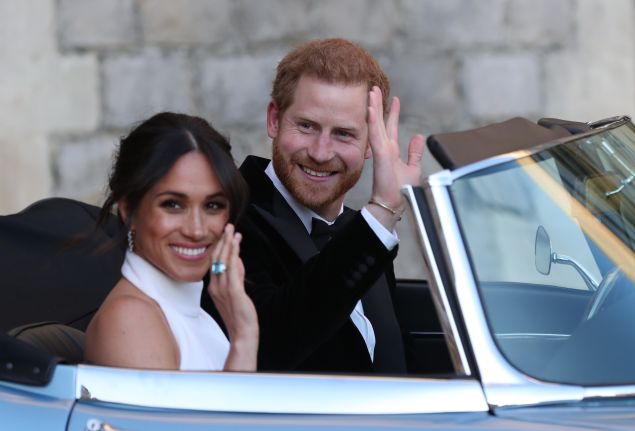 The Duke and Duchess of Sussex were expected to head to Namibia, their suspected destination, any day now but those plans could be postponed. Royal expert Katie Nicholl told Entertainment Tonight that Prince Harry and Markle are planning a trip to Mexico, in order to see Thomas Markle while he recovers from his heart operation.
Nicoll isn't sure precisely when the jaunt will happen, but it will be "sooner rather than later," and she's "hearing from people close to Meghan and Harry that they're very keen to do it."
This will be the first time Prince Harry meets his new father-in-law, so hopefully he makes a good impression, because even royals can't be immune to the innate meeting-the-parents awkwardness. Surely he'll bring along a nice gift…maybe not a dream journal like the one the Meghan Markle gave Kate Middleton.
Markle told TMZ, his outlet of choice, that he watched the wedding and will "always regret not being able to be there and not being able to hold my daughter's hand." Our favorite quip was, "I pray that Harry and Meghan can go on a nice honeymoon and rest and relax, and all of my relatives will just shut up about everything."
It's highly doubtful Markle's extended family will stop trying to milk their moment in the spotlight anytime soon, but thankfully there will be another royal wedding to grab the public attention. Princess Eugenie will marry Jack Brooksbank on October 12, so that should ease the spotlight off the Markles, especially if Sarah Ferguson, Duchess of York, takes on the limelight.