Rumors have run rampant about the precise location of Prince Harry and Meghan Markle's honeymoon since before they even tied the knot. It seemed certain the newly dubbed Duke and Duchess of Sussex would head to Africa after their wedding; more specifically, to Namibia. Africa is a special place for the pair, as the definitely not fictionalized cinematic depiction known as Lifetime's Harry & Meghan: A Royal Romance makes so abundantly clear.
They didn't depart for any destination right after their nuptials; they attended their first royal engagement as a married couple at Prince Charles' 70th birthday. But instead of hopping on a private jet and heading to a secluded spot right after, it was then reported the couple might be making a stop in Mexico, in order to visit the Duchess of Sussex's father, Thomas Markle. He was unable to make the wedding and is recovering from a heart operation.
Well, Mexico is still nice and sunny, so why not add it to the list of pre-honeymoon locations? But now, it has now emerged the newlyweds are planning at least part of their honeymoon in a place that doesn't exactly scream excitement, romance or anything else that honeymoons should be: Alberta, Canada. Yes, Canada.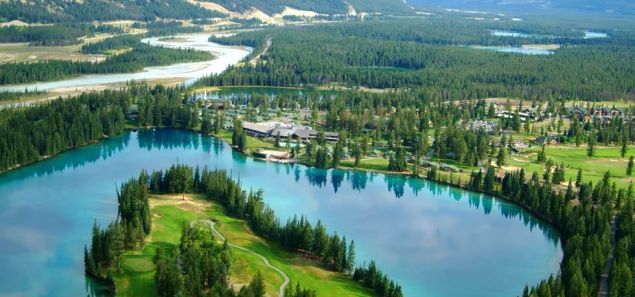 According to TMZ, Prince Harry and Markle are heading to the 700-acre Fairmont Jasper Lodge. It's nice and fancy, but it's also Canada, and as much as we love Justin Trudeau, this is unexpected and, dare we say it, boring.
How does a luxury mountain resort (also known for being Canada's number one golf resort course), compare to basking under the stars in Botswana or Namibia? We weren't really aware that Prince Harry had such an affinity for golf, but perhaps his pal (who was not among the wedding guests) former president Barack Obama got him into the sport.
To be fair, it makes sense the couple would choose somewhere within the Commonwealth for their honeymoon. Canada is also a country Markle is very familiar with—the former Suits actress lived in Toronto for years while filming the series.
The resort has already ordered specific gear and "goodies" not typically available at the hotel, though there is absolutely no indication as to what those items could be. Maybe it's bottles of the former Tig lifestyle blogger's favorite Tignanello wine, or a special beard trimmer for the redheaded royal, who was granted permission by Queen Elizabeth to keep the facial hair for his big day.
The Duke and Duchess of Sussex are expected to stay in the 6,000-square-foot Outlook Cabin, which is oh-so-appropriately dubbed The Royal Retreat. It does have regal roots, as it's where King George IV and Queen Elizabeth the Queen Mother stayed in 1939, and the current Queen E and Prince Philip also resided there in June 2005.
The Royal Retreat contains two stone fireplaces, a dining room, a great room and an enclosed veranda, complete with a barbecue. The kitchen has a private catering entrance, if Markle wants to prepare her engagement chicken, though now that she's married, a new specially-named dish is likely needed. At six bedrooms, it's rather large for just the two of them, but this is royalty. Maybe Prince William and Kate Middleton will make a quick stop to say hello to the couple?
Since it's summer, activities at the hotel include hiking, kayaking, horseback riding and mountain biking, and we can hope images emerge of Prince Harry canoeing his way along Lac Beauvert.
But now that news of the Prince Harry and Markle's potential visit to Canada has leaked, they could change their plans entirely. At the moment, they are expected to spend a one-night mini-moon in Dublin, where Markle once reportedly appeared in a local nightclub in order to promote a €2 drink, because you've got to start somewhere. Anyway, they were then expected to jet over to the exotic locale that is Alberta.
Alas, royal expert Omid Scobie told Elle that the pair's plans have changed a number of times, as if the location leaks, "it compromises their safety on the trip."
Even if Prince Harry and Markle do alter their final spot again, we can't imagine they won't go to Africa for at least a portion of the trip—Prince Harry even sourced one of the diamonds for Markle's engagement ring from Botswana. And no offense to Canada, but we just don't see how an Alberta lodge is supposed to hold up to camping among elephants and giraffes in an over the top tent.