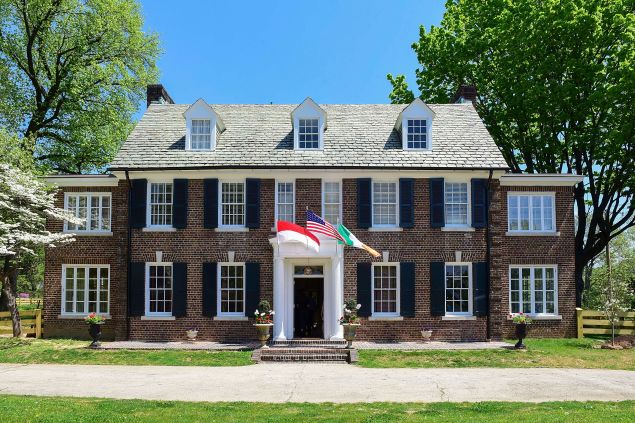 Meghan Markle and her family drama is taking center stage with her impending nuptials, but let's remember the erstwhile lifestyle blogger isn't the first American actress to marry royalty. Just look at late Academy Award-winner Grace Kelly.
Princess Grace became royalty upon her marriage to Prince Rainier III of Monaco in 1956, retiring from her Hollywood career and moving to her new home, a palace on the French Riviera.
But before she became a princess, Kelly grew up in a six-bedroom house in the East Falls area of Philadelphia. Her father, John B. Kelly, built the 4,000-square-foot Colonial in 1928, and Kelly resided there until 1950—it's where Prince Rainier proposed to her.
The 0.69-acre property has been sold a number of times over the last few decades, and it was declared a Pennsylvania Historical Landmark in 2012. But in September 2016, ownership returned to Kelly's family, as her son, Prince Albert II, paid $755,000 for the estate.
Prince Albert and his cousins, including Kelly's nephew, John B. Kelly III, restored the home so that it looks just as it did when the late princess lived there, including adding the original tile in the kitchen and the bathroom and the windows. They used family photographs to do so, and brought in her furniture—that includes Kelly's childhood twin bed, as well as a door marking the heights of Kelly and her three siblings.
"After talking to some of my cousins about this, we didn't want to see [the house] disappear or see it transformed in any way by future owners…It's a big part of our family's history," Prince Albert told the Today Show during a tour of the home.
At the time Prince Albert purchased the property, he said he wasn't sure precisely what he was going to do with the home, but was thinking about using part as a museum exhibit space, and perhaps having offices for foundation work.
Now, the Monaco royal has a clearer picture of its use. He's still going to keep offices for royal foundations, but he is planning on using the rest of the house primarily as a private residence for him and his family when they visit Philadelphia.
Sadly for eager Grace Kelly enthusiasts, it seems the stately home will not be used as a museum. Prince Albert said he doesn't think a "dedicated museum is the right avenue to take," but there will be events for public viewing. This will include award winners from the Princess Grace Foundation USA, which gives grants to emerging talent in theater, dance and film.
It's a far better fate than what became of the Upper East Side mansion where Kelly lived after moving out of this house—that property went on the market for $45 million in 2013, but after failing to find a buyer, is reportedly facing foreclosure.