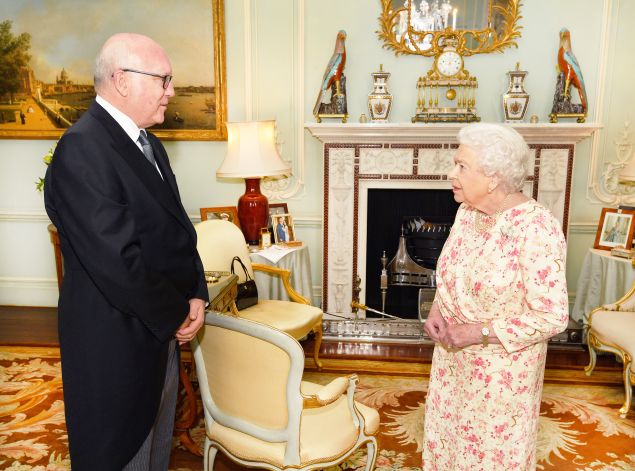 Before Meghan Markle married Prince Harry and became the Duchess of Sussex, she was just your average television actress-slash-lifestyle blogger. And like any true #influencer, she kept a carefully curated Instagram account, detailing her love of avocado toast, yoga and chia seeds. Alas, in January, just a few months before her May 19 wedding, all of Markle's social media accounts were shut down. Farewell, gifting suite photos! Goodbye, wine selfies. See you never, puppy pictures.
Luckily for the former Suits actress, it's not like she had to bid adieu to all photoshoots. Prince Harry and Markle posed for true glamour shots in their engagement pictures, which were taken by Alexi Lubomirksi, but only three were officially released to the public.
But it seems like the most senior member of the royal family gets her pick of whatever photos she'd like to adorn her home—well, her palace. Indeed, Queen Elizabeth now has a brand-new framed photo of the newly minted Duke and Duchess of Sussex, proudly displayed in a room at Buckingham Palace.
The portrait of Prince Harry and Markle was first spotted in the background of a picture of the Queen having a private audience with the Honorable George Brandis, the Australian High Commissioner to the United Kingdom, yesterday. It's on a small table among what looks like other family photos, because even royals can't say no to cutesy adornments.
As Hello points out, it's probably from the aforementioned photoshoot with Lubomirski, though it's not entirely certain when the picture was taken—Prince Harry is attired in a blue suit, as he was in the engagement pictures, while Markle wears a light blue dress that is definitely not the sheer, elaborately beaded Ralph & Russo gown she wore that day.
It appears to be a professional photo, though maybe next time, Markle will make it to another inner circle—Kate Middleton is known to be something of a photographer herself, and she's taken portraits of her children Prince George, Princess Charlotte and Prince Louis. Maybe she'll try her hand at photographing her in-laws and new neighbors next.
Not that this isn't a big enough deal for the Duchess of Sussex—while Markle never quite made it to the awards stage of her acting career (no Emmy nor Golden Globe nominations for this Suits co-star), she did make it into Queen Elizabeth's family photos. One thing is for certain, though—we doubt there will be any snapshots of Markle in her turn as Deal or No Deal's "Briefcase model No. 24″ on a royal mantlepiece anytime soon.