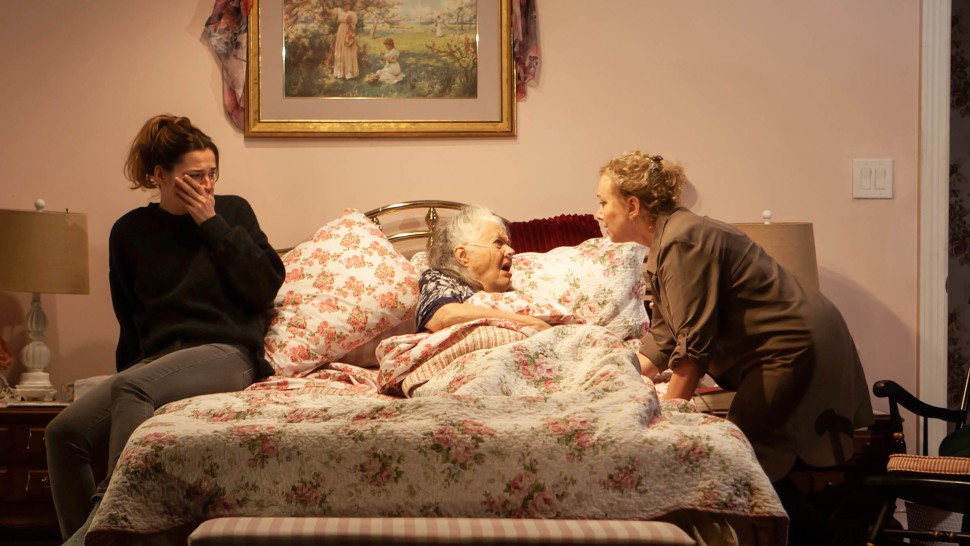 Today's New York theater scene is encumbered by such an overload of otiose drivel that the unexpected discovery of a new play with sensitive writing, informed acting, wise and naturalistic staging all contained in one package is a cause for rejoicing. Such is the case with Peace for Mary Frances, a profound work by a fresh talent named Lily Thorne about the internecine drama in the dysfunctional family of a dying matriarch, played by the incandescent, 87-year-old Lois Smith.
Now in a limited off-Broadway run at the Pershing Square Signature Center on W. 42nd Street that should be extended, Peace for Mary Frances is so beautifully written that it is impossible to believe it's the playwright's first play. Rarely have I seen so many people crowded around in groups after the final curtain—stunned, visibly moved and eagerly discussing what they've just seen onstage. I am happy to lead the applause.
The woman in the title role is a 90-year-old widow in the terminal stages of a pulmonary disease and anxious to go, but not gently into the sweet night, and determined to have the last word. Preparing for a peaceful exit is fraught with obstacles as Mary Frances' family invades her small New England home fighting to control their inheritance and compete for their mother's love in her last turbulent days.
There are two volatile grown daughters who hate each other—Fanny (Johanna Day), a recovering addict on methadone who accidentally turns off her mother's oxygen respirator, cannot be trusted with the morphine, and hardly seems like the most responsible caregiver, Alice (J. Smith-Cameron), who devotes herself to her Mom in exchange for a salary to pay for her services—and a wimpy, incompetent son, Eddie (Paul Lazar), who still suffers from an acrimonious divorce and lacks the backbone to take charge of anything more demanding than a magazine subscription.
Fanny has an absentee daughter who won't come home because she can never forgive her mother for her wasted years as a junkie, but Alice's two daughters, Helen (Heather Burns) and Rosie (Natalie Gold), are very much in evidence—one an actress on a hit TV show who is totally self-involved and the other a young mother breast-feeding in plain sight. The rest of the alleged "support team" includes a hospice nurse and a social worker who administer advice on everything from opiates to estate planning while Mary Frances writhes in agony from shingles. Mary Frances makes it clear that "I am not fighting this—I just want to be comfortable" and granddaughter Rosie retorts, "We don't want you to die in pain. We just want you to die."
In an idyllic world, dying should be easy—or at least free of anxiety, but as the resentments, jealousies and sibling rivalries grow, it becomes clear that Death brings out the worst in people. This is a family of monsters, each one hellishly determined to destroy the other. And Mary Frances is no saint herself. She has always played her two daughters against each other, and now takes turns humiliating and torturing them emotionally, encouraging them to ruin each other's lives before they ruin hers.
This is not a stress-free play to watch if you are over a certain age. It forces you into an inner debate about which is better: dying alone without anybody around who cares, or dying surrounded by a hateful family consumed by self-interests. What saves Peace for Mary Frances from becoming maudlin is the superb ensemble work, headed by the great Lois Smith, the sublime writing, and the naturalistic style of gifted director Lila Neugebauer that adds up to the kind of moment-to-moment realism we haven't seen since Elia Kazan. Utilizing both levels of a two-story house with a drama enacted in each room, Neugebauer moves the actors around like chess pieces, while they move in and out of each other's conversations as easily as they move in and out of each other's peripheral vision.
Lily Thorne's script, which signals a symbolic return to the style of William Inge at the top of his form, is so alive that even the lacerating dialogue is laced with humor. Even when the family members go outside for cigarette breaks, you feel like you're actually watching through the glass kitchen window in winter, while the snow slowly begins to fall.
Two small caveats: too many confusing and unnecessary references to the Armenian heritage of the father, who has been dead for years and no longer relevant, and a second-act monologue whispered inaudibly by Lois Smith (a flaw the director should still attempt to correct). The failure to articulate clearly has never been a weakness of hers, so why start now? The rest of it is so poignant and nuanced that the viewer cannot escape a feeling of personal involvement. The huge amount of preparation, precision and ease adds up to a gimmick-free perfection that looks natural as inhaling. The result is a flow of emotion so real that the entire cast looks like they've been in sync for years. You get to know all of the individuals they're playing in all of their diversity while the ingredients connect. The truthfulness of those connections are very affecting and doubly disturbing.
By the time the play reaches the ultimate level of euthanasia as the final solution, you come to relish the exemplary intelligence of a fresh new writer who exposes every aspect of the modern health-care system with care, and you leave Peace for Mary Frances shattered.