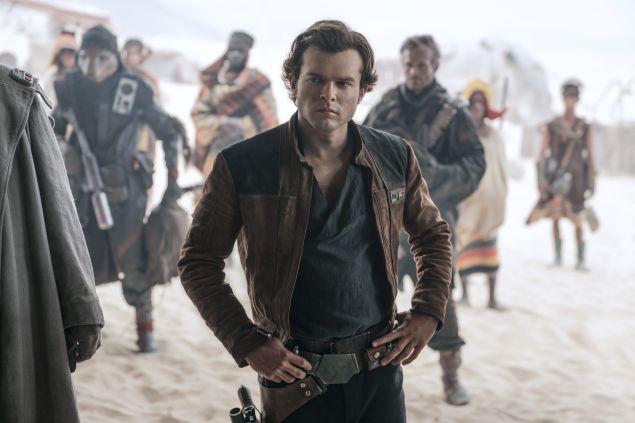 A smuggler named Tobias Beckett (Woody Harrelson) gives a piece of advice midway through Solo: A Star Wars story: "Assume everyone will betray you and you will never be disappointed."
Those of us who have slavishly shown up to these movies since the Carter Administration have been telling ourselves roughly the same thing every time. Occasionally (which is to say, twice) our grandest expectations have been matched. For a great majority, that happened with 1980's The Empire Strikes Back; for me, it was last year's bold, heartfelt and singular The Last Jedi. The latter pushed the corporatized franchise in surprising new directions and reexamined flyboy machismo central to the Lucas mythos (and especially its most recent iteration). Plus it had the added bonus of ruining several people's childhoods.
Rest assured, my sensitive friends, Solo: A Star Wars Story won't ruin anyone's childhood. But it won't make it much more interesting either. This is a film about a scoundrel that feels oddly furtive and afraid to offend. On the surface, it's a heist movie as Han and his crew hop to far corners of the galaxy looking to boost a rare fuel on behalf of the crime lord Dryden Vos (Paul Bettany). But it contains few of the clockwork intricacies that make that genre tick. This is more of an episodic and sometimes clumsy lurch between set pieces that never builds momentum or becomes particularly consequential.
Nevertheless, Solo: A Star Wars story does accentuate many of the strongest aspects of the rebooted franchise, namely its uncanny knack for casting. With a stealthy smile and easy insouciance, Alden Ehrenreich provides everything you need to portray a young rogue in love—Han's driving interest in the film is getting back to Emilia Clarke's Qi'ra, the mining town girlfriend he unintentionally left behind. Donald Glover's take on Lando Calrissian gives nuance and resonance to the "don't let the smooth taste fool you" swagger of Billy Dee Williams' version. While underdeveloped—that's Star Wars speak for, "expect another spin-off soon"—Lando's relationship with L3, an unhinged navigation droid played by Fleabag's Phoebe Waller-Bridge, could prove to be the most unlikely and formidable screen romance of the summer.
The combination of puppets and CGI creatures also feels particularly deft, and Bradford Young's cinematography is appropriately grimy and under lit, giving the film a noir sheen. But for all these assorted pleasures, there is a rote quality to Solo: A Star Wars Story that not only undercuts many of these thrills, but runs directly counter to the spirit of Han Solo. This brash flyboy who refuses to be pinned down seems as out of place in this piece of sanitized corporate product as Bart Simpson does in church.
---

SOLO: A STAR WARS STORY ★★1/2
(2.5/4 stars)
Directed by: Ron Howard
Written by: Jonathan Kasdan and Lawrence Kasdan
Starring: Alden Ehrenreich, Donald Glover, Woody Harrelson and Emilia Clarke
Running time: 135 mins.

---
Which brings us to the real war inside Star Wars. Since being relaunched in 2015 with The Force Awakens, there has been a push and pull in the Star Wars universe between the young creatives who are hired to bring their own flair to the galaxy and the overriding interests of those who oversee the long-term health of the franchise. While The Last Jedi was an overwhelming win for the Rian Johnson-led rebellion, the empire famously struck back with Solo when Lucasfilm head Kathleen Kennedy fired original directors Phil Lord and Christopher Miller and replaced the bold, improvisational and very Han-like duo with Hollywood stalwart Ron Howard.
In the film, the Rush director has some moments of self-expression—when Han is hot-rodding in a land speeder, you can feel the American Graffiti Modesto dirt under his fingernails—and has a talent for keeping character relationships front and center amidst booming spectacle. But his penchant for quiet deference runs counter to what the movie wants to and was meant to be. Having Howard tell the story of a roguish maker of mischief is the equivalent of putting Tinseltown's most beloved teacher's pet in charge of Senior Prank Week, and there's not much fun in that.