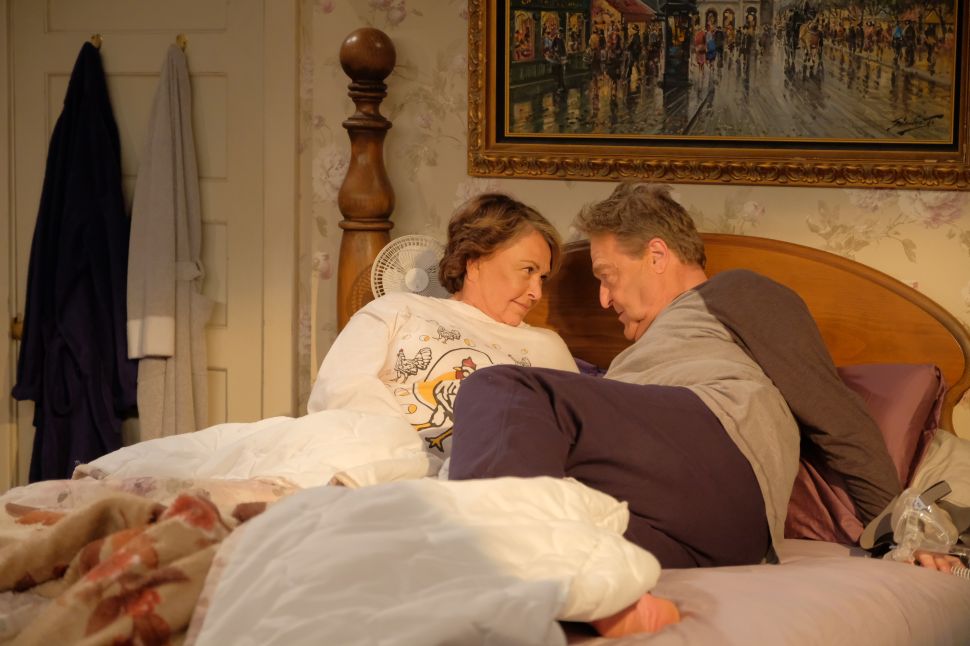 Update: ABC announced in a statement that it was cancelling Roseanne effective immediately. "Roseanne's Twitter statement is abhorrent, repugnant and inconsistent with our values, and we have decided to cancel her show," ABC Entertainment president Channing Dungey said.
Can ABC bar Roseanne from tweeting again?
The comedian and star of the Trump-approved hit ABC sitcom was on the defensive this morning after a series of racially charged tweets. She even claimed that she was leaving Twitter.
It all started last night, when Barr sent a bizarre message claiming that former first daughter Chelsea Clinton was in the pocket of Democratic donor George Soros.
Clinton responded firmly but positively, as she does to most Twitter critics.
Barr then started sharing stories about Clinton's father-in-law Ed Mezvinsky, a former congressman who pleaded guilty to fraud charges.
She then claimed that Soros was a Nazi collaborator during World War II, despite the fact the war started when he was only nine years old.
Barr wasn't done yet, next turning her focus to Islam.
But the real trouble started when Barr attacked Valerie Jarrett, a former adviser to President Barack Obama who was born in Iran.
In a now-deleted tweet, Barr said Jarrett (who is African-American) looked like a cross between the Muslim Brotherhood and Planet of the Apes.

This wasn't the first time Barr made racially charged comments about Obama officials. In 2013, she claimed then-National Security Adviser Susan Rice had "big swinging ape balls."
One of the first questions many viewers had after Barr's tweetstorm was how ABC would respond. The network still hasn't issued a statement and did not respond to an Observer request for comment, though co-star Sara Gilbert spoke out on Twitter and consulting producer Wanda Sykes announced leaving the show.
But soon after the firestorm began, Barr tweeted out an apology that read as network-approved. She also said that she was leaving the social network.
"She had to put it out, it's not something she wanted to say," social media and crisis communications strategist Kris Ruby (who runs an eponymous media group and has written for Observer) said. "This happens every time a public figure tweets something they think but shouldn't say because it isn't socially acceptable. When it became a number one trend it needed a network-based apology."
What makes things more awkward is that Barr's show was a ratings bonanza for ABC. The Roseanne reboot was consistently number one in its time slot—the premiere alone netted over 18 million viewers.
CNN's Brian Stelter tweeted that ABC executives "hold their noses" when Barr tweets because "there's no controlling" her. And of course, from a business angle they want to keep the star of their biggest show happy.
"ABC has a lot invested in continuing that show, but no matter what when someone tweets like this they're going to lose viewers," Ruby said. "It doesn't help the effort to get more people to watch her show in the second season."
Getting Barr off Twitter seems like a step in the right direction, but Ruby doesn't think the ban will stick. She noted that five minutes after Barr claimed she was leaving the social network, she sent another tweet.
The onus is more on ABC, according to Ruby. Given that some on Twitter are already threatening to boycott Barr and asking advertisers to do the same, she said the safest course of action may be for ABC to pull the show.
But the Barr controversy also points to a deeper issue about networks' social media policies. Ruby said they are "super vague and weak" and need to change, whether TV stars like it or not.
"There needs to be stronger legal language around social media policies, and all talent has to sign off on it," she said.