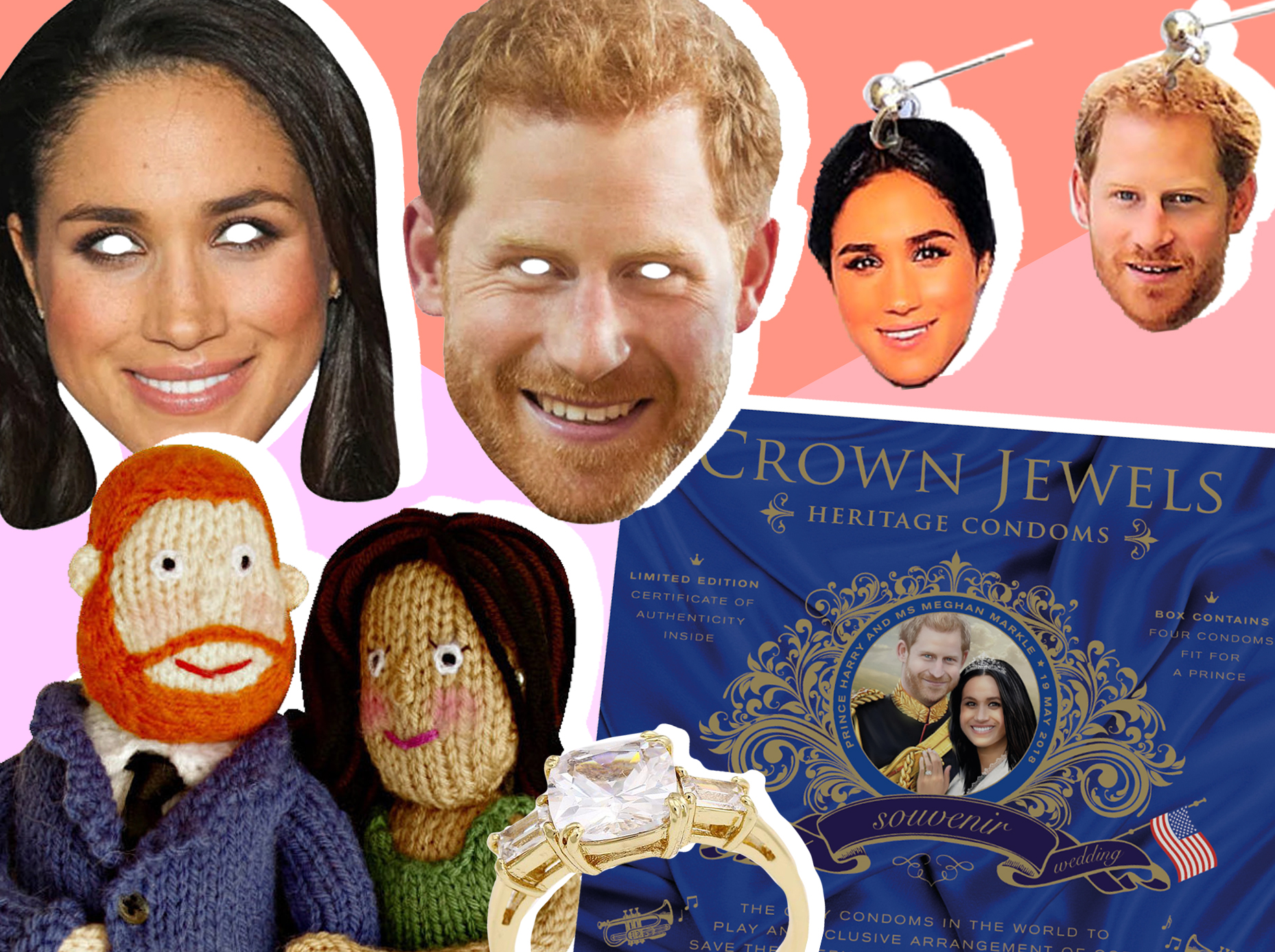 Wedding guests usually take home a small token, whether it's a stolen floral arrangement or a cupcake for the road. But when you're a royal, the gifts don't stop at post-wedding party favors—commemorative merchandise is also involved. And for Prince Harry and Meghan Markle's upcoming nuptials, the merch means everything from face masks (and not the beautifying kind) to condoms to protect the crown jewels—all currently being sold to celebrate the happy couple. (Of course, if you don't feel like purchasing a truly life-size version of the royals you could simply donate to a charity of their choice instead.)
Here are the weirdest commemorative items currently being sold to celebrate the upcoming royal wedding.
Want to pretend Prince Harry and his bride-to-be made an extra special appearance at your watch party, despite their very busy schedules? For $14.99 you can procure this not at all terrifying face mask set, perfect for Instagram opportunities. It's currently unavailable, but here's to hoping they re-stock in time for wedding pictures.
Creative types can "knit your own royal wedding" thanks to this handy-dandy Etsy knit kit for only $4 from vendor KnittleStudio. Though the kit includes a helpful guide to make each doll, success does depend on already knowing how to knit. Of course, the wedding isn't until May 19—so still time to perfect your knitting skills.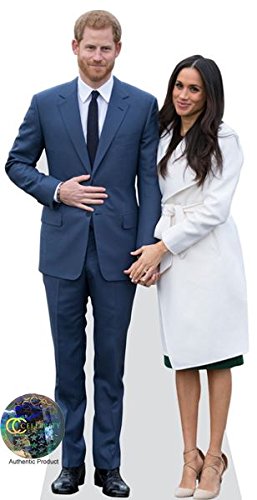 Improve your royal wedding viewing experience with a life-size cut-out of the couple for $99, available on Amazon (so you can get same-day delivery, in case you need to upgrade your party STAT). The cut-outs are apparently as tall as the celebrities they've been modeled after, so Prince Harry should stand at 6′ 1″ with Markle coming in at 5′ 7″ (if they're true to size).
Want to pamper your pup, just like the infamous lottery-winning Archie the dog, whose owners built him a miniature Windsor Castle? If you don't have $6,000 to spare on a perfect replica of the castle kennel, consider this commemorative neckerchief instead. Luxe British dog brand Teddy Maximus offers doggy neckerchiefs, Harry Prince bow ties and a toy cushion emblazoned with their names.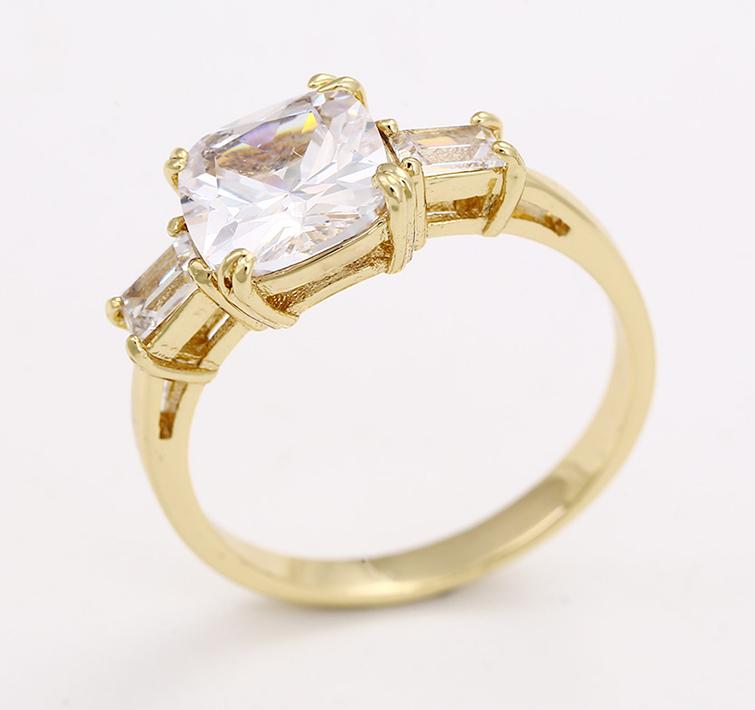 For the ladies (and gentlemen) who have always dreamed of marrying Harry (even those who didn't star on the reality show), here's exact replica of Markle's bling. While this ring doesn't involve the diamonds from Princess Diana's ring it IS only $40. Unfortunately, it's not quite as large as Paris Hilton or Cardi B's enormous pear-shaped rings, but it worthy of royalty.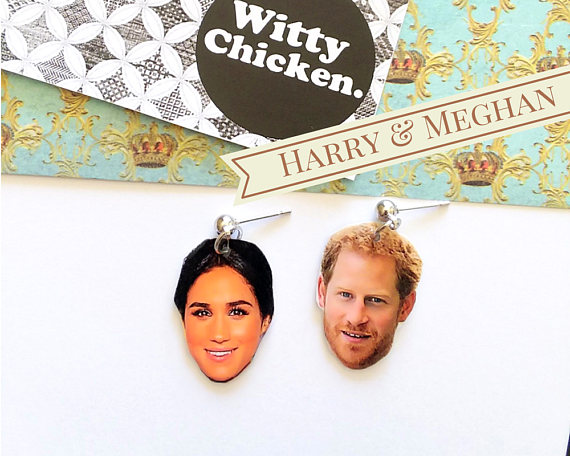 Take out your diamond studs and forego pearls, because these commemorative earrings are far more impressive. An Etsy seller is offering dangle earrings with the most memorable royal couples adorning them. This Prince Harry and Markle makes it possible to third wheel with them on a permanent basis (much like Prince Harry in his earlier years, when he would accompany his brother and Kate Middleton everywhere). There's also a Queen Elizabeth and corgi pair to pay homage to the best royal relationship.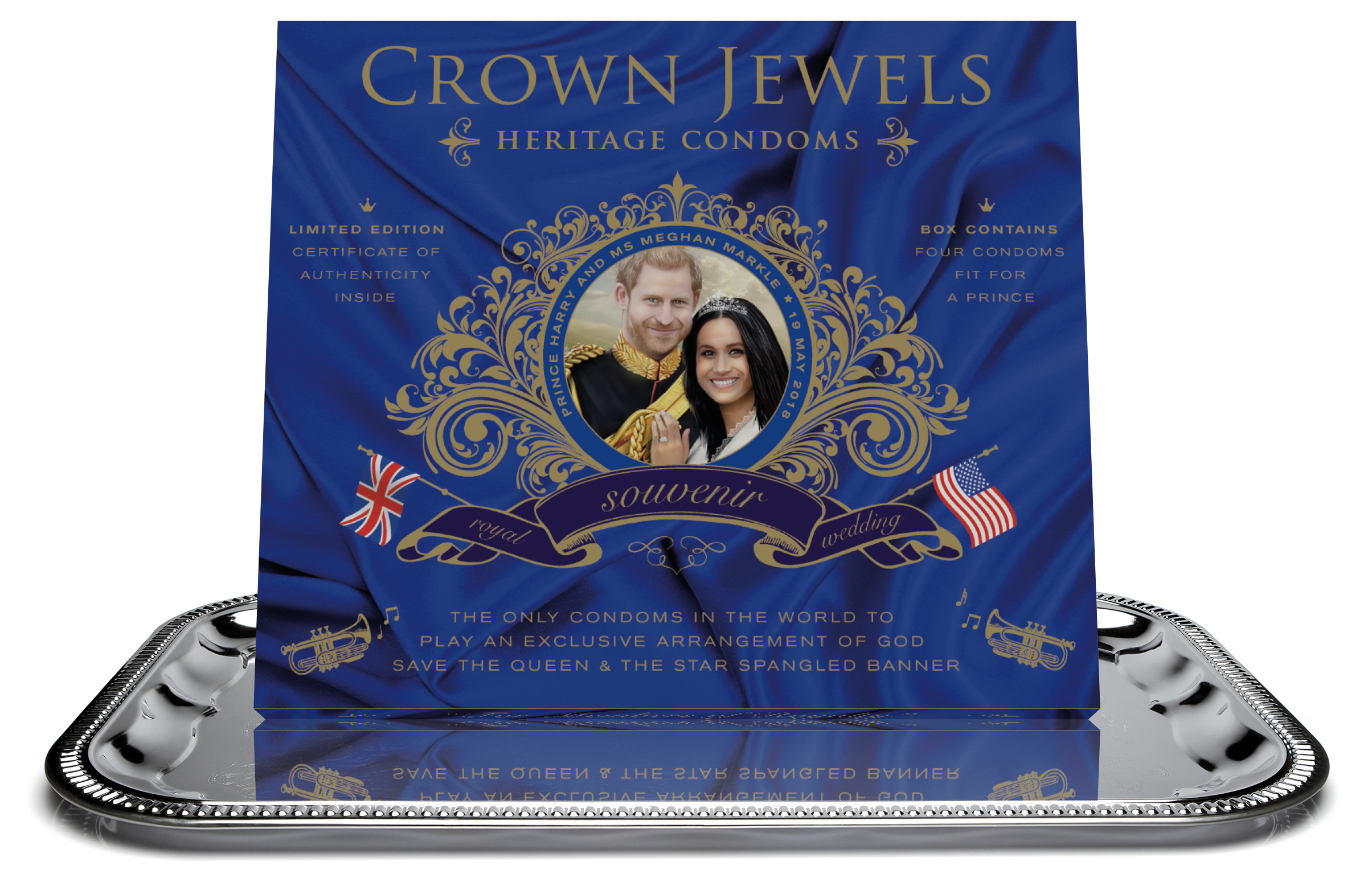 The best royal wedding buy (potentially of all time) is courtesy of Crown Jewels Condoms of London. These regal innovators created what they're calling "a commemorative prophylactic of unrivaled luxury," so you know it's good. It certainly helps that when the packet opens, the beneficiary is treated to a rousing rendition of "God Save the Queen." Of course, Prince Harry has made it clear he wants kids stat, so it's unlikely he and his new wife will be purchasing any.