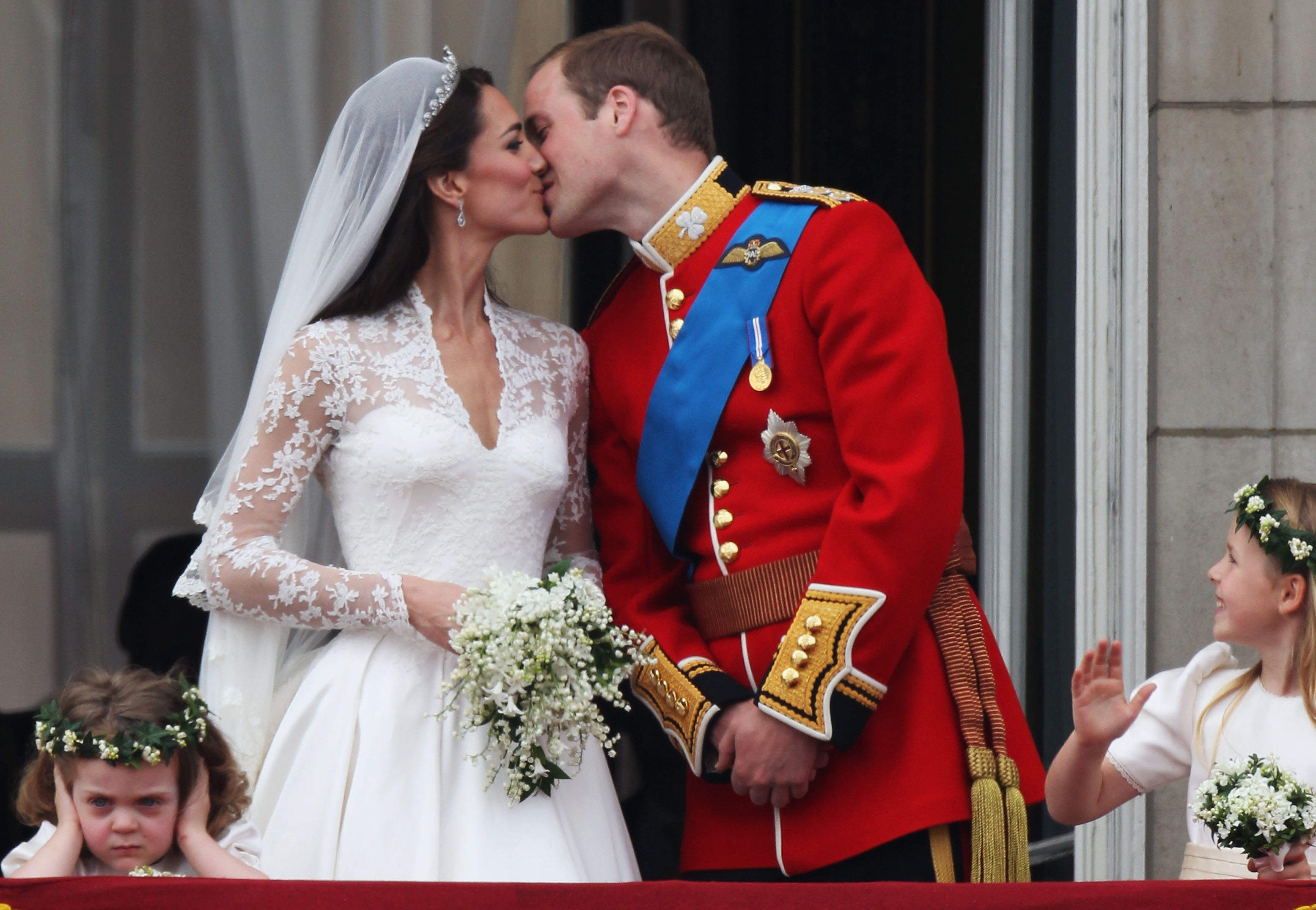 Kensington Palace finally announced the bridesmaids and page boys for the royal wedding, and many of the names are familiar.
You might remember the motley crew of youngsters from the last royal wedding, or more specifically, the grumpy bridesmaid who stole the show (apologies to both Kate and Pippa Middleton, who were one-upped by her frowning face). Her name was Grace van Cutsem, and it's not the last you've seen of her family. Her cousin, three-year-old Florence van Cutsem, will be a bridesmaid at Prince Harry and Meghan Markle's wedding. Hopefully, being meme-worthy runs in the family.
Prince Harry has been friends with Florence's father, Major Nicholas van Cutsem, since childhood. The van Cutsem family has had close ties to the royals for years, ever since Hugh Sr. and Prince Charles attended Cambridge together. Grace's parents, Hugh and Rose, are particularly close to the Duke and Duchess of Cambridge. In recent years, Rose has shared snaps of a now 10-year-old Grace on Instagram, who looks less grumpy.
https://www.instagram.com/p/BX7WA6pFfpV/?taken-by=whereisrose
Florence is one of Prince Harry's many godchildren (as a prince, he is a popular option). His goddaughter Zalie Warren (the youngest, at two-years-old) and his godson Jasper Dyer are both included. His niece, Princess Charlotte, and his nephew, Prince George, are also confirmed for the party.
We can only hope that Prince George behaves better than he did at his aunt's wedding, where a minor temper tantrum ensued. Prince Charlotte has already proven she's comfortable with the cameras after her confident wave to welcome her baby brother.
Prince Harry isn't the only one with a whole slew of godchildren. Markle's goddaughters Remi and Rylan Litt (of no relation to Louis Litt of Suits fame) will both be in the party. Markle might not have chosen Canadian socialite Jessica Mulroney as her matron-of-honor, but her children Ivy, Brian and John are all involved.
Mulroney is a bridal stylist, who reportedly helped Markle her choose her wedding gown. She's also married to former Canadian Prime Minister Benedict Mulroney's son, Brian Mulroney, and has dressed Justin Trudeau's wife, Sophie Grégoire Trudeau.
Mulroney was photographed with Markle at the Invictus Games and she's said to have helped keep their relationship secret when they first started dating (although she doesn't make an appearance in the Lifetime movie). Because Markle didn't choose a maid-of-honor (she didn't want to pick between her close friends) there's no one to look after the young wedding party, which will certainly lead to hijinks.
With no adult supervision, prepare for a small meltdown from Prince George or another grumpy moment from the van Cutsem family this Saturday morning.