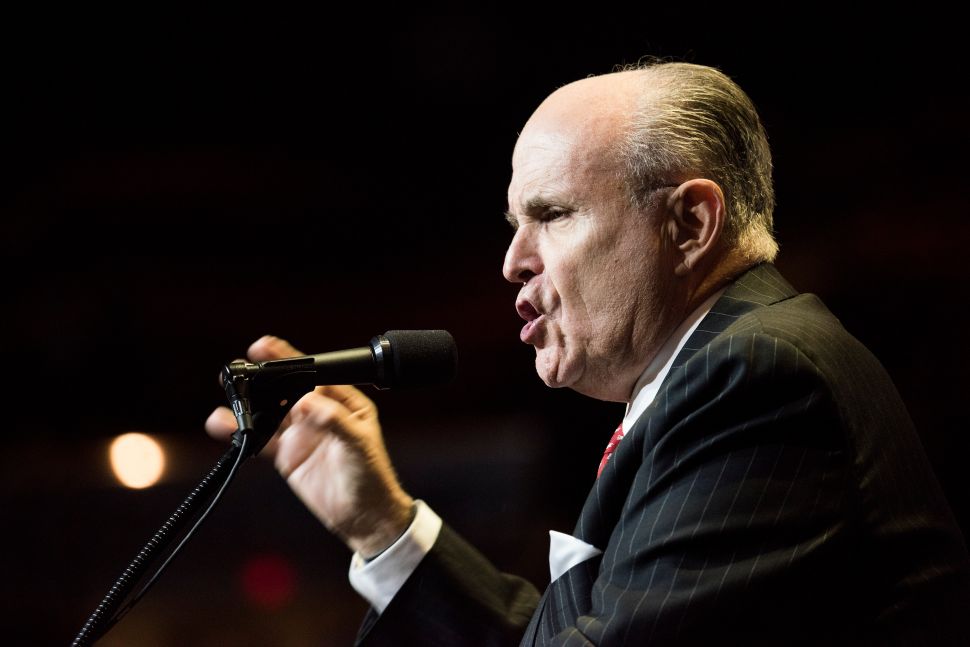 Tasked with resolving the White House's latest legal crisis involving a porn star-turned-Machiavellian chess player, Rudy Giuliani has instead embraced President Donald Trump's methods of media manipulation.
After telling Fox News' Sean Hannity on Wednesday evening that the president reimbursed his embattled attorney Michael Cohen for a $130,000 hush payment to adult film actress Stephanie Clifford, Manhattan's former mayor sparked crisis within the White House comms department. By admitting Trump's involvement in the payment, Giuliani contradicted the president's narrative and subsequently undermined the administration's handling of the situation.
Addressing the controversy, Trump's Twitter dispersed a flurry of early morning statements filled with legal speak, which many reporters and experts speculated were crafted by other members of his legal counsel.
Rather than apologize for tumbling across headlines, Giuliani moved to change the narrative.
"You won't see daylight between me and the president," Giuliani said in a CNN interview on Thursday. "The strategy is to get everything wrapped up and done with this. so that it doesn't take on a life of its own."
Feeling betrayed, the comms department is less optimistic.
Unnamed aides leaked to CNN that Giuliani annihilated their entire defense strategy toward Clifford and also ousted FBI Director James Comey—who Giuliani claimed was fired after failing to disclose whether Trump was the target of an investigation.
"They were, there was no way they wouldn't be," Giuliani told the outlet when asked about whether his interview blindsided staffers. "The president is my client, I don't talk to them."
Having enjoyed a longstanding relationship with Trump since the president's early days as a Manhattan real estate mogul, Giuliani's direct line surpasses a White House of infighting while unleashing ripples throughout media. The former Manhattan mayor reportedly suspects Trump's personal attorney Michael Cohen will turn against him, according to NBC, and is warning against communication.
By asserting his narrative as the dominant one, Giuliani becomes both pit bull and liability. Although Trump usually punishes those who embrace too much of his spotlight—whether it was the Mooch or the exiled Steve Bannon—the rules are different when federal agents circle like vultures. Increasingly isolated following an FBI raid on Cohen's Manhattan home and office, Trump has turned to his old New York ally who's ready to throw down on cable.
A porn star, a former Manhattan mayor and a reality television billionaire-turned-POTUS walk into a news cycle.
A thousand punch lines explode at once, canceling each other out in the Trump era's latest evisceration of norms.