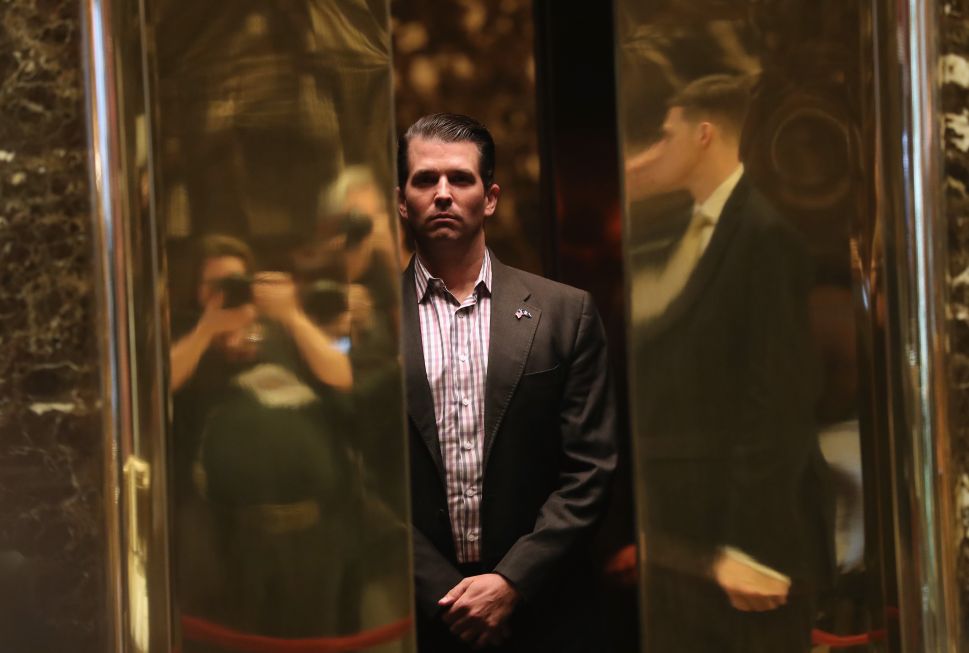 An infamous gaggle of Russian lawyers, music producers and Trump family members re-entered the news cycle on Wednesday after the Senate Judiciary Committee released over 2,500 pages of interview transcripts related to a Trump Tower meeting in June 2016.
To briefly recap: Donald Trump Jr., and two other senior members of the Trump campaign, met with Russian lawyer Natalia Veselnitskaya after she promised opposition research on Hillary Clinton.
The meeting was brokered by music producer Rob Goldstone, who represented Russian pop singer Emin Agalarov—the son of a real estate developer close to Vladimir Putin who hosted the Trump-owned Miss Universe pageant in Moscow in 2013. Fun fact: Donald Trump appeared in one of Agalarov's music videos to hurl a signature "You're Fired!" zinger.
"If it's what you say, I love it!" Trump Jr. wrote Goldstone over email about the opposition research.
Although the participants have denied allegations of collusion between the Russian government and the Trump campaign, citing a discussion about Russian adoptions and the Magnitsky Act, the Trump Tower meeting has remained a prominent focal point of Special Counsel Robert Mueller's Russia probe.
Here are the most startling revelations from the June 2016 meeting:
Trump Tower Does Not Have Attendance Logs to Verify Who Participated in the Meeting  
Donald Trump Jr. told lawmakers during his testimony last September that he only recalled seven participants at the meeting, as opposed to the widely reported eight attendees cited by The Washington Post and other media outlets.
"Because Rob [Goldstone] was able to bring the entire group up by only giving his name to the security in the lobby, I had no advance warning regarding who or how many people would be attending," he explained.
Trump Jr. added that there are no attendance logs for reference, and he did not take notes about the encounter.
Donald Trump Jr. Did Not Know Anything About the Magnitsky Act Until the Meeting 
Participants who attended the Trump Tower meeting, including Donald Trump Jr., claimed the discussion centered on Veselnitskaya's lobbying push to roll back the Magnitsky Act, which would subsequently allow Americans to adopt Russian children. Trump Jr., however, knew nothing about the U.S. sanctions on Russia going into the meeting.
"Until that day, I'd never heard of the Magnitsky Act and had no familiarity with this issue. It was clear to me that her real purpose in asking for the meeting all along was to discuss Russian adoptions and the Magnitsky Act," he said.
Donald Trump Jr. Said He Doesn't Remembering Telling His Father About the Meeting
After telling the committee that he did not notify his father of the meeting ahead of time, Donald Trump Jr. claimed not to remember discussing the event together.
"I didn't think that listening to someone with information relevant to the fitness and character of a presidential candidate would be an issue, no," added Trump Jr. when asked whether there was anything wrong with taking the meeting.
Rob Goldstone Called the Meeting 'a Waste of Time' and 'a Bad Idea' 
After the meeting occurred, Goldstone complained to Agalarov, claiming the discussion was "the most embarrassing thing you've ever asked me to do. I've just sat in a meeting about adoption."
When news of the meeting later broke, Goldstone told Agalarov it "could blow up big."
"I hope this favor was worth it for your dad—it could blow up big," he texted Agalarov.
Goldstone also confessed to lawmakers during his testimony that arranging the meeting "was a bad idea."
"I believed it was a bad idea and that we shouldn't do it. And I gave the reason for that being that I am a music publicist. Politics, I knew nothing about. And I said, neither do you and neither does your father. And the answer was simply, 'I'm only asking you to get a meeting,'" Goldstone told the committee.
Straight from the source: music publicists should never enter politics.