While today what we call "street art" takes the form of building-sized murals and wheatpaste posters on overpasses, it began in the mid-sixties in New York and Philadelphia as plain old graffiti: stylized signatures on subways and walls courtesy of taggers like Henry Medina (Henry161), or his pals "King of the A Trains" Steve Kesoglides (SJK171), and Mike Hughes (MIKE171), all from New York's Washington Heights.
By the early 1970s, these wall writers were already starting to think of their work as art, and organized themeselves into crews like United Graffiti Artists (who put together one of the first ever graffiti art shows, in 1975), and the Brooklyn-based Ex-Vandals.
Like any good subversive act, people soon took notice, and the practice blew up (see: New York City subway cars of the 1980s). But for a long time, unsanctioned aerosol art in its best form still occupied a place somewhere between admired and criminalized.
Now, our society is so in awe of the form that there have been umpteen exhibitions dedicated to it all around the world. "Beyond The Streets" is the most recent of these—a comprehensive new exhibition on view at indoor and outdoor industrial spaces in L.A.'s Chinatown neighborhood, organized by graffiti historian Roger Gastman. At the opening, some of the movement's originals reflected on just how much the scene has changed, and where it all began.
"Part of what we were doing was asserting our own identity of who we thought we were," explained Ex-Vandals co-founder "Wicked" Gary Fritz of why he started tagging in the 1970s. "We wanted to go out and show the world who we are by putting our names out there and letting people know, 'Hey, we're here!'"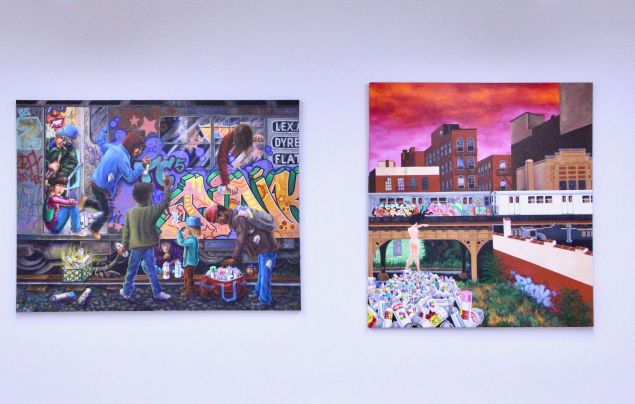 Gastman, who also co-curated MOCA's 2011 blockbuster show "Art in the Streets" and consulted on the Oscar-nominated documentary Exit Through the Gift Shop, has brought together more than 100 artists representing a span of over 50 years for this show. It mixes familiar names like Banksy, Shepard Fairey and RETNA with less famous artists like Freedom, Lady Pink and Cornbread, along with other seminal East Coast wall writers.
At the opening, Fairey recalled to Observer a transitional trip he took to New York in the fall of 1988. "Seeing all the graffiti on the Cross Bronx Expressway and living in the city…it excited me 'cause of the anonymity of the work." At the time, Fairey was a student at the Rhode Island School of Design. "So while I was trying to stock up on all these techniques behind art with a capital A, I was also fascinated in the counterculture side of the art," he said.
It was mark-making driven by youthful angst as well as the era's socio-political anxieties. "It was kind-of an escape cause we didn't want to be in school. We let our frustration out on the subway," said Kesoglides. "You gotta be in our shoes at that time. Vietnam was going on, police corruption, police brutality, Nixon was president…corruption at the highest levels," he said. This was the way they found to speak up and have a voice in what was happening around them.
Even so, there is little political content in the wall-writing of the era beyond the rebellious act itself. Context matters in any art form, but with street art it is paramount. Placed in a gallery, it ceases to be an act of vandalism or a rebellious statement against convention and instead becomes its opposite, which is why artists like Shepard Fairey maintain a studio practice but still work in the streets (albeit mainly through commissions).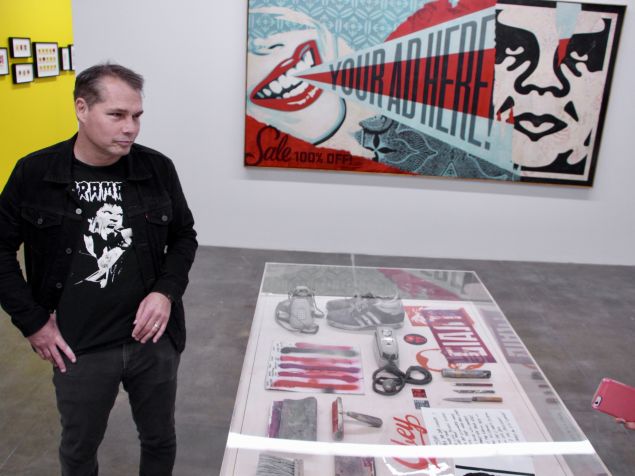 For Fairey, it all took off with one character. "The Andre sticker I didn't look at as an art piece. It was sort-of an inside joke with some skate friends that evolved into more serious art than the still lifes of flowers I was painting," he explained about the stencil he made of a famous wrestler that launched his career. "Looking at my work as art and design was something I was doing, but not with an ambition to ever be a professional artist. I was a printmaker, but I looked at that as a skill that I could use and, with the same tools, make my own stuff, but not ever to be in galleries." In a twist of fate, it was the street work that got him recognized, and has subsequently made him a lot of money.
Wall writers like Medina, Hughes and Kesoglides leveraged their work to pay the bills in the early wave of graffiti-chic by designing backdrops for the Joffrey Ballet and Twyla Tharp Dance in the 1970s. "Andy Warhol got involved with this stuff and a few years later he had Keith Haring and the other guy, Basquiat…that was like the inner circle of people. And that's where money started coming in," remembered Hughes.
It's also where graffiti art, a form that originated mainly among people of color, began to get whiter. "I actually thought I could never do graffiti because I was white," said Fairey. "But you've got Zephyr (Andrew Witten), and it was actually really mixed. I think the common denominator was people whose parents weren't supervising them too much."
Kesoglides, who is white, agreed, pointing to his old friends, Hughes and Medina, "His pop died, his father left, came from broken families." In the 60s, Darryl McCray (Cornbread), who is often referred to as the first tagger, got his start in the mid-sixties in a Philadelphia reform school where he asked the cook to add cornbread to the menu. From that point on, he printed his nickname on every surface of the school and, upon release, every inch of his North Philadelphia neighborhood. "Black creativity has added a lot to the culture, and they don't buy into it. Whites buy into it. You get what you pay for," said McCray, who is black, drawing a clear line between who is putting money into the art form, and the shift in who is making it. 
But despite the radical change in public perception from the early days—from illegal activity to exalted art movement—it's still, like most art forms, not something one should probably get into for the money. "It's not a real smart career choice to earn a living," said Fairey. "Even though it's more viable now, it's still not."
Chris Pape (Freedom) agreed. He painted the Amtrak tunnel under Riverside Park, which was abandoned in 1980 and later became known as "Freedom Tunnel" in his honor. The subterranean location drew additional artists over the years, who marked around his murals until 2009, when Amtrak decided to paint over a significant portion of the tunnel south of 91st Street. "It goes to what Shepard was saying," Pape explained. "If you had said back then, here's my career choice, I'm 20 years old and I'm gonna paint in an abandoned tunnel for 15 years where nobody can see the work…that's crazy."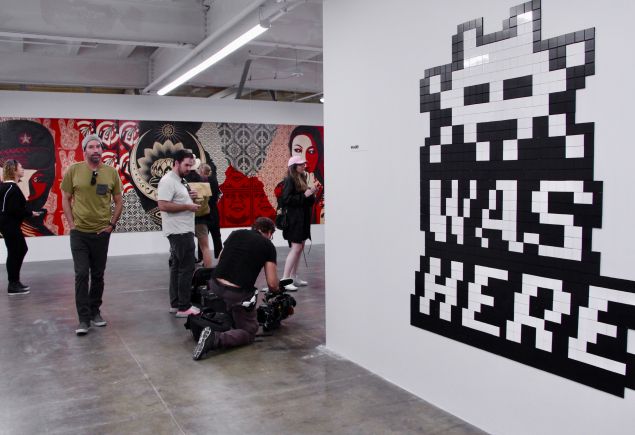 In the 1970s, with New York City broke, crime soaring and job numbers tumbling, graffiti art was a way for those who had no chance of attending fancy art schools to penetrate an otherwise impenetrable world. Lady Pink (Sandra Fabara), started tagging when she was a teenager and has shown in galleries ever since.
"I went to the High School of Art and Design, so that and a little bit of high school art that I took—but to be honest, I cut fifty percent of the time. I failed all my art classes. I didn't go, too busy doing the graffiti thing," said Fabara, who calls all of the artists, from taggers to muralists, her brothers. "What started off as New York-based graffiti has now morphed and grown into a full-fledged art movement called street art. And street art is a blanket term for all of us, vandals of kindred spirit."