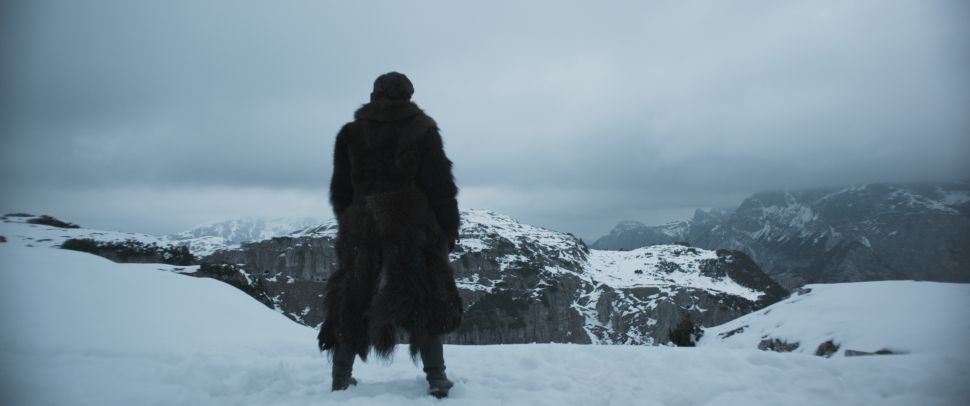 I'm not going to split hairs and try to convince you otherwise: Disney and Lucasfilm's Solo: A Star Wars Story disappointed at the box office in its opening weekend. Badly.
The movie—which cost a minimum of $250 million due to extensive reshoots, not accounting for massive marketing costs—opened to just $103 million over the four-day domestic weekend and stands at $168 million worldwide as of this writing (it was tracking for an opening between $130 million and $150 million). At this rate, the film will struggle to cross $450 million worldwide and is assured to end its run as the lowest-grossing Star Wars film of the Disney era.
To paraphrase the Emperor, Solo just wasn't fully operational.
"It's tough to call a $100 million Memorial weekend debut a 'failure,' but the mighty Star Wars brand is held to a higher standard than most, being one of the premiere brands in cinematic history," Paul Dergarabedian, senior media analyst at comScore, told Observer. "A hugely competitive Memorial weekend that generated a strong overall gross of $225 million, did not give Solo much of a break, and with Deadpool 2 and Infinity War chasing similar audiences, it was tough for the film to live up to the early projections. Coming a mere five months after The Last Jedi, casual fans may have had enough Star Wars at least in the short term, but notably in comScore/Screen Engine's PostTrak audience survey, those who did see the film loved it giving 4 out of 5 stars… and that could be good news for the film going forward."
This marks the first financial misstep Disney has accrued in a galaxy far, far away since it shelled out $4 billion for Lucasfilm back in 2012 (shares of Disney actually fell following Solo's muted opening). But don't worry, the Star Wars brand isn't in any real trouble.
Debunking Star Wars Fatigue
A handful of box office analysts have highlighted Solo's release just five months after the polarizing The Last Jedi as the scapegoat for its failure to launch the box office into hyperspace. But that doesn't fit with recent blockbuster trends.
Avengers: Infinity War arrived just two months after Black Panther, which hit theaters just two months after Thor: Ragnarok. Following the upcoming Ant-Man and the Wasp, Marvel will have released six titles in 14 months and they're not the only ones cutting it close. Harry Potter and the Deathly Hallows – Part I opened just seven months ahead of the concluding chapter; Suicide Squad arrived five months after Batman v Superman: Dawn of Justice.
What do all these movies have in common? They all made ungodly amounts of money overall.
Each example (and countless others not listed here) managed to attract the die-hard fans, as well as general audiences and casual movieogers. Crossover appeal such as that is born out of a number of factors, most notably buzz and accessibility, which Solo seemingly lacked.
Non-hardcore fans weren't biting on the whole "Han Solo Origin Story" angle, a gripe many Star Wars enthusiasts also shared. Those who follow the industry were either turned off, or at least somewhat concerned, with the highly-publicized drama behind-the-scenes. Lucasfilm president Kathleen Kennedy booted original directors Phil Lord and Chris Miller midway through production and hired Ron Howard to re-shoot roughly 70 percent of the film. While reviews for the film were better than expected, the love for Solo was still tepid overall (70 percent on Rotten Tomatoes).
Long story short: Had Lucasfilm made a unique entry into the Star Wars canon that excited critics and enticed fans, it would not have mattered one ounce of coaxium hyperfuel that the latest Star Wars movie came out a few months ago.
Scheduling Conflicts
Solo is the first of the Disney-era Star Wars flicks to brave the summer box office season, and now it may be the last. Each of the studio's previous three releases hit theaters in December and dominated the Christmas box office to become the biggest movies of their respective years. The Force Awakens ($2.06 billion), Rogue One ($1.05 billion) and The Last Jedi ($1.32 billion) have already turned a profit for Disney and that's before we account for the billions in merchandise.
The Memorial Day Weekend has recently become notorious for its lack of legs at the box office, and Disney has felt the brunt of that decline in recent years. This is the fourth consecutive year that the Mouse House has launched an expensive event film (Tomorrowland, Alice Through the Looking Glass, Pirates of the Caribbean: Dead Men Tell No Tales) on this weekend to disappointing returns. Though the trend may reach a screeching halt with next year's release of Aladdin, perhaps Disney would have been better served sticking to its winter territory.
Solo was done no favors opening one week after Deadpool 2 ($55 million over the holiday period) and still in the wake of Avengers: Infinity War ($20 million). While the Star Wars anthology could hold better than expected in the days to come, it will face stiff competition against Ocean's 8 (June 8) and The Incredibles 2 (June 15).
There's simply not a lot of breathing room in this particularly blockbuster stacked summer.
What Does It Means for Lucasfilm Going Forward?
Honestly, probably nothing.
Star Wars: Episode IX will hit theaters in December 2019 and is all but assured to open to at least $200 million and top $1 billion worldwide at least. While no other Star Wars releases have officially been announced beyond that, we know that Logan writer/director James Mangold is working on a Boba Fett spinoff and that Ewan McGregor will likely be returning for an Obi-Wan Kenobi standalone adventure.
We also know The Last Jedi writer/director Rian Johnson has a new separate trilogy in the works, while Game of Thrones showrunners D.B. Weiss and David Benioff are working on a new series of films as well, not to mention Jon Favreau's live action television series set to hit Disney's streamer next year. While all of these plans run the risk of stretching Lucasfilm too thin, they won't be dramatically altered by Solo's performance.
Disney isn't going to suddenly stop making Star Wars projects or only release one every few years because one of their first four movies stumbled. While there are lessons to be learned from Solo—audiences crave more diversity from their blockbusters, the summer is a crowded playground, and some characters just aren't well-suited to prequels and origin stories—you won't see any heads roll at the studio.
Deep breaths, stay calm and, to borrow from the NBA, Trust the Process.