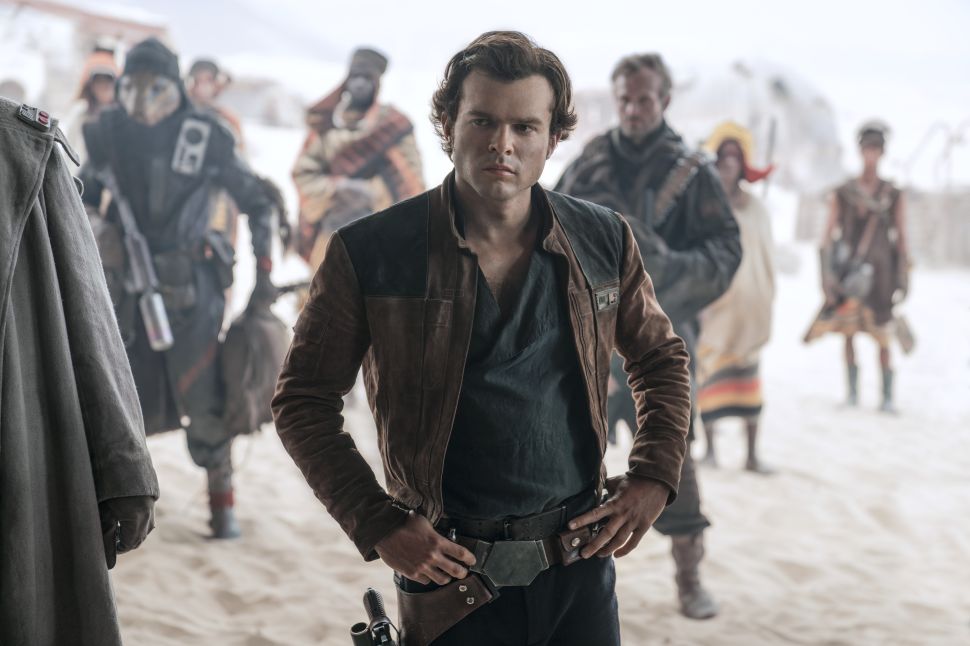 How much money is Disney and Lucasfilm's Solo: A Star Wars Story set to make over its opening weekend later this month and how much money does the film need to earn to be considered a success?
According to Deadline, the Young Han Solo prequel anthology film, which has spent the better part of its young existence dividing fans left and right due to its highly publicized production troubles, is on track for an opening weekend of $160 million to $170 million. Now is the part where I point out that tracking data is notoriously fickle, but it's all we have to go on at this time.
For comparison, the two biggest openings of 2018 so far have been Avengers: Infinity War ($258 million) and Black Panther ($202 million). In 2017, the top three were Star Wars: The Last Jedi ($220 million), Beauty and the Beast ($174 million) and Guardians of the Galaxy Vol. 2 ($146 million). All of those films are under the Disney banner, bringing us one step closer to 1984.
So is this considered a good or bad opening?
Without accounting for inflation or 3D, it would be the second-biggest Memorial Day weekend launch ever, according to Forbes. Rogue One, which opened to $155 million in 2016, carried a gross budget of $265 million, which seems to be an appropriate comparison for Solo given all of the massive reshoots and production issues it endured. While that first anthology from Lucasfilm went on to earn more than $1 billion worldwide to solidify itself as the second-biggest grosser of the year, Solo may not follow a similar path.
Unlike Rogue One, Solo's promotional material has been met with mixed reactions by fans and enthusiasm is noticeably cooler than for any other recent Star Wars launch. Additionally, Solo is just one of many blockbusters dropping in the coming months. Sandwiched into a summer that also includes Infinity War, Deadpool 2, The Incredibles 2, Jurassic World: Fallen Kingdom and other big-name tentpoles, Solo may struggle to carve out as big of a niche as the studio is hoping it will.
But if Solo can manage to mount a domestic campaign between $350 million and $400 million, it should be just fine overall.
Ironically, Disney and Lucasfilm are probably less concerned with the financial fate of Solo than any of their other adventures in a galaxy far, far away recently. Given all of the behind-the-scenes turmoil and audience skepticism, if director Ron Howard—who replaced original filmmakers Phil Lord and Chris Miller—can deliver a crowd-pleasing space western/action heist, the face-saving of the Star Wars brand will be just as valuable as the box office revenue in the long-term.
Personally, if the movie does fail to connect, I don't think it will be the fault of star Alden Ehrenreich, who has been the subject of considerable speculation as he steps into the beloved role made famous by Harrison Ford.
Solo: A Star Wars Story hits theaters on May 25.