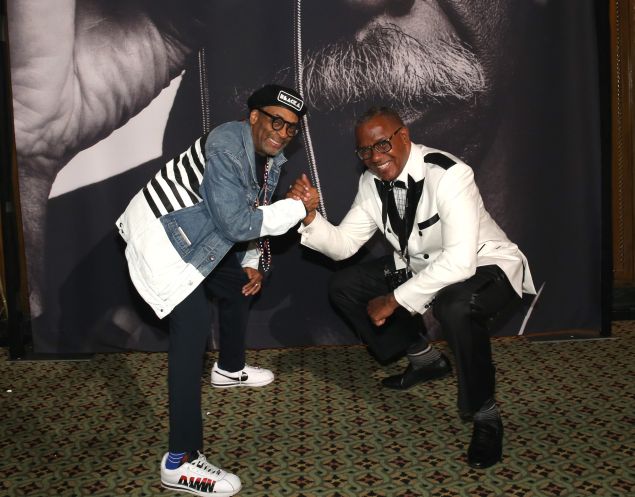 At Cipriani 42nd street last night, legendary figures from the worlds of art, music, film philanthropy, media and design collided to celebrate the legendary man who worked across all these genres, and present some awards in his name, at the Gordon Parks Foundation Awards Dinner and Auction. Honorees this year included director, screenwriter and filmmaker Ava DuVernay; businessman and philanthropist, Ronald O. Perelman; author Ta-Nehisi Coates; civil rights attorney Sherrilyn Ifill; photographer Sally Mann; and documentary photographer Jamel Shabazz.
Artists like Mickalene Thomas, Radcliffe Bailey and Kehinde Wiley mingled with philanthropists like Gayle King and Leonard Lauder and media titans Tom Freston and Ron Meyer. Musicians Black Thought and Hip hop artist Kasseen "Swizz Beatz" Dean rocked the dance floor late night, while Shabazz shot their pictures on the film camera he wore around his neck.
"This is one of the best events in New York," former Congressman Harold Ford told Observer. "Truly the best of every industry in Manhattan is here tonight."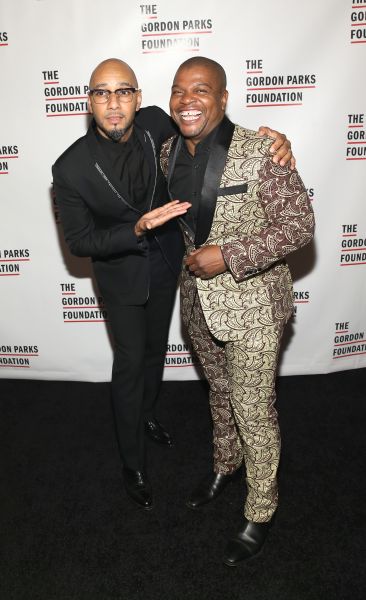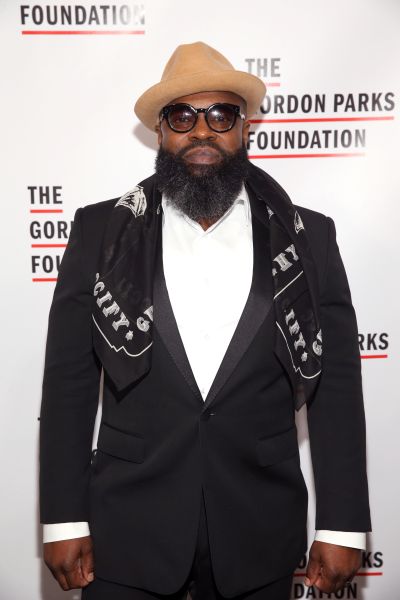 Honoring the Achievements of Gordon Parks
The diversity of honorees and guests was a reflection of the array of talents possessed by Parks himself. A true Renaissance Man, Parks moved seamlessly between the worlds of celebrities, writers, artists, the urban poor, social justice advocates and fashionistas in his 93 remarkable years. While bios on Parks will often point out that he was Life magazine's first African-American staff photographer, he was, as Gordon Parks Foundation Director Peter Kunhardt said, "a great photographer, period." His ground-breaking 1948 photo essay about a Harlem gang leader was followed by literally hundreds of articles he both wrote and photographed, humanizing the plights of the desperately poor and the angry and oppressed. He saw his camera as a weapon against racism, injustice and poverty and his powerful images were an integral part of the civil rights movement.
"Gordon's images were as influential as Martin Luther King's words in the 60's," Ford told Observer. Photographer Sally Mann agreed. "If Ellison, Baldwin, provided the soundtracks for those years, it was Parks who provided the visuals."
Remarkably, Parks had the dexterity to shoot his shocking images of urban blight in Harlem around his daytime gig, working at Vogue with legendary editor Alexander Lieberman. He also made portraits of artists in their studios, including of Helen Frankenthaler, Alexander Calder and Alberto Giocometti. He travelled with Muhammad Ali, photographed Stokely Carmichael and befriended and made some of the last known photographs of Malcom X.
And last night, it was Ella Watson, the woman made famous in his 1942 image American Gothic, not the many celebrities he photographed, whose face was projected, floor to ceiling, throughout the room. Mop and broom in hand, wearing a simple dress, her story was the theme of the night. And her children, grandchildren and great-grandchildren were there to see her celebrated.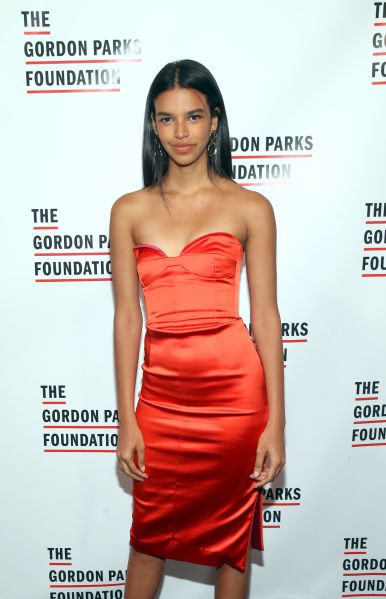 Spike Lee Talks Politics and Art
Director Spike Lee presented the philanthropy award to his long-time friend Ronald Perelman. Recently back from Cannes, where he won the Grand prix Award for his new film BlackkKlansman, Lee let the audience know how he was really feeling. "Any time I go to a film festival in Europe I become a representative of 44 million negroes, so I knew someone was going to ask 'what the heck is going on over there??'" he said from the stage.  "And I went off."
Promising, "I won't curse…tonight," Lee voiced his antipathy for Donald Trump and his anxiety about the nuclear football, which he once saw, outside of his own Upper East Side home, when he and his wife gave a benefit for Obama years ago. "The football is not a joke, and this guy (Trump) has the nuclear code. So, if this year were to have a movie title, it would be The Year of Living Dangerously."
Why the diversion? To point to what, in Lee's mind, really matters right now. "But let's talk about my man, Ron Perelman," Lee said, getting back on topic. "He's someone who understands the arts, supports the arts, supports the culture. And he's not thinking the funk either! He's for real for real."
"Fuckin' Spike Lee!" Ron Pereleman joked as he took the stage to accept his award, "Spike does with the moving picture, today, what Gordon Parks with the still picture 60 years ago."
As he accepted his award from his longtime, Madison Square Garden court-side pal, Ronald Perelman turned to enormous image of Ella Watson behind him. "Spike is opening his picture in Charleston to recognize what America is facing today. And I believe that almost every one of Gordon's pictures depicts socially, not just for the Jews or the Asians or the black or Hispanics, what exists in America today. And I think what we have to do is look at that picture, and realize that not much has changed. And it's not going to change unless we make it change."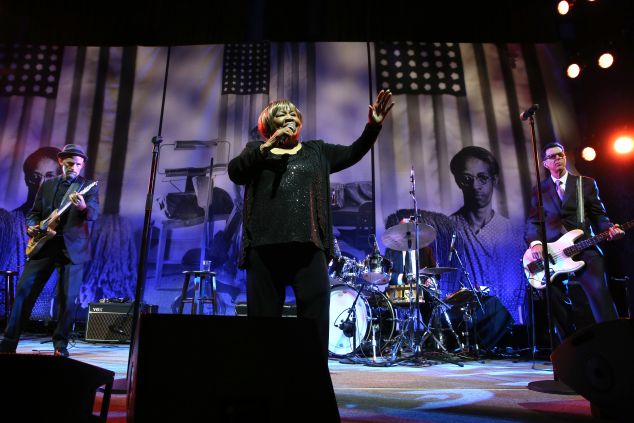 Paving a Way to Follow in Parks' Footsteps
Born the 15th of 15 children in rural Kansas, Parks nearly died at birth. His early years were a constant struggle to survive. But, as he said in his memoir Hungry Heart, "I'd seen how courage, compassion and intelligence could kick aside the most savage stones." And kick them aside he did. Parks wrote novels, screenplays and stories. He composed music and his Life articles helped to raise money for the poor. All of those skills came together when he became the first African-American man to write and direct a major feature film, The Learning Tree, in 1969. In 1971, he directed Shaft, a cult classic that has inspired generations and which launched the term "Blaxploitation" into our collective vernacular.
"Gordon Parks was a beautiful director," Ava DuVernay told Observer, "He paved the way for so many black filmmakers. We owe it to him to keep his memory and his message alive."
Parks message is kept alive through the Gordon Parks Foundation Scholarship Program, established in 2009, which supports photographers, artists, filmmakers and musicians working within the theme of social justice. This year, 22 students took to the stage to be recognized for the talents.
Evalina Sunbye, a student at Pratt, told Observer that her $10,000 scholarship has changed her life and informed her work "in every way imaginable."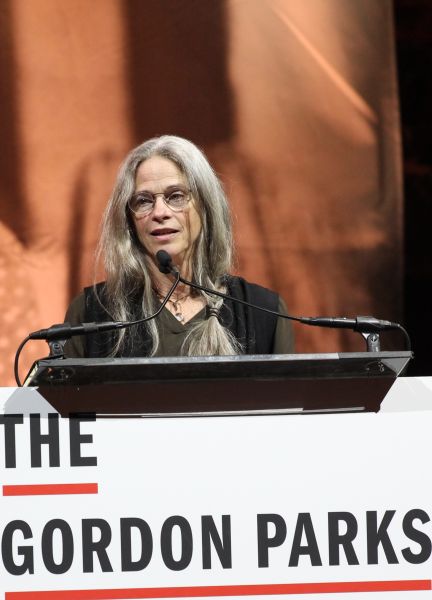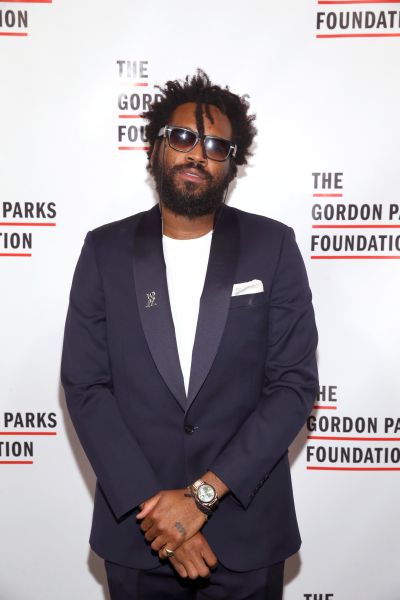 "Yes, the financial piece alleviates $5,000 per semester, which is huge for me," she says. "But even more than that, I've found myself incorporating his ideals into my own work as a photographer focused on the elderly" she explained. "I'm increasingly more mindful of those who are less fortunate or marginalized. I find myself asking, "how would Gordon look at this issue or handle this situation?" and I'll share those ideas in my classes."
Kennedy Mensah, a musician and student at LaGuardia High School, told Observer that receiving his scholarship "made me feel special, like what I'm doing matters." Gordon Parks would be proud.