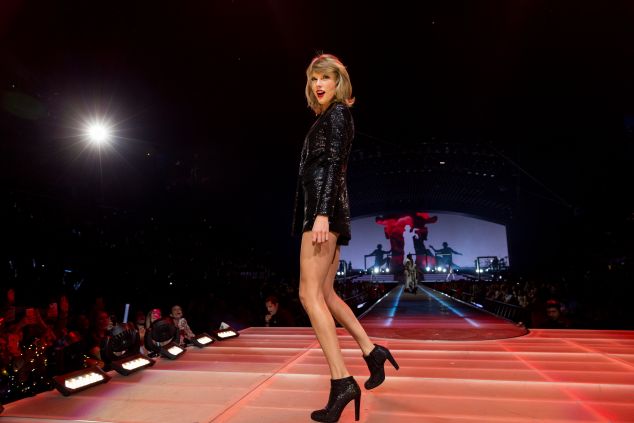 Taylor Swift is getting ready to embark on her 'Reputation' tour, which kicks off on May 8 in Arizona. The pop star, however, is multitasking on a whole other level right now, as she's also taking care of numerous real estate situations.
Swift is quite fond of Beverly Hills; she's owned at least three houses in the upscale neighborhood. While having three homes in one enclave may seem excessive, it's in line with Swift's preferences—in New York, she owns two apartments in one Tribeca building on Franklin Street, as well as the townhouse right next door.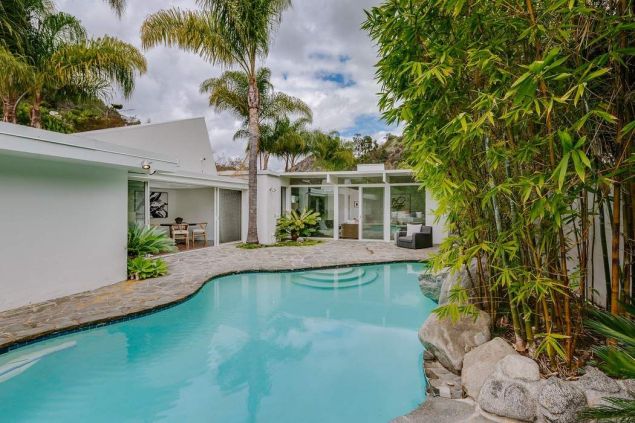 Her first Beverly Hills purchase was back in 2011, when she paid $3.55 million for a 2,826-square-foot house on North Beverly Drive. She held on to the three-bedroom, 3.5-bathroom home for some time, but it turns out she quietly parted with it in late April. Swift accepted $4 million in the off-market transaction, per public records spotted by the Los Angeles Times.
Worried you missed the chance to live in Swift's discarded digs? Fret not! It turns out Swift has a second house just down the street, for which she doled out $1.78 million in March 2012. Swift discreetly listed it for sale at an undisclosed price last month, and according to the listing history, she'd accepted an offer on the house by April 12.
Alas, the deal must have fallen through, as the 2,950-square-foot single-story abode has returned, with a $2.95 million price tag attached, so let all the "Shake it Off" puns commence.
The interior decorating isn't particularly unique, so perhaps Swift staged the home. It's not that the four-bedroom, 4.5-bathroom home isn't tasteful; it's more that it doesn't have the same warm, rustic, country chic aesthetic as her other homes. But maybe Swift just prefers a different look on the West Coast.
Skylights in the entry set the atmosphere for the airy abode, which is filled with white beamed ceilings and plenty of bleached wood accents.
The kitchen is routine, with black tiled floors, wood cabinetry and stainless steel appliances, with lots of space for Swift to bake all those cookies she would often Instagram, pre-social media purge. There is a rather charming breakfast nook, with leather booth seats. In addition, there's a 1,000-bottle wine cellar, so maybe this served as the site of one of Swift's #squad gatherings—that is, back when she was constantly surrounded by a gaggle of model girlfriends.
Built-in wood bookshelves frame both sides of a fireplace in the living room, and black leather Barcelona chairs and velvet couches add character to the space, per the photos from the listing shared by Sotheby's International Realty brokers Dean Mandile, Drew Mandile and Brooke Knapp. Floor-to-ceiling sliding glass doors open to the stone patio; outside, there is a curvy pool, lounging area and plenty of trees to protect the privacy of the home.
Speaking of privacy, the listing also notes that the home is equipped with "elaborate security cameras." This isn't any surprise; Swift is notoriously careful when it comes to safety. It's understandable, considering the issues she's faced with her homes. In particular, her most well-known Beverly Hills residence, a $25 million landmarked mansion she bought in 2015, hasn't fared especially well.
Despite Swift's attempts to make the historic Samuel Goldwyn Estate as secure as possible (including building a seven-foot wall around the grounds), there have been multiple break-in attempts, including alleged stalkers. Most recently, a man wearing a mask and rubber gloves attempted to climb the wall; police reportedly found ammunition, a knife, rope, an empty gun holster and other incriminating items in his car.
That home hasn't popped up on the sales market just yet, so it seems like Swift is holding onto it for now. Perhaps she's planning on adding a few more feet to that wall while she's on tour.