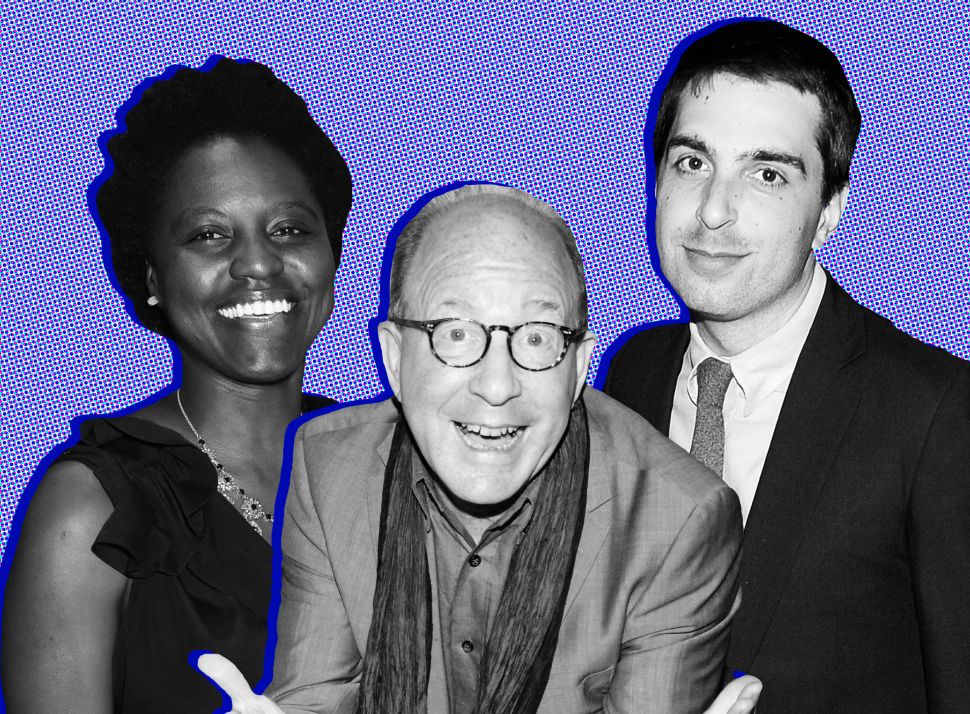 So many exhibits, so little time. Whether you have a free afternoon to see art in the city, or an upcoming vacation that requires a tight gallery and museum itinerary, you might as well bestow forgiveness on yourself before you even start: it's impossible to do it all. Luckily, there are a few culturally appointed scribes out there who might help you ween down your list of what to see. Reading them regularly will not only help you figure out what's worth your time, but also provide the kind of sharp insight you'd like to think you could have come up with yourself.
Some of the following critics are fans of the hot take, and others offer in-depth, more rigorous styles. Each one has developed a singular approach to art writing, but all are undeniably setting the tone for our contemporary aesthetic conversations right now.
Andrianna Campbell
Though Adrianna Campbell is still working towards her doctorate in the Department of Art History at the CUNY Graduate Center, she somehow finds time to pen catalogue essays for MoMA and write columns for Artforum. Her thesis pertains to Norman Lewis and the Abstract Expressionists of the mid-twentieth century, but for various publications she's written about contemporary artists from Nari Ward to Laurie Simmons.
Campbell's writing is both erudite and plenty legible. She uses her youth to her advantage, likening Frank Stella's work from the 1970s to the "Photoshop aesthetic" in contemporary practices—a connection older critics may not make. Plus, she already has a major benchmark for the contemporary art critic: a decent Instagram following. Campbell was an art school graduate herself, so it should come as no surprise that her own curated aesthetic is on point.
This past April, Campbell launched a new journal called apricota. The journal's mission is to infuse "its seriousness with a lively affection for the decorative, for kitsch, queerness, eccentricity and otherness." Watch this space—it's sure to be on top of our most important contemporary conversations.
Jason Farago
Jason Farago is the co-founder of Even Magazine, which explicitly states on its website: "We're tired of hearing about culture as elite, opaque, and unapproachable." Us too! We turn to Even for snarky design commentary, one-offs from today's most formidable voices, and long-form articles that explore the intersection of aesthetics and politics. It's a gorgeous magazine, and they throw great events. Often, there's free wine. Beyond that, Farago is creating a platform to give writers free-reign on the page to explore whatever they feel most passionate about.
But that's hardly all Farago does. After serving as one of New York's most devoted, widely-published freelance art writers, The New York Times brought him onboard. He's now a critic for the national paper of record, where he's not afraid to hate a bit on Picasso ("It can be bracing to see Picasso shuttle between triumph and kitsch in the space of a week") or gush over a four-item exhibit at the Metropolitan Museum of Art. And he just burned Leonardo da Vinci's recently authenticated Salvator Mundi: "Yet there's a meekness and monotony to Salvator Mundi that can't be redeemed by these marginally engaging details," he wrote. "The savior of the world appears in this painting as a soft, spumy cipher. His eyes are blank. His chin, flecked with stubble, recedes into shadow." Just because he's a Renaissance master doesn't mean he's beyond Farago's reproach.
Carolina Miranda
Lest you forget that culture exists on the West Coast, Carolina Miranda focuses exclusively on California art, architecture, and film. She's not afraid of more sordid topics: this past July, she wrote about the end of pornography theaters for the Los Angeles Times. A staff writer for the publication, she recently won the prestigious Rabkin Prize for her work (Farago, above, is another 2017 grantee).
Read Miranda for deep political engagement. She's especially interested in the intersection of art and activism. Just look at the headlines for her analyses and story round ups ("Opera and the Black Experience," "Why so many Mexicans revile the Colonial Californiano architectural hybrid that spread from SoCal," "How images—sometimes manipulated and altered—are shaping the seething world of our politics") and you'll get a feel for her attention to issues that expand far beyond gallery walls.
Miranda's especially attuned to local issues. She covered the long battle between artist Laura Owens and protesters who complained that her community-oriented gallery, 356 Mission in the L.A. neighborhood Boyle Heights, was gentrifying the historically Latinx area. This May, the institution will shutter. Covering this story was par for the course for Miranda, who often weighs in on fraught topics circulating around her, bringing more transparency to contentious, hot-button or just downright confusing issues swirling in the L.A. arts community.
Jerry Saltz
Even if you don't listen to us, listen to the Pulitzer Prizes. Jerry Saltz just won the esteemed award for his criticism at New York Magazine, "for a robust body of work that conveyed a canny and often daring perspective on visual art in America, encompassing the personal, the political, the pure and the profane." In more pedestrian terms, Saltz doesn't pull any punches.
This year he was at the center of many a debate. He exalted Kara Walker in no uncertain terms: his review's headline read, "Kara Walker's Triumphant New Show Is the Best Art Made About This Country in This Century." He wrote honestly about how his failed career as an artist led him to art criticism (a good move, we'd say, given this piece was cited for his Pulitzer win). He weighed in on the argument about whether the Metropolitan Museum of Art should take down a provocative painting. Standing with the Met's decision to keep it up, Saltz warned against the dangers of censorship. "One of the things that makes art so rich, infinite, and all-embracing is that there's always something to offend someone somewhere sometime," he wrote. "When that ends, so will art."
Saltz himself isn't afraid of offending. His wacky, widely-followed Instagram account regularly features sexually-explicit artwork and anti-Trump diatribes. But now he's a Pulitzer Prize winning critic. He can do whatever he wants.
Peter Schjeldahl
Peter Schjeldahl began his writing career as a poet and a follower of such New York School greats as John Ashbery, Frank O'Hara, Kenneth Koch and the rest of their crowd. He eventually turned his focus to art writing and settled into a career-making position at The Village Voice in 1990. In 1998, he became The New Yorker's art critic and cemented his legacy. Throughout his books and articles he maintains a lyrical, approachable style.
Schjeldahl is unequivocal, passionate, and poetic when he really likes something. He recently described a show by James Turrell—known for his experiential, all-consuming light works—as "air-conditioning for the eye and, if you're gamely susceptible, the soul." Of a Jay DeFeo exhibition he wrote, "The final work in the show, "Last Valentine" (1989), is of a heart shape in brown and white, with feathery strokes melting into a delicately rumpled, cream-white ground. It took my breath away."
Yet he's not afraid to admit when he's a tad confused (and thinks others may be as well). Here's a cutting final line from a 2017 review of Raymond Pettibon's show of line drawings paired with sometimes quizzical phrases: "The fiction of an audience that knows what he's about may be his chief invention."
Schjeldahl isn't always going to spell it out for you, or pretend to when he can't. But then, he doesn't see that as his job, anyway—Schjeldahl doesn't really view it as a "job" at all. For him, art criticism is a "vocational kink."
Martha Schwendener
Yale Art School Dean Robert Storr doesn't like a lot of critics. But he's a fan of Martha Schwendener. As a New York Times art critic, she finds favor with both the ivory tower and the rest of us. Within the past few years, she's focused her writing on social practice and community initiatives, overlooked artists, non-commercial ventures and activism.
In a world where Jeff Koons takes up so much media real estate, Schwendener brings a fresh perspective and an appreciation of the underdog. At The Times, she contributes to the "What to See in New York Art Galleries This Week" column. Follow her suggestions, and you'll end up with itineraries that span science fiction-inspired photographs to an installation-cum-crossword puzzle.
Far from promoting glamorous myths about her chosen profession, Schwendener is upfront about its trying economic reality. In 2012, she participated in a panel discussion at Housing Works bookstore about art critics' working conditions. According to Hyperallergic, she offered that she was better at explaining art than working as an art historian. Indeed, Schwendener neatly sums up the importance of artworks in a contemporary, always socially-aware context. On a film of fishermen holding fish to their chests, which might make dubious art viewers shrug, she offered: "The video is a shockingly intimate depiction of life, death and the relationship of predator and prey—but also a reminder of our connection with other species—a fact that gets lost in the hyper-industrialized world."
Sebastian Smee
Pulitzer Prize winner Sebastian Smee didn't need a New York or London platform to make a name for himself. Working at The Boston Globe, he offered opinions on happenings both local (a planned renovation at the city's Isabella Stewart Gardner Museum) and national (an Edward Hopper exhibition at the Whitney Museum of American Art).
In 2016, the Australia native published The Art of Rivalry: Four Friendships, Betrayals, and Breakthroughs in Modern Art, dramatizing the feuds that fueled the development of art as we know it. Exploring tensions between artists (namely, Manet and Degas, Matisse and Picasso, de Kooning and Pollock, and Freud and Bacon) Smee gave new life to his characters and their distinct aesthetics. He also aided in the publication of a major Lucian Freud tome.
Smee is much more than a critic: he's a biographer and a keen interpreter of creative sensibilities. Now, he's based at the Washington Post. Here's Smee on Paul Cezanne, a character sketch worthy of a fiction writer: "Paul Cézanne was a stubborn, self-absorbed grouch who spent his life in a rolling revolt against urban elites. He hated insincerity, was allergic to falseness, distrusted suavity, and fled from even a whiff of like-mindedness. Modern art would be unthinkable without him." Come for the criticism, stay for the prose.