Just before the first weekend of Coachella began, the Budapest-based fashion line Nanushka opened an L.A. pop-up shop that attracted almost every major fashion blogger under the sun. A few weeks prior, The New York Times published a "48 Hours in Budapest" article. At the same time, Hungarian ingredients seem to be manifesting in beauty brands that couldn't be less related—Peter Thomas Roth and Belif have both recently released products that claim to use Hungarian Thermal Water at Sephora.
Considering fashion's recent obsession with Eastern Europe, it's not too much of a surprise that Budapest is developing itself as the next big exporter of must-have designs. For a little more than two years, Tbilisi, Georgia has been the source of street-style-inspiration and fashion fascination partly due to the rise of Georgian-born designer Demna Gvasalia, the founder of Vetements and creative director of Balenciaga. Last year alone, Vogue.com published nearly ten articles on the Eastern European country in the fashion and lifestyle sections alone. The magazine's coverage of Tbilisi began in 2015, when Gvasalia just started popping up on fashion's radar. Understandably, people are looking for the next big thing, and Budapest-based brands seem like they're on the verge of a massive breakthrough right now.
Regina Dukai, the Hungarian model, singer and blogger based in Budapest with nearly 300k followers on Instagram is also seeing a major change in her own city right now: "I'm happy to notice that Hungarian people are getting more and more open to fashion," she said. "In addition, it seems that new trends reach them easier nowadays. It has taken a long time to make the new trends [something Hungarians] love, accept or even wear."
But while some of it might be down to a changing willingness to import ideas, there are plenty of Hungarian makers producing new wares that are completely their own invention. "I'm crazy about the earrings made by Ferencz Vanda," Dukai said of one of her favorite local brands. She also added you should try Zador soaps. "They have such incredible scents that you feel like biting in them."
Here are four of the cutting-edge Budapest fashion and beauty brands the world is already lusting after.
Omorovicza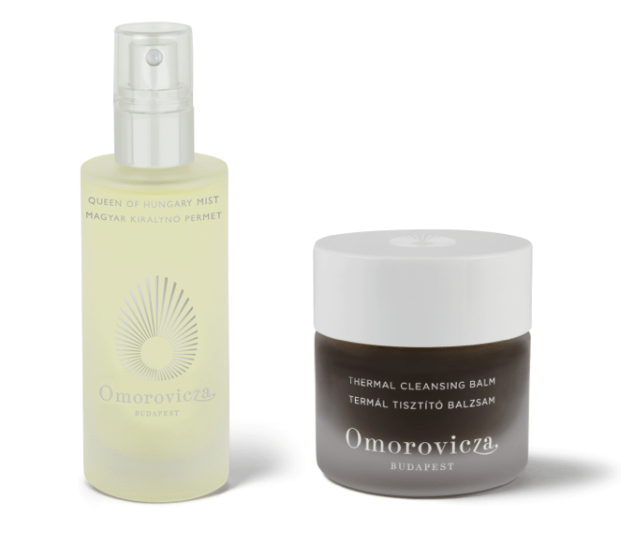 Omorovicza is the Budapest-based beauty brand behind innovative, best-selling products such as the Queen of Hungary Thermal Mist and the cult-worthy Thermal Cleansing Balm. You've been able to find it for a while at Sephora, Bergdorf Goodman, Neiman Marcus and Net-a-Porter, and they also recently launched at Nordstrom and Saks. Little wonder Omorovicza is currently tripling the size of their Budapest Institute and expanding the head office team by 25 percent.
The brand's history dates back to the 1800s when the Omorovicza family collaborated with the iconic architect Miklos Ybl to build the Racz spa in Budapest on the site of a medieval healing spring. But the brand as we know it today was launched in 2006 by a descendent of this dynasty, Stephen de Heinrich, and his wife, Margaret de Heinrich, a former chief of staff to the U.S. Ambassador to Hungary.
Omorovicza is revolutionary in more ways than one. As Stephen de Heinrich told Observer, up until they launched, there were no Hungarian-based brands, "despite the amazing heritage of Hungary and Budapest in the world of beauty: amazing baths, amazing therapists, amazing treatments, and famous Hungarians in beauty like Estée Lauder and Erno Laszlo."
Margaret de Heinrich points to a surprising factor in their increased popularity of late. "The entertainment business is a big driver…the city is one of the most popular destinations to make movies," she noted. "One of our biggest sources of growth is word of mouth by makeup artists and stylists we meet here on location. After having our treatments, they share their stories."
Áeron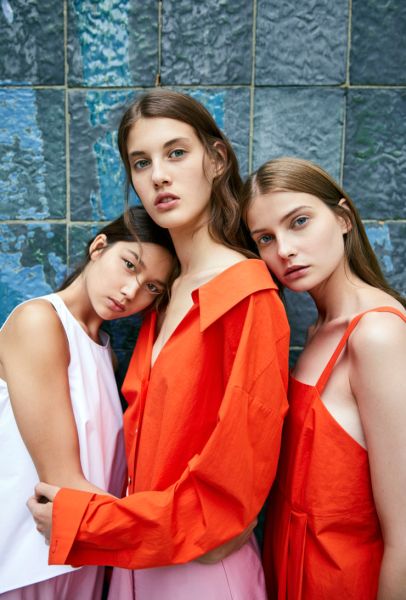 Also based in Budapest, Áeron is a fashion line known for its structured silhouettes made of elegant fabrics. Designer Eszter Áron grew up with generations of tailors in her family (and her mother was a fabric merchant) and today, her collections have been featured in WWD, The New York Times and Vogue Italia. She first launched the line in 2011. Though Áeron doesn't yet have a major footprint in the U.S., the brand has a U.S. e-commerce site and can easily be found at online retailers like The RealReal or Yoox.
The label produces its pieces in Hungary, employing locals in both its Budapest atelier and countryside factories. Prices range from about $400 for asymmetrical skirts, to $850 for a wide-neck trench coat. According to Áron, thin lambskin pieces in various colors are the signature of the brand. The designer puts her influence down to the politics of the country up until 1989, and the impact that had on what people wore. "I wouldn't say there is a well-defined Hungarian fashion aesthetic, but rather that the socialist era has its imprints in the Hungarian arts, architecture and visuals in general," said Áron.
"Budapest's fashion scene is changing of course as international trends are just a click away for everyone," she explained of the current moment. "Young people travel a lot; they see the world and they're affected by international trends and tendencies. However, Hungarians are still a bit conservative in the way they dress."
Nubu
Nubu is another Budapest-based fashion line inspired by familial generations working in tailoring, fabrics and craftsmanship. Founder Judit Garam followed fashion since she was a child, and designer Adél Kovács' mother worked as a costume designer for theaters. Garam and Kovács created the brand in 2011. Now, Nubu has three stores and an international presence.
In terms of the Nubu aesthetic, it verges on minimalist with earthy colorways and unexpected details. "I think there's more like a 'Budapest aesthetic,' and in my view, it has just started evolving," said Kovács. "Our looks reflect on our days, the way we spend our time—we want them to be multifunctional like a leather handbag that can be worn as a backpack if we jump on a bike."
"The number of conscious customers that choose Hungarian products instead of fast fashion brands is growing," contended Garam. On their Instagram feed, you'll often see the clothing line plugging other local Hungarian brands such as Hannabi (furniture) and Kezemura (ceramics). Most well-known for everyday, wearable pieces, fans watch closely each new season for the small ways in which they reinvent favorites like shirt dresses and full skirts, switching snaps for buttons or pairing a new material with a favorite design.
Nanushka
Just a few months ago Nanushka made its New York Fashion Week debut with a collection full of polka dot dresses, separates in muted neutrals and silk blouses and skirts with button-down details. Though Sandra Sandor launched her line 13 years ago, Nanushka's brand only recently came to the U.S., with Net-a-Porter beginning to stock the line last season and a slew of influencers wearing the pieces on Instagram. Nanushka is the very first Hungarian fashion line stocked by the online retailer, too.
Part of the success behind the label is the fact that the majority of the pieces are under $600, yet they have the look and feel of being extremely high-end. A midi length denim belted dress, for example, is $450 and sold out of almost every single size soon after its debut. A metallic jacquard jacket with animal print and fringe goes for the relatively reasonable $595.
Nanushka is also conscious of ethics in fashion: the brand's pieces are all made in Hungary, and she only uses faux leather. Sandor even says that the hide vegan leather jacket is the signature of Nanushka. "I think it's become popular because the puffer jacket is always on trend, and our puffer has a coolness to it. Another important value of this piece is that it's animal friendly, but still feels as soft as real leather."
Sandor credits her mother, who designed childrenswear, as part of her inspiration for launching her own fashion line. But she also says the culture of Hungary had a lot to do with it, too. Though she studied in London, Sandor made a conscious decision to move back to Budapest and base herself there. "Hungary has always been an intersection of East and West," she said. "At the turn of the century, travel was open for everyone. Hungarians and artists came to Paris to get some inspiration and change their values. So, when you come to Budapest, you'll find a Turkish bath on one side of the street, next to Brutalist buildings on the other side. These clashing cultures drive me and inspire me in all domains of my life."
Given the proliferation of Hungarian-based beauty and fashion producers, the country's style and nuance seems quite ripe for inspiration indeed.