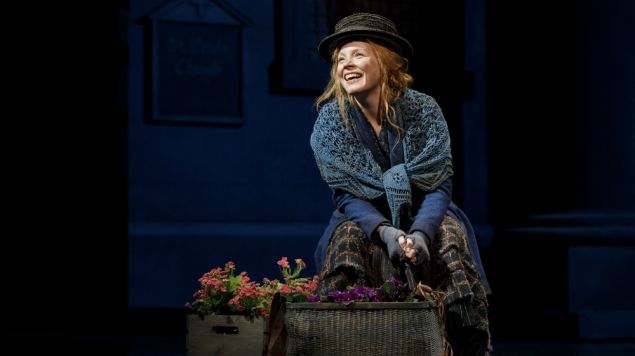 I assume there's not a living soul over the age of 20 who hasn't seen at least one production of My Fair Lady. This is good, because for the controversial new Tony-nominated revival of this historic musical, currently on view at New York's Lincoln Center, you need to remember the other ones. That doesn't mean it's not as enchanting as ever. But the wonderful director Bartlett Sher, who never does anything wrong, has done something that, while not exactly disastrous, is, to my way of thinking, decidedly disappointing.
As widely acknowledged in news stories and even reviews, Sher has said that the #MeToo movement was, in part, what led him to rewrite and reshape the ending. No spoilers, please, but after nearly three hours of joy, you will no longer go away happy. For the first time in my life, I left My Fair Lady sad as a pallbearer. I don't wish to relay the false impression that I have anything against the #MeToo movement in general, but I firmly disapprove of changing the ending of an established American musical classic for that or any other political movement—or for any reason at all.
Not to worry. There are still numerous reasons to rejoice. First, there's a career-transforming centerpiece by the spectacular Lauren Ambrose as Eliza Doolittle. She's a dirty urchin in rags selling violets on a curb outside Covent Garden who becomes the focus of a bet by Professor Henry Higgins, an arrogant London snob and linguistics expert who wagers he can turn the lowest guttersnipe into a lady fit to wear a royal crown to an embassy ball.
Purchasing Eliza for a mere five pounds from her father, a good-for-nothing dustman (played, none too subtly, by a rambunctious Norbert Leo Butz), Professor Higgins moves her into his elegant house on Wimpole Street and begins the cruel, didactic ritual of feeding, clothing, and turning a ragamuffin into a regal lady of distinction and the envy of British society in six months. First, he devotes himself to the task of teaching her how to conquer the English language, then dress like a duchess and walk like a queen. The humor and wisdom of class warfare are brilliantly invoked, illustrated and enhanced by one of the greatest scores ever written by Alan Jay Lerner and Frederick Loewe.
Things begin badly, because Ambrose throws herself into the role of a Cockney waif with an accent thick as concrete. The result is that I couldn't understand one word that came out of her mouth for almost the entire first hour, making the first act hugely impossible. This annoyance doesn't last as long as it seems.
The turning point, of course, is "The Rain in Spain." Once she learns the secret of uncorking her tongue and rolling her vowels as she restores her H's and flattens her A's,  Ambrose is pure magic and once she gains momentum, there's no stopping her. By the time she makes her first public appearance in the Ascot scene, she is already polishing the radiance and splendor she's worked so slavishly to achieve. When her voice soars on "I Could Have Danced All Night," the cheers are well deserved. I've been a fan ever since she exploded on the screen in the riveting HBO TV series Six Feet Under, but who knew she could sing with so much power, beauty and clarity? As a Cockney toadstool growing into a savory truffle, she is the discovery of the year.
As Professor Higgins, Harry Haddon-Paton (you know him from Downton Abbey) is no Rex Harrison, but his egregious egotism grows on you, like a lichen. Diana Rigg, who once played Eliza in a highly praised British revival, is properly refined and humanely winning as Professor Higgins' mother, who becomes Eliza's unexpected ally. Norbert Leo Butz romps his way through "Get Me to the Church on Time" with energy, but I don't understand why he is accompanied by a chorus of mustachioed men in drag. Michael Yeargan's scenery and Catherine Zuber's costumes fully capture the pomp and mellow grace of a patrician Edwardian age.
So everything dazzles until that final resolve. In Eliza, Professor Higgins creates his masterpiece, but what is to become of her? Everything has changed, including his dedicated status as a confirmed bachelor. But the one thing his creation fails to achieve is the sense of love and recognition she needs from the man she has learned to love. His tactics may have been insensitive and hurtful, but he loves her too. That's why he sings "I've Grown Accustomed to Her Face." In all other versions she believes him and they live happily ever after. Not in this production. Distorting 1913 feelings with 2018 values just so Eliza can stand up for her integrity throws the whole thing off-balance.
The cockeyed reasoning behind this unnecessary tinkering, aside from a need to honor the current swing to empower women through sexual political correctness, is the rumor that George Bernard Shaw eschewed happy endings in any form and denied Eliza and Prof. Higgins the chance for a rosy future in his original play Pygmalion, which premiered in Vienna in 1913, followed by productions in London and New York the next year. Directed by the author, Pygmalion ignored all pleas to join the transformed Eliza and her mentor, Prof. Higgins, in wedlock.
But in London, to Shaw's exasperation, the play's resolution was changed without his approval or permission, to give popular audiences the rosy ending they craved. Shaw fought this idea until the 1938 film version starring Leslie Howard and Wendy Hiller that gave the public what it wanted.
The triumphant finale that established Pygmalion as Shaw's most popular play has been retained in every version since, including the historic 1956 Broadway production of My Fair Lady, directed by Moss Hart, that ran for six and a half years with Rex Harrison and Julie Andrews, and George Cukor's colossal, Oscar-winning $17-million movie version in 1964 that won eight Academy Awards, including one for Rex Harrison for repeating his original role opposite the exquisite Audrey Hepburn. They all ended up smiling. Now, when this production ends, despite the marvelous songs and the lavish display of talent on view, the sound you think you hear is not applause; it's the agony of some of the most illustrious names in the history of the theatre, turning over in their graves.