Henry James, avowedly celibate and probably gay, would find the nearest string of pearls and clutch them if he saw what's been done to his 1903 novella The Beast in the Jungle.
His story follows John Marcher, a man certain that his life is hurtling toward an unknown but cataclysmic event. This presentiment of catastrophe—murder? enlightenment?—becomes an excuse for living coolly disengaged from the world. That includes in his relationship with May Bartram, a woman who loves Marcher, befriends him, but dies unrequited. Too late does Marcher realize his folly: The "beast" he feared would spring on him was his own narcissistic passivity. In this dance-theater adaptation, though, Marcher is a limber stud prone to dance solos in tight tops and stretchy trousers, who consummates his liaison with May in a library. A library, no less!
Danced and acted to a score by Broadway legend John Kander (Chicago), with a book by David Thompson and modern-ish choreography and direction by Susan Stroman, The Beast in the Jungle strays from its source in pursuit of a plausible back story and enough erotic charge to sustain nearly two hours of longing and regret.
While this creative team (last at the Vineyard Theatre, where Beast is playing, with 2010's The Scottsboro Boys) brings plenty of craft, the result is that of conventional artists straining to experiment. Tender slides into crass; subtlety jostles with overstatement. If Agnes de Mille unfurled a passion project in 1975, it might resemble this: pop-balletic passion that verges on pantomime silliness.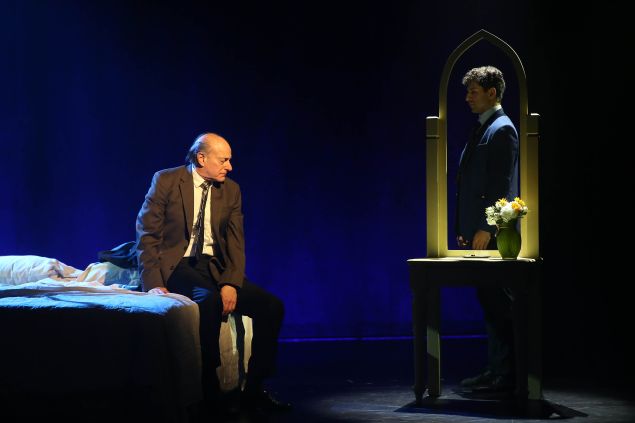 Stage veteran Peter Friedman plays Marcher in his seventies, an acerbic art dealer still occasionally menaced by his bogeyman—a sextet of female dancers who join parts of giant, scowling visage. Hunky lug Tony Yazbeck is Marcher's nephew, a guy with girlfriend trouble. When Marcher relates his painful history with May (Irina Dvorovenko, a former prima ballerina with American Ballet Theatre), Yazbek takes on the role of young Marcher in Italy, England and elsewhere. She's a Russian-born photographer, he's an American chasing skirt across Europe. The action unfolds in scenes and dance sequences, with Kander's waltz-based score inspired by French chanson and last-century Europop.
Thompson updates the period to 1968 through today, adds a marriage between May and a bougie Englishman (Teagle F. Bougere) and spices the script with f-bombs and smutty entendres. Admittedly, the central conflict of James's story (so inward, so conceptual) is hard to translate into vivid drama. But in Thompson's hands, Marcher's mystic conviction becomes childhood trauma leading to sex addiction and commitment aversion. More relatable, sure, but also banal.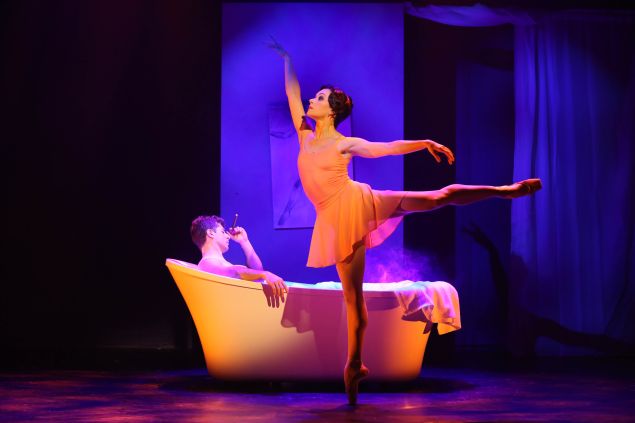 That core triteness is never fully mitigated by swoony music or flashy dancing. As a composer, Kander has always been a skilled parodist, a sardonic pastiche artist, but never terribly deep. His forte is the show-stopper—"New York, New York," "Cabaret" and "Razzle Dazzle"—the belt-friendly anthem to pluck and style. His scores are characterized (and limited) by ironized idiom: Weill knockoffs for Cabaret; big-band jazz for Chicago; Dixieland and gospel for The Scottsboro Boys. Here, the nostalgia-drenched suites are enjoyable enough, but divorced from driving lyrics (there's no singing), they become sonic wallpaper.
It's up to Stroman's choreography to keep us caring about Marcher and the march of time. Yazbeck is an appealing, expressive hoofer and the pert Dvorovenko has ballet chops to spare. But dance storytelling wedded to a talky book means that we grow over-informed about an already meager narrative. Still, designer Ben Stanton lights the heck out of the show, from sun-kissed beaches to a shocking strobe on Friedman's outstretched hand. And Michael Curry whirls set pieces around the Vineyard's small stage with aplomb. So there's eye candy and hard-working actors and dancers to appreciate. But at 105 minutes, Beast needs deep cuts: less book, less time we'll spend grumbling that Marcher could shed his neuroses with a half-decent shrink and Xanax. Or maybe take a tango class. I hear that helps.