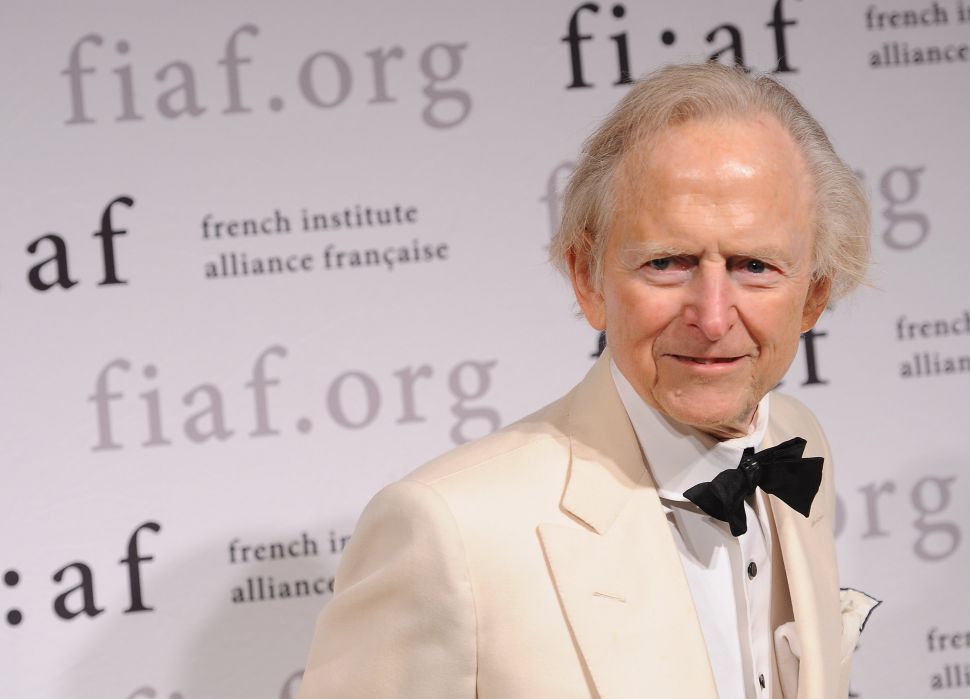 Tom Wolfe, who wrote bestselling novels like The Bonfire of the Vanities and The Electric Kool-Aid Acid Test and created the literary movement known as New Journalism, died this morning at the age of 88.
Wolfe's agent Lynn Nesbit confirmed his death. She told The New York Times that he had been hospitalized with an infection.
Wolfe is survived by his wife and two children.
Tom Wolfe's Early Life
Born in Richmond, Virginia, Wolfe attended St. Christopher's college prep school. He was student council president, editor of the school newspaper and a star baseball player
Wolfe then enrolled in Washington and Lee University. He was an English major and sports editor of the school newspaper. He also helped found a literary magazine.
Tom Wolfe's Career and New Journalism
Wolfe's first newspaper job was as a a city reporter for The Washington Post in 1959. He also reported from Cuba during his tenure.
But Wolfe's biggest influence on the Post (and media in general) was his reporting style, which he called New Journalism.
Wolfe and other writers of his era like Norman Mailer, Hunter S. Thompspon, Truman Capote, Joan Didion and Gay Talese used fiction writing techniques in their feature stories. Their stories were subjective, longform pieces in which they immersed themselves with their subjects.
In 1962, Wolfe moved to New York City, where he remained for the rest of his life. He honed his New Journalism technique at The New York Herald Tribune. He also started wearing his trademark white suit at this point in his life.
One of the best examples of Wolfe's work is The Electric Kool-Aid Acid Test, a 1968 profile of Ken Kesey and the Merry Pranksters. The group traveled around the country on a bus and laced their Kool-Aid with LSD to get high. Wolfe's profile was one of the first widely read stories about 1960s counterculture.
Many authors and journalists have adopted Wolfe's style, and New Journalism is still in use to this day.
Tom Wolfe's Fiction and Nonfiction
Wolfe published several books outside the New Journalism vein.
His nonfiction books included The Right Stuff, a portrait of the Mercury Seven astronauts as they prepared to go to space. The book was adapted into a feature film.
Wolfe's other nonfiction included The Kingdom of Speech, a 2016 critique of Charles Darwin and Noam Chomsky.
In 1987, Wolfe branched into fiction with The Bonfire of the Vanities, a drama about ambition, racism, social class, politics and greed in 1980s New York City. The novel first appeared in 27 installments in Rolling Stone magazine. It was also adapted into a film and opera.
Wolfe's other novels included A Man in Full, I Am Charlotte Simmons and Back to Blood.
Terms Tom Wolfe Coined
Aside from New Journalism, Wolfe's aphorisms included:
"Saturation Reporting"—a reportorial approach in which the journalist "shadows" and observes the subject over an extended period of time.
"The Right Stuff"—the mental and physical characteristics required to be a successful NASA test pilot.
"Me Decade"—Wolfe's description of the 1970s as an era when the individual became more important than society as a whole.
"Statusphere"—Wolfe believed that modern men cared about status more than anything else.
"Good Ol' Boy"—Wolfe's description of stock car racer Junior Johnson as an archetype for Southern life.
Best Quotes From Tom Wolfe
"A cult is a religion with no political power."
"Nonfiction is never going to die."
"My entire career, in fiction or nonfiction, I have reported and written about people who are not like me."
"There is no spectacle on earth more appealing than that of a beautiful woman in the act of cooking dinner for someone she loves."
"God, newspapers have been making up stories forever. This kind of trifling and fooling around is not a function of the New Journalism."
"If a conservative is a liberal who's been mugged, a liberal is a conservative who's been arrested."
"This is the artist, then, life's hungry man, the glutton of eternity, beauty's miser, glory's slave."
Reactions to Tom Wolfe's Death