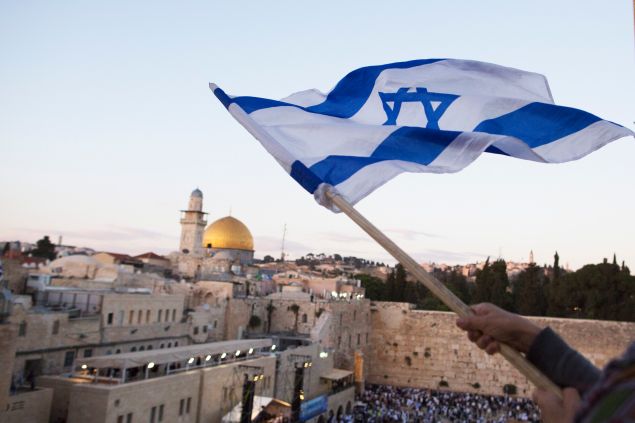 In the recent Amazon series American Gods, author Neil Gaiman's character Mr. Wednesday, a caricature of Odin, tells us America is the only country in the world that doesn't know who or what it is. He's worth listening to, as Gaiman's observations might be considered as vital to our interests today as Ivan Turgenev's were to Russia when it began its slide to total annihilation in the latter 1800s. In Gaiman's vision, we are a brand new people and that's why we don't know who we are. We are the Masked Man in the Texas desert on a constant search for a new identity. We are Jack Kerouac, tooling across America in a "shiny car in the night." We are, as Gaiman suggests, a shadow of the moon, yet to find our place in the sun.
But the world still listens to what we say and acts on what we do. And for that reason it is of great significance that this week we opened our embassy in Jerusalem.
We have long proposed sending our embassy to Jerusalem, but we put it off every year until this year. For to establish our embassy in Jerusalem was to embrace Israel as a nation rather than as an abstraction.
Today, it is a door that opens and it will not be closed. It may have been the singular purpose of this strange and enigmatic president who could well be a surreal character drawn for us by Gaiman. In hindsight, history may show it to have been his only purpose; the work of a trickster like Gaiman's characters, even to be considered in a very different future time an "act of God."
The complaint is that this American action dismantles the "peace process," that it leaves America alone in the world with only Israel, and without our traditional European allies. Along with the breakage of the Iran agreement, we are on our own.
But that may not be a bad thing. I've talked to Israeli politicians and political advisers who have suggested that there is no peace process and hasn't been for years. There is only political theater and waiting. Waiting for the Clinton/Kerry/Obama generation to go away, and waiting for a new America to understand Israel as it is and will be, as opposed to how America wishes itself to be and wishes Israel to be.
To bring the American embassy to Jerusalem and out of hipster Tel Aviv is to begin to understand Israel as it is and as it has become. Israel went through a sea change around 2013, and even those few Americans appointed to inform us through the major media on Israel's doings seemed not to catch on for several years. Or maybe they hoped it would just go away.
But the popular Israeli columnist Carolyn Glick reported back then,
"…Israel is in the midst of the Second Zionist Revolution. The first Zionist revolution was a socialist revolution. The second Zionist revolution is Jewish. Israel is coming into its own. Judaism is flourishing, changing, living and breathing here like it never has anywhere since the destruction of the Second Commonwealth. The secular Left has been eclipsed by the Jewish Right. I don't call it the religious Right because that is too limiting. What's happening isn't just about religion, it's about everything and that is why non-observant hipsters in Tel Aviv are voting for the Jewish Home party. Non-observant and observant Jews are joining forces and the anti-religious are being left behind."
This in turn has brought Israel to its old soul and to a fuller dimension of the meaning of "nationalism," without which it would be only a political abstraction without an inner life—an empty vessel, a prison.
The mainstream Americans who spoke on behalf of Israel were apoplectic. Even Thomas L. Friedman, who won a Pulitzer Prize at The New York Times covering Israel did not see it coming.
"We're not dealing anymore with your grandfather's Israel," he warned us in an op-ed titled "Not the Same Old, Same Old" on April 15, 2014, "and they're not dealing anymore with your grandmother's America either."
"Israel, from its side, has become a more religious society—on Friday nights in Jerusalem now you barely see a car moving on the streets in Jewish neighborhoods, which only used to be the case on Yom Kippur—and the settlers are clearly more brazen," he wrote. "You did not go to summer camp with these Jews."
If it is not our grandmother's Israel—teacher, kibbutznik, stateswoman, politician and socialist Golda Meir comes to mind—then maybe it is Moshe Feiglin's.
Feiglin, a former Knesset member and Israeli folk hero cut from the old cloth of Meir Kahane, had written of a "faith-based revolution" bringing into balance "Torah, Temple, Physical and Metaphysical."
I was impressed by Feiglin's Torah ruminations a dozen years ago. He appealed to the poet, the visionary; the warrior/poet. Leonard Cohen was said to be a fan.
"It is urgent to cut the psychological ropes binding us to the West," he wrote back then. "We are not Americans. We are Israelis and we have an independent and strong faith and culture from which we draw our own existential legitimacy—not from the West."
It came to mind again last week when Spiegel online declared, "The West as we once knew it no longer exists."
There is life after America, Feiglin had been saying for more than a decade. Israelis do not need American aid. All they need is to return to their tried and true Jewish identity.
And so do we, perhaps even more urgently. There is something in very long swings of time that likens returns to the beginning, Mircea Eliade suggests in his text, The Myth of the Eternal Return. Even history—especially history—returns to first moments.
That may be the message of Neil Gaiman's poignant and haunting vision of American metamorphosis. As William Faulkner said, "The past is never dead. It's not even past."
Our American journey began in Jerusalem long before Christ and Mohammed. Moving our embassy to Jerusalem brings us one step closer to the acceptance and understanding of our oldest and deepest selves.