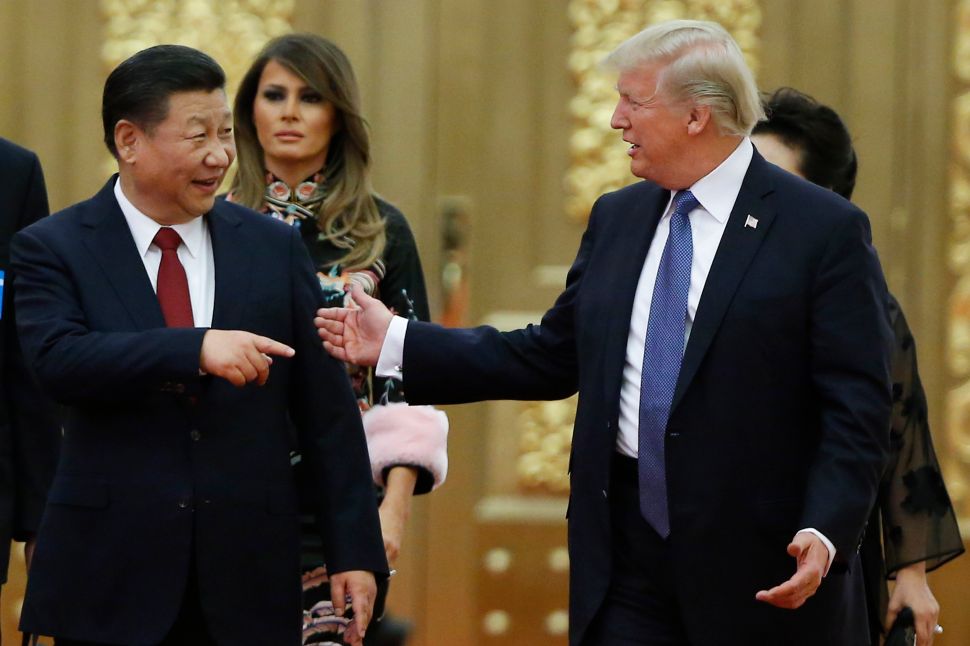 Commemorative coins celebrating the upcoming summit between President Trump and North Korean leader Kim Jong-un risk the fate of scrap metal, or ironic souvenirs like Fyre Festival's merch, as China throws an unexpected monkey wrench into negotiations.
Amid talks of a trade war with the Sleeping Giant, American negotiators met with a visiting Chinese delegation over the weekend. But for all the president's promises of trade spoils made over Twitter the week prior, his team fumbled over one another's toes.
"In fact, the Chinese were well aware of the divisions in the administration's trade team — and set out to exploit them, according to people briefed on the deliberations," reported The New York Times on Monday. "They recognized that Mr. Trump's advisers were split between implacable critics of China, like Mr. Lighthizer and Peter Navarro, the director of the White House national trade council; and free-traders who were more sympathetic, like Mr. Kudlow, Mr. Ross and Mr. Mnuchin, a former Goldman Sachs executive."
Spurned by White House officials leaking its intention of honoring Trump's goal of reducing the trade deficit by $200 billion, China has appeared to use North Korea as leverage.
Addressing reporters on Tuesday alongside South Korean President Moon Jae-in, Trump conceded that the North Korea summit may be postponed following an unexpected meeting between Kim and Chinese President Xi Jinping.
"President Xi is a world-class poker player, and I'd probably maybe doing the same thing that he would do. But I will say this, there was a somewhat different attitude after that meeting and I'm a little surprised," said Trump, noting that Xi may be responsible for the "change in attitude" from Kim.
North Korea last week appeared ready to withdraw from the talks altogether following joint military drills on the Korean peninsula between the United States and South Korea. Reports by CNN and other media outlets indicated that White House aides were skeptical the summit would occur.
Will trade politics and White House infighting jeopardize peace with North Korea?
Tune in next week to find out!