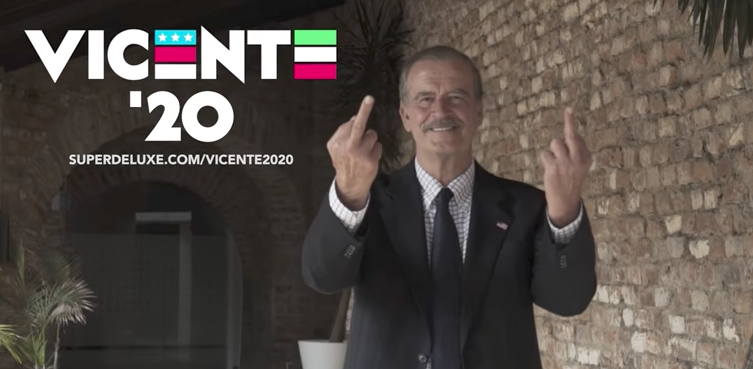 Vicente Fox has embraced a strange political afterlife in the age of Trump.
"What are we going to talk about?" the former president of Mexico boomed in khakis and a loose button-down, his baritone reverberating across a conference room at SoHo's Public Hotel.
There was much to talk about: NAFTA negotiations, immigration and his combative relationship with President Donald Trump. But first, I had to find out why a retired world leader was collaborating with a YouTube publisher that creates videos with titles like, "Bird Poop Facial and Bull Semen Hair Treatment."
That outfit is Super Deluxe, a startup peddling provocative content guzzled by hipsters and quirksters—the same company behind YouTube satirist Vic Berger and DIY guides to stitching pubic underwear. After trolling then-candidate Donald Trump during the 2016 election—boasting frequently on cable networks and Twitter that Mexico would "never pay for the fucken wall"—Fox partnered with the organization to appear in a string of bizarro promos.
In one video, Fox announces his candidacy for U.S. president before singing alongside a mariachi band that nobody is "worse than Donald Trump."
https://www.youtube.com/watch?v=-ukv9v7IGZw
In another, Fox recommends the U.S. president play Call of Duty with ousted Fox News anchor Bill O'Reilly as an alternative to declaring war.
"They came, we sat down, and we came up with great ideas," explained Fox. "When you have purpose, when you're clear where you're going, when you're clear what you want to do, then you get ideas. Then the ideas flow. And that's what happened there. I have very strong respect and admiration and thankfulness for Super Deluxe because the videos reached over 30 million and were everywhere in media and public opinion."
The behavior would be unprecedented for a former world leader if the United States wasn't currently chartered by a reality television star threatening nuclear annihilation over Twitter. Such provocations fit into Fox's larger strategy of engaging the public in international politics. In this chess game, Super Deluxe is a pawn used to spread larger policy objectives.
"Like any good player, you have to have something that attracts," quipped Fox when asked whether his antics distract from larger issues. "But then you need content to make it sustainable and to accomplish your objectives."
https://www.youtube.com/watch?v=2FrQRHW3XHI&t=222s
"Creativity is a way that resistance has responded to Trump's stubbornness," he added. "I would love to see Democrats [become] much more creative… and much more leadership sustained to their cause."
Though the videos transformed the former Mexican president into a darling of the resistance—a movement often viewed as a conduit for progressivism—he embraces a worldview predicated on markets and globalization, one cultivated during his tenure as a Coca-Cola executive.
Looking past the cartoonish digs at Trump, one finds opposition to both right-wing populism and the authoritarian regimes of the left ravaging Latin America.
"One side is what we know: Democracy, good governance, freedom, respect to human rights, the route to success in every place in the world," noted Fox. "And the other one is populistic, demagogic ideas, socialist ideas coming from the Bolivarian Revolution that has moved a few economies and a few nations into that kind of path, that kind of project, which has always been a failure—like Venezuela, Cuba, Nicaragua, Ecuador, Argentina. This is what we're facing in Mexico currently, so I decided that I want to be in the arena and bring in my experience, my thought, my vision to Mexicans so we don't make a mistake."
To Fox, NAFTA guards against such authoritarianism, while functioning as an economic equalizer and the solution to migration. Citing a rising per-capita income throughout Mexico's northern and center provinces, Fox wants to extend the agreement to other Central American nations.
Such love for capitalism—and a larger dream of raising the standard of living across Latin America through the free-market—may not seem obvious in videos where Fox taunts Trump's "baby hands" and dawns red MAGA-style caps reading "Putin Is Not My Papi." But when viewed through the lens of Fox's belief system—one formed by "the American business model" and "corporate titans like Henry Ford and Andrew Carnegie," according to his latest book Let's Move On—the segments become obvious marketing plays.
https://youtu.be/iYZKrn7Bbl8
Underlying all the former Mexican president's causes, from his libertarian view of drug legalization to his foundation's central mission of spreading democracy, is a profoundly American set of ideals marrying capitalism with social change.
"When you give, you get much more in return," said Fox. "If I can make one poor family become middle class, if I can make one sick kid to become healthy, if I can give movement to a handicapped… just one of those actions gives my heart joy."