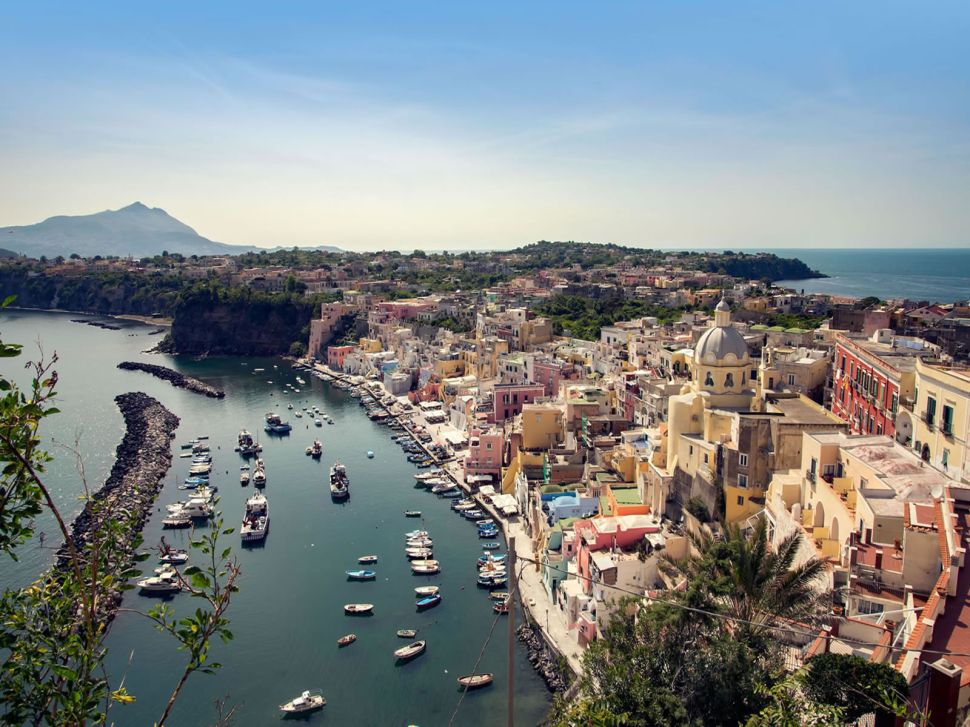 Just weeks ago, HBO's talent scouts were in Ischia, a volcanic island in the Gulf of Naples.
As one local put it, the casting call sought "older men—with lots of wrinkles," the type found weighing and scaling fish in boats anchored around Ischia Ponte.
In other words, HBO was looking for fishermen.
It's all part of the network's upcoming miniseries My Brilliant Friend, which is being filmed on the Italian isle. The eight-part adaptation is, of course, based on the beloved fictional quartet of books by pseudonymous Italian author Elena Ferrante. Since the first of the series hit Italian and English audiences (in 2011 and 2012 respectively), they've seen a meteoric rise to fame for compellingly capturing the intricacies of a friendship between two adolescent Neapolitans, Elena Greco, the narrator, and Lila Cerullo, in the 1950s. Though most of the first book is set in Elena's working-class village in Naples, Ischia is where she eventually travels for a summer break, her first true escape from home. Now, thanks to HBO, the island is basking in some old-fashioned Hollywood exposure.
Why has it sparked curiosity? "In the shadow of its smaller, yet more famous, sister island of Capri, very few Americans even know about Ischia," said Annie Ojile, the American co-founder of Rome's Personalized Italy, which debuted tours in Ischia for the first time last year.
It's an amazing oversight, because the island, which has been popular mainly amongst German travelers for decades (Angela Merkel visits nearly every year), has been known as an original wellness retreat for over a thousand years. This history makes its way into the first book (and those following) when Elena spots a peculiar scene along Ischia's Maronti Beach: "Living people, covered with mud," the protagonist describes. Since 300 BC, when Romans discovered the island's trove of thermal waters, visiting its springs has been considered a form of health care among Italians. Dozens of thermal pools dot the coast today, where visitors come from to soak in the natural medicine and restorative fango.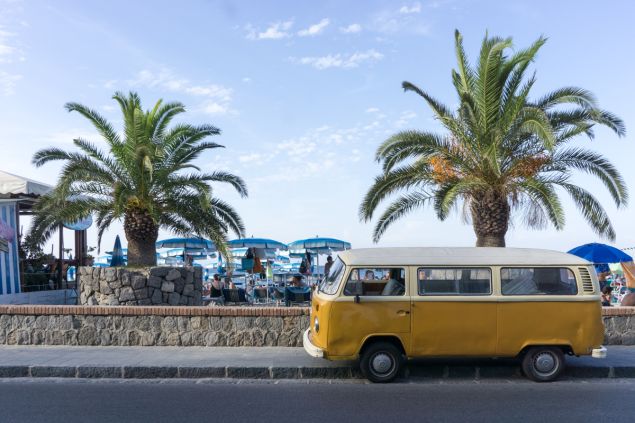 Around the time described in the books, Ischia is mostly a local's escape dominated by cobblestone streets, farmland, winegrowers and fisherman. The destination changed course after Angelo Rizzoli, an Italian movie producer and magazine publisher, opened Albergo Della Regina Isabella in 1956, the island's first hotel (the first five-star, at that), which counted even Elizabeth Taylor as a guest in the 1960s.
Americans came to visit, but not in the same overwhelming waves they flocked to other Italian coastal destinations—which is perhaps the reason Ischia has remained so charming. Now, walk down cobbled shopping roads and you'll still hear locals speaking hard Italian, often in their own dialect. It's safe to assume that here, no ristorante ringer has ever shouted "buffet" or "English menus" in an effort to fill their tables with English-speaking tourists.
Ischia has fallen off the global radar, but HBO's spotlight is bound to change that. "Once it airs I predict Ischia will be on the tip of everyone's tongues and the island will make its official debut to the Americans," said Ojile.
You'd be well advised to find yourself in Ischia before the rest of the country does, too.
What to See and Do
Locals have got your back. Founded by two Ischia-born brothers, Platypus Tour operates excursions that guide you around sites in Ferrante's books. Chief among them: the exact spot where, in My Brilliant Friend, Elena's ill-fated crush, Nino, kisses her in a historic square. It is, indeed, a romantic scene, surrounded by Chiesa del Soccorso, a 19th-century chapel on a promontory with a sweeping view of the sea and the mountains. And while Nino calls it the prettiest view in the world, those outlooks are dime a dozen in Ischia: Head to Giardini La Mortella, the former home of British composer William Walton and his wife, who developed a dramatic labyrinth of gardens overlooking the town of Forio. Stone steps wind up and down the western side of the island's mountaintop and are surrounded by a cacophony of sounds fit for any composer: birds chirping, trees swaying and fountains trickling.
To spot the type of fishmongers HBO was on the lookout to cast, head to Ischia Ponte where fishing boats anchor and sell their daily catch directly to locals. Looming overhead, Castello Aragonese d'Ischia, a medieval castle, sits at the top of its own private island. It's worth a visit to just wander the grounds—you'll stumble upon burial tombs for nuns from a former convent and ancient frescoes. And, of course, there are even more coastal vistas, one of which includes the crumbling ancient Roman walls of Michelangelo's once-upon-a-time dwelling in the foreground.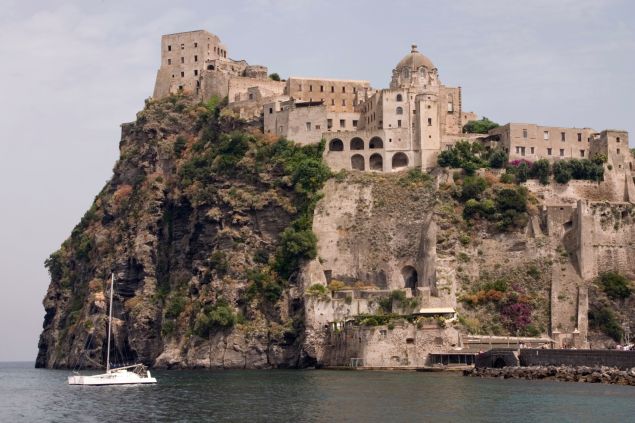 The bulk of Ferrante's books situate Elena by the water or on a beach, of which Ischia has over a dozen. Spoiler alert: If you want to visit the sandy outcrop where Elena and Don Sarratore's moment of passion takes place, head to Maronti Beach on the southern coast, which is also where she first spots locals taking mud baths. The place she describes is likely Terme Cavascura, a thermal pool that has been used since Roman times, where modern facilities for taking baths and having mud treatments are surrounded by volcanic cliffs.
Health and wellness center Giardini Poseidon Terme is home to the island's largest thermal baths—along the Bay of Citara, and surrounded by lush terraced gardens, it has twenty or so hot spring-fed pools. On the shore, certain pits of sand can rise to over 100 degrees—locals will sometimes bury anything from potatoes to fish in them for a volcanic meal, where the steam cooks the ingredients.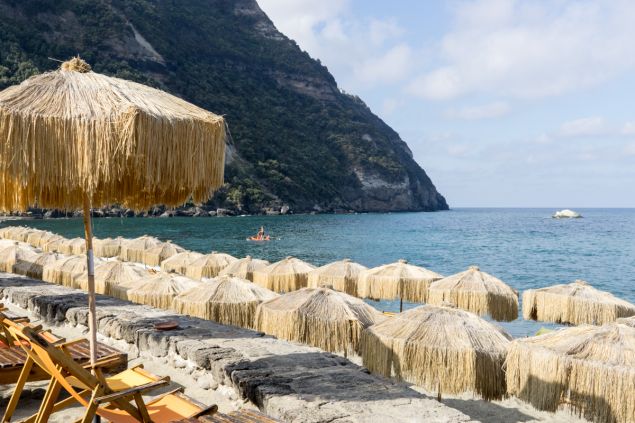 Where to Eat and Drink
Considering its relatively low profile, it may come as a surprise that Ischia sports three different Michelin-starred restaurants. Unless you plan to go overboard, try two: At Indaco, the affable chef Pasquale Palamaro has a knack for crafting artful dishes which require a double-take; what looks like a plated sea urchin gets its spikes from crisped spaghetti, while a pearl inside an oyster shell is actually a palette-cleansing, citrus-filled flavor-bomb. Doubling down with two Michelin stars, Danì Maison, the restaurant of chef Nino Di Costanzo, opened two years ago inside a house with heritage—it was passed down from the chef's grandparents to his own parents, and now serves as the setting for his traditionally inspired dishes served in Mediterranean gardens.
Keen to follow in the wake of mid-century's intellectual jet-set? In Forio, Bar Maria Caffe Internazionale had a history of drawing bold-faced names to its tables—from W. H. Auden and Ava Gardner to Aristotle Onassis (and yes, that meant Jackie Kennedy, too). Enjoy a cocktail and peeping at passers-by at ones of their tables spilling out onto the street.
Where to Stay
Ischia has a trove of five-star hotels, but Albergo Della Regina Isabella is the one that started it all. Painted in traditional colors of orange, white and yellow, a clutch of buildings line the bay and connect with a maze of hallways. Be sure to request rooms in its Royal wing, as they're more refreshed than the rest. Loaded with classically luxurious accents like antique furniture and hand painted floral tiles they have private decks overlooking the bay and what seems like two of everything (two types of slippers and robes, plus full-sized bottles of the hotel's custom spa amenities).
Getting There
Ischia is seasonal, but almost everything has reopened by April. Still, the best time to visit is May, before the crowds swarm and the weather swelters. To get to Ischia, fly into Naples International Airport. After that, you can arrange a private taxi transfer to Ischia, or an hour-long ferry or Hydrofoil ride from Port of Naples. At that point, Ischia has arrived.