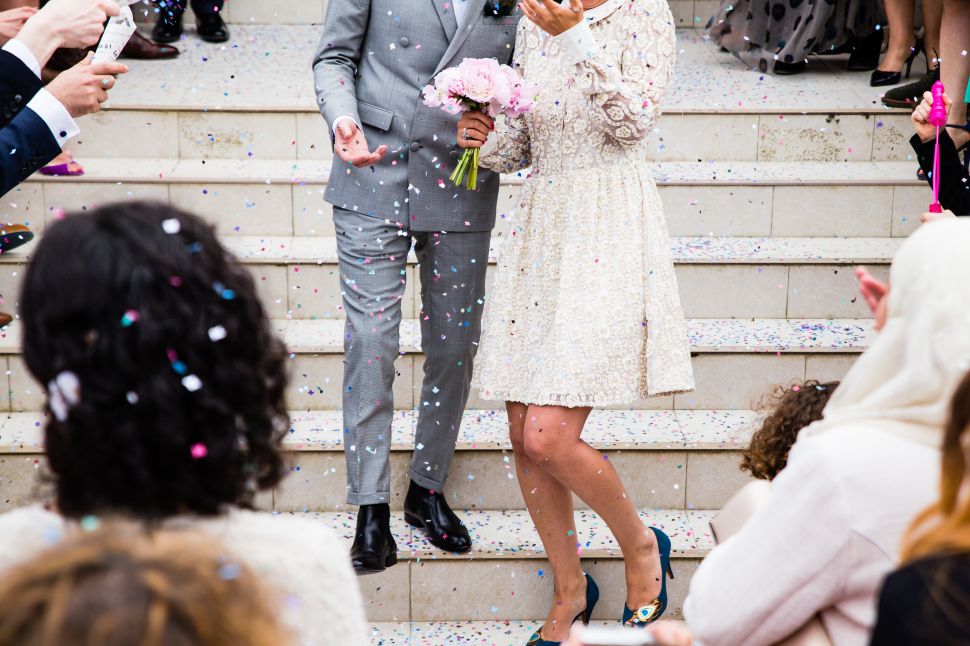 Not only is wedding season officially upon us, but so is the biggest wedding of the year. And though you probably haven't been invited to Harry and Meghan's nuptials, you still likely have some marital events to attend in the near future. The average American goes to at least two weddings a year, and spends over $1,000 per event on the gift, attire, travel and accommodation.
So how much of that budget should you devote to the wedding present and what exactly is appropriate to give? Do you have to stick to the wedding registry or can you just give cash? If you're feeling stressed just thinking about it, you're not alone. A recent survey revealed 47 percent of Americans reported needing help with wedding gift etiquette. To help guide you through these issues, here are some of the most common wedding gift etiquette questions and how to navigate them.
How Much Should You Spend on a Wedding Gift?
Many guests think that gift amounts should be based on the cost per person, per plate, however this rumor is hardly true. It would be almost impossible to tally up all of the costs a couple is paying for at a wedding. A guest should instead choose a gift they can afford. While the majority of American guest spends between $100 and $300 on a wedding gift, your present does not need to have a huge monetary value, and can be something thoughtful and sentimental instead. It's not uncommon for a family member or close friend to pay more for a gift for a couple, if their budget allows, than someone not as close might spend.
Does Having a Plus One Mean You Should Spend More on a Wedding Gift?
If you bring a plus one, there is no pressure to double your wedding day gift. Instead, give a gift that allots an appropriate amount based on the relationship you have with the couple. That being said, it is common to spend more on a gift if you bring someone along (a partner, date, children). If you are bringing someone, always make sure your invitation clearly invites you with a plus one. To ask to bring an additional wedding guest is never recommended, as the couple likely based their invitation list off of factors such as venue space or budget, and asking for a plus one could put them in an awkward position.
Is it Ever O.K. Not to Give Someone a Wedding Gift?
If you're traveling in for a destination wedding and spending money to attend a wedding, it is still appropriate to buy a gift. Even if you decide to skip a wedding altogether, the etiquette remains the same—it is still good manners to give a gift to someone to show appreciation for being invited to their big day.
Do you Always Need to Buy a Gift From the Wedding Registry?
It is recommended that guests defer to a registry, as it was created by the couple specifically so that guests would have guidance about what to buy them. If there's not an item on the registry that you want to give, you're welcome to give a thoughtful gift instead that you know the couple will cherish and enjoy.
If you wish to gift money because you know the couple would appreciate this most, it's okay to give cash via an envelope, a check, or even through a registry. "Honeyfunds," which are websites that allow guests to chip in for the couple's honeymoon, are another popular trend. Traditionally, the idea behind a wedding registry was to purchase items a couple needed to fill their first marital home, as generations ago it was considered inappropriate to move in together before being married. In modern times however, many couples live together in pre-marital homes, and therefore already have everything they need. It is nowadays absolutely appropriate for guests to participate in gifting this way.
For the generous couple who have everything, you may even see them ask, in lieu of gifts, to donate in their name to a chosen charity. This is what Prince Harry and Meghan Markle have decided to do. Usually you'll be provided with a link or the name of a foundation to give money to in celebration of their big day.
Myka Meier is the Founder of NY-based Beaumont Etiquette and co-founder of The Plaza Hotel Finishing Program.