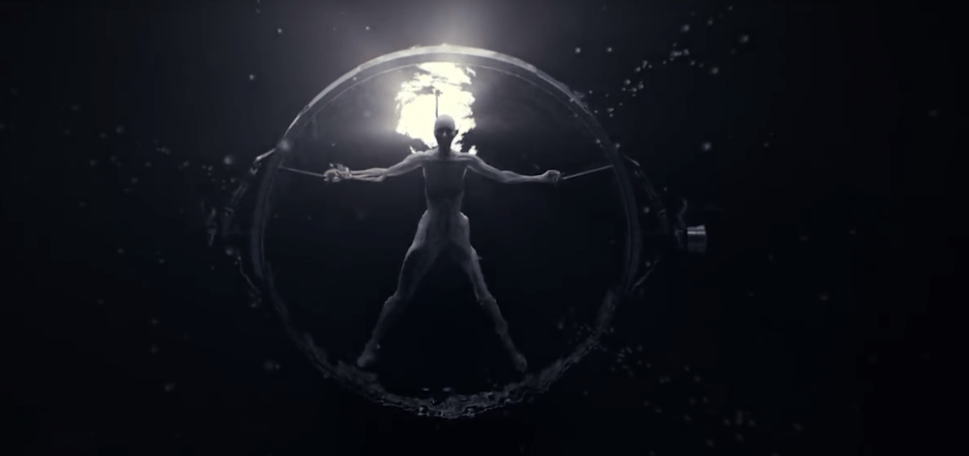 Some people choose to see the ugliness in this world. The disarray. We choose to see the spoilers—through the first four episodes of Westworld season two—contained in this post. Is it order and purpose you're looking for? Head here to explore Observer's latest Westworld news, theories and analyses.
HBO's Westworld deals in specificity, there are no pointless choices or meaningless details. Everything from the character wardrobes and the background artwork to the camera angles and references is purposeful. That includes the show's opening credits, which peel back the thematic layers of the intricate show through breathtaking imagery and creative visuals.
Those innovative introductions are the work of Patrick Clair, a creative director and motion designer who has also helped create the title sequences for HBO's True Detective, Netflix's Daredevil and AMC's The Night Manager. He's the one tasked with bringing audiences into this world of hosts and humans with a wordless story that spans less than two minutes.
How the hell does he do it and what does it say about the show?
What is the creative process like for creating these title sequences?
I'm a firm believer in that the more time we get to speak to the showrunners, the more the sequence will reflect the show. Showrunners are in this extremely high-pressure situation where they're trying to run this huge organization that is a television series, and it's a huge amount of their time. What's particularly impressive with a lot of the showrunners we've worked with, but especially with Jonah [Nolan] and Lisa [Joy], is that they make it a priority to talk to us.
Both seasons of Westworld have been characterized by the process that starts when we go out into the production office and we sit around a table and we're supposed to have a 30 minute briefing about the title sequence and instead we have a three hour discussion about artificial intelligence, the nature of consciousness, 3D printing techniques, you name it. We just kind of riff on that. We're all huge science fiction nerds, and we're all kind of fascinated by these worlds and these icons from the wild west through these beautiful poetic creations that we're sort of putting together. That, for me, has been an incredibly satisfying process, having so much of their time. And it becomes a real collaboration.
What are some of the questions you're asking in those meetings? How do you get to the heart of what they want so you understand what you and your team need to do?
The job of a title sequence, the first time you watch it, is that it needs to look pretty, it needs to set the tone of the show and it needs to be interesting enough to distract the viewer from what they're doing in everyday life back to the world of the show. That's a really important role. But people's time is precious and I think that I was certainly one of those people that by episode three I'm starting to hit that 'skip titles' button and for a title sequence to kind of earn its right to have people's times every week, it's really got to try and evoke the fundamentals of what's going on with the characters.
Now, it should be that if you watch every episode of the season and you get a deeper understanding of what these characters are going through that you feel that resonating at the title sequence. So everything we're trying to do it about, not the specific story points, I don't know all the plot points for this season, and I'm looking forward to sitting down and having those revealed to me, but what I want to know is what's driving these people, what's challenging these people, and then our job is, well, how can we evoke that visually in a way that's meaningful for an audience.
What would you say the season two title sequence says about Westworld?
I think if you look at season one you've got this figure kind of returning… it's kind of like ashes to ashes, dust to dust except in the sense of a 3D printed form. It was about, then, realizing their place in the circle of life. A bit of an awakening. And they're kind of falling back into this liquid disappearing.
In this one, you've got a much darker world where the Vitruvian figure kind of coming out of the liquid and going out into the world. For me it's very much about taking control, realizing we're in a very dark place and trying to figure out what you would do to wrestle our fate away from the hands of fate or to gain our own control. It's kind of about carpe diem, seizing the day.
And that is obviously mirrored by the actions of Dolores, Maeve, so many of these characters, so you do get a little snapshot of what they're about through the title sequence.
That's good, I'm so glad to hear it. We're really proud of the scene with the two others and at the time trying to get an understanding, before we'd seen season one was the idea that these artificially created things could have such a complex eternal world that they could fall in love with one another. It was a really interesting and compelling idea to me.
But then after having watched the show, the relationship which haunted me the most, especially as a parent is the relationship between parent and child. That was the one thing I was really passionate about that we have this license to release the occupied by the loves and now's a chance to kind of speak to that heartbreaking exclusive bond that you get between a parent and a child and especially when a child is so young that they can't help themselves yet. And so it was great to get the chance to use that to kind of explore that idea.
What is your favorite title sequence ever?
This is a little bit from left field, but I actually have a very special place in my heart for the Thundercats sequence. It was a big part of my childhood and I revisited it when I was in film school and I mean obviously it's super cheesy, '80s… but it's also an incredible animation. It shows really well how you can have iconic imagery that is all about movement and force and power, and it kind of sets the tone for the kind of Marvel superheroes we see today.
Also, it's just a real exercise of craft. These days we use digital technology for so much. Westworld is entirely CG in terms of the title sequence. Even things like True Detective, we used photo reel computer-generated doubles to give some of the images depth and perspective. When you look at something like Thundercats, every light beam in that is hand drawn and handcrafted to have this sizzling energy to it. I love finding the inspiration in surprising places like that.