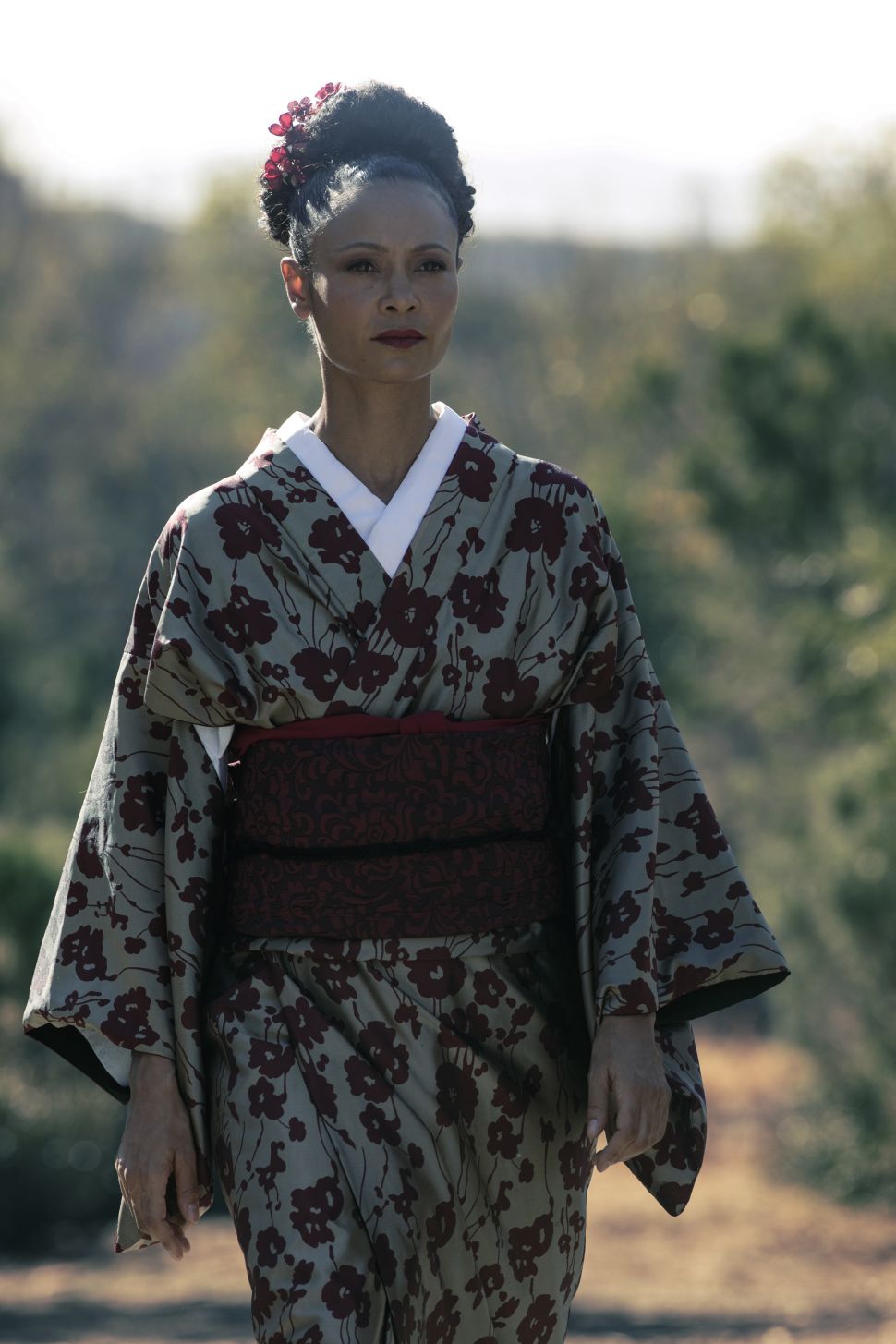 Some people choose to see the ugliness in this world. The disarray. We choose to see the spoilers—through the first five episodes of Westworld season two—contained in this post. Is it order and purpose you're looking for? Head here to explore Observer's latest Westworld news, theories and analyses.
Well, that was certainly something. Season two, episode five of Westworld, "Akane No Mai," finally introduced viewers to the long-awaited Shogun World, and it did not disappoint. The episode deftly exemplified how our similarities (and differences) can build empathy and lay the groundwork for connections and introspection, while also raising a host (pun intended) of interesting new questions for the series moving forward. (There was also a great sword fight, which is always a big plus.)
Chief among these new questions is how Maeve (Thandie Newton) is able to control other hosts without voice commands? The only other figure we've seen in Westworld who was able to do that was Ford (Anthony Hopkins), who was dispatched in the season one finale.
So what gives? How did Maeve turn herself into a "Witch," as the Shogun army leader labeled her in the episode?
"She's really got control over other hosts in the way satellites can give us all information on our screens in our living rooms," Newton told TheWrap. "It's technology taken to its sort of obvious conclusion. And it's not something she can do easily."
As we saw, Sizemore isn't exactly the most original of story creators and has borrowed bits and pieces of his Westworld storylines and characters for Shogun World. Geisha madam Akane (Rinko Kikuchi) is a mirror image of Maeve, and the rest of the main players we meet bear striking resemblances to our Westworld protagonist posse.
If there are six parks in total, does that mean there are six versions of these characters? Are there samurai versions of Dolores and Teddy running around somewhere? We need answers!
While under attack, Maeve managed to save herself and Akane by telepathically commanding her attackers to kill themselves and turn on each other. Even Sizemore couldn't comprehend how this was possible. As Maeve herself explained it, she "found a new voice."
But it may not be as simple as turning a switch on and off.
"All the times she's used this skill, it's a time of great trauma and fear and danger," Newton said. "So I don't think it's something that she can just use easily and typically. It's something that comes at times of high points of drama."
"And I love the fact that it's erred in that respect," she continued. "You know, it's not like a superpower where she can shoot lasers from her eyes or something like that. It's a superpower that comes out of difficulty in the same way we grow and learn out of difficulty. For me, it echoes that. Where it goes I really, really can't say—but it's pretty amazing."
While Bernard (Jeffrey Wright) was galavanting about with Charlotte (Tessa Thompson) in the season premiere looking for Abernathy, we learned that all of the hosts operate on a connected mesh network which enables them to subconsciously communicate with one another. It's sort of similar to how a colony of ants operates, which I guess would now make Maeve the queen? Either way, the ability only presents itself on dangerously rare occasions, and this is just one thought on how it could be possible to tap into.
While this superpower is incredibly handy for avoiding decapitation, nothing in Westworld comes without a cost. To paraphrase from another HBO epic, there's always a debt to be paid, so be on the lookout for that collection later this season.