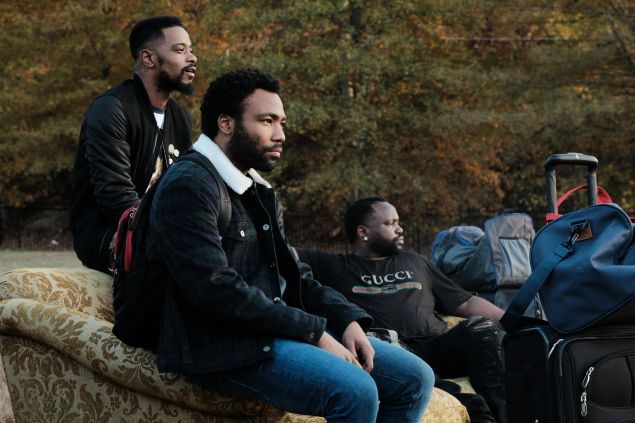 "Robbin' Season," the second, show-stealing season of Donald Glover's almost-unbelievably good series Atlanta, has come to an end. And with so many unexpectedly deep situations explored in the last 11 episodes, it feels like the best show on TV has put the worst behind us, at least in terms of what the three main characters were put through and what we all learned together during the experience. That being, the story of surviving and somehow laughing through America's grand heist as it pertains to coming-of-age African-Americans, whose opportunities, dignity, and very identity continue to be hijacked.
As an insightful study of young, weird black life in America's last-remaining "Chocolate City," Atlanta has been stealing the hearts and minds of viewers across the country since its September 2016 debut. But with "Robbin' Season," the series broke new creative ground with rarely (if ever) seen presentations of each central character's personal development. Individually, Earn, Alfred and Darius each went through emotional, and sometimes physical, trials and tribulations that we now see were necessary to push the talented and quirky young adults out of their weeded-out inertia and into maturity.
Those of us who've watched every episode since "Alligator Man," the season two premiere which featured Katt Williams and of course, an inexplicably hilarious alligator, knew the show was back on its brilliant weirdness. What we didn't know was just how mental things would get, and how each episode would leave the audience with all sorts of theories on what point it was making, and how we were supposed to interpret what we'd seen.
Speaking for myself, it's uncanny how much I relate to Earn Marks, Donald Glover's down-and-almost-out character. Like Earn, I went to a prestigious university but left before graduation. I also floundered around Atlanta for a few years, working at a few shitty chain restaurants and doing other odd jobs while I couch-surfed my way through a confused, self-inflicted downgrade from whatever promise my family thought I had. Like Earn, I'd been in the music industry, at one point serving as a road manager for an artist who was a complete nutcase but took me outside the country on a quick tour. And later, I'd have a daughter who was born before my wife and I were married (I'm seriously rooting for his relationship with Van, Earn's lovely girlfriend and mother to their daughter Lodi). I've relied on family and friends to get me through my own irresponsibility, I've finessed and finangled my way through random situations that could have been handled much more efficiently if confronted responsibly and directly.
I'm sure I'm not the only black dude in Atlanta who can relate to Earn, his cousin Alfred, a.k.a. the rapper Paper Boi, or their spaced-out friend Darius, as someone who has survived a similar season of life in this strange, sprawling urban forest of a city. Like them, I feel simultaneously like I've somehow beaten the odds, yet am still finding my way through the proverbial woods, which makes Atlanta one of the realest things I've ever seen on TV.
With all the other surreal craziness of the show, Robbin' Season still found a way to install a sense of depth that told us immediately we were in for more than just strange comedy. Michael Vick showing up at the end of the third episode, "Money Bag Shawty," to race Earn in a strip club parking lot was an example of how even famous guest stars are willing to play along with character plots that take inspiration from well-known stories of their own real-life failures. The same with Katt Williams, who as Uncle Willy gave a riveting performance that reminded us all that the one-time ascending comic can still steal any scene with his natural hilarity, although the tragic situation of his character felt uncomfortably close to his actual recent misfortunes (a string of arrests, erratic behavior caught on tape, assaulting women and children and more).
We saw Darius, Alfred's abstract idiot savant roommate (played by the irreplaceably talented Lakeith Stanfield) go through sheer terror while trying to buy a multicolored piano in "Teddy Perkins." A 41-minute, Get-Out-esque episode, it pushed the series into psychological thriller territory, mostly on the strength of a super-eerie performance by Glover as a pale, Michael-Jackson-like character plotting to kill his wheelchair-bound brother. I predict the episode will stand out over time as one of the most well-executed flips of audience expectations, and I'd be surprised if Glover didn't win an Emmy for the role.
We also saw Alfred literally robbed twice—once by his drug supplier as he attempted to re-up on inventory for the month, and again by three teenagers who chased him into a forest, where he met a crazed homeless man who seemed to be both real and a hallucination. And we saw Earn get his ass beat by Tracy, the ex-convict who moved in on Alfred and Darius' couch, taking Earn's place and causing chaos throughout the season, from stealing sneakers to hustling gift cards, starting unnecessary fights with college students, and generally being obnoxious. And in a city like Atlanta, where you can literally survive without your own place to live, a job, a car or money to last much longer, and with much more comparative comfort than probably any other large American city, everyone seemed like someone I knew—or even, at one point or another, been me.
As Donald Glover has completely taken over the country, with his recent SNL hosting gig, the simultaneous release of his song and mind-freak video "This is America," and his role as Lando Calrissian in the new Star Wars story Solo, there will be plenty said about how 2018 was the year he conquered the world. But it will be his vision of his hometown (Glover is a native of Stone Mountain, Georgia, an eastern suburb of Atlanta), and the brilliance of "Robbin' Season" that cements his story of creative triumph. Once again, the show robbed every one of their ability to ignore a city whose cultural influence continues to be stolen by every other city around the world. And with another season of Atlanta under his belt, Donald Glover and his team of writers, directors and actors, just stole it back.