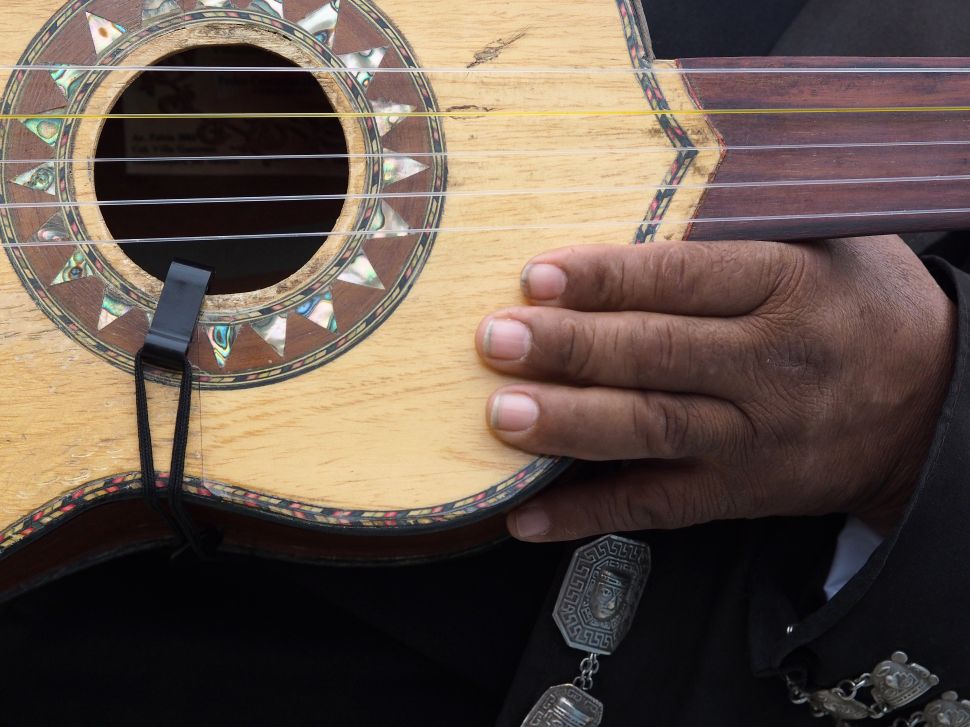 A New York City mariachi band will be taking over the law office of a white attorney who insulted two Spanish-speaking women restaurant workers.
New York lawyer Aaron Schlossberg, of the Law Office of Aaron Schlossberg, Esq. PLLC, yelled at the workers at Fresh Kitchen in Midtown Manhattan for speaking Spanish and threatened to call U.S. Immigration and Customs Enforcement (ICE) on them, as first reported by Gothamist on Wednesday. The video was posted by Edward Suazo on Facebook. Schlossberg has reportedly been seen at rallies in support of President Donald Trump.
[protected-iframe id="dcfec188e3e30f5af48986e8cfbe85fd-35584880-133125669″ info="https://www.facebook.com/plugins/video.php?href=https%3A%2F%2Fwww.facebook.com%2Feddiesuazo16%2Fvideos%2F1637928712991933%2F&width=350&show_text=false&height=625&appId" width="350″ height="625″ frameborder="0″ style="border: none; overflow: hidden;" scrolling="no"]
A man named Mark Goldberg started a GoFundMe campaign on Wednesday, with a goal of raising $500 to send a mariachi band to cheer up the staff and attorneys at Schlossberg's law office "after a difficult day." He said any leftover money would be used to send a taco truck to provide lunch to the staff.
He also said he wants the band to sing "La Cucaracha," a traditional Spanish folk song that became popular in Mexico during the Mexican Revolution. He did not state the name of the band.
The law firm has been receiving one-star reviews on Yelp in the aftermath of the incident.
"We are requesting the band to sing the famous, endearing, and warm Spanish children song, La Cucaracha, the cockroach," Goldberg wrote on the campaign page. "We are countering hate and racism with the sound of music. Any leftover money will be used to send a delicious Taco Truck lunch to the staff and a copy of all federal and state statute mentioning undocumented immigrants do not qualify for welfare."
He ended up raising $1,094 contributed by 79 people in 14 hours. He is no longer accepting donations.
As of Thursday morning, a local mariachi band was booked, and Goldberg said the performance will be recorded "provided building security does not kick them out." And he indicated that they raised more than enough money for the taco lunch and plan to add party accessories like a piñata.
But he said he will not announce the day or time given that there are counter-protestors who want to crash it.
"We decided to not disclose the date and time since some on 4chan noticed and want to send people there on Friday to counter it," he wrote on the campaign page on Thursday at 10 a.m. "We are rescheduling and will not announce time/day. It will happen very soon. We are also checking with NYPD today if any permits are needed just in case."
Goldberg did not immediately respond to a request for comment on Thursday.
@ALT_USCIS, an anonymous Twitter account that says it is operated by a U.S. Citizenship and Immigration Services (USCIS) employee, was the one that came up with the idea. Last year, the U.S. Department of Homeland Security tried to figure out who was behind the account.
The account also took some liberty and revised Schlossberg's website.
The video sparked outrage among New Yorkers, including elected officials.
Mayor Bill de Blasio did not directly address the matter but took to Twitter on Wednesday afternoon and said that the city's diversity "is our strength," noting that the 8.6 million people who speak more than 200 languages are "all New Yorkers" and are "all welcome here."
The New York Daily News also ran a blistering cover that included a still from the video of Schlossberg yelling at the two women with the phrase, "¡Jódete, idiota!," which means "Fuck you, idiot" in Spanish.
And this is not the first time Schlossberg has engaged in such behavior.
Last May, he was caught yelling names at pro-Palestinian protesters. And on Thursday morning, activist Shaun King posted an unedited video of Schlossberg assaulting and calling Willie Morris, a white man from Massachusetts, "an ugly fucking foreigner" on the sidewalk of Fifth Avenue. On Wednesday, Morris told Fox 5 about the encounter.
On Friday afternoon, Latinos For Revolution, Viva Bernie 2020, Millennials for Revolution and Unofficial: DNC will be holding a "Latin Party" outside of Schlossberg's office.
"Assuming all Spanish speakers are undocumented is not only ignorant but a little sad," the event description reads. "It's also a little sad that Mr. Schlossberg thinks all Hispanics are on welfare. However, Hispanics are not sad people, and we will gladly educate you on our culture and language by throwing a big fiesta outside your office!"
Unofficial: DNC expressed excitement about the mariachi band.
"Looks like we are having a Mariachi…….and a TACO TRUCK!!!!!," the group wrote. "Y viva Jalisco!"