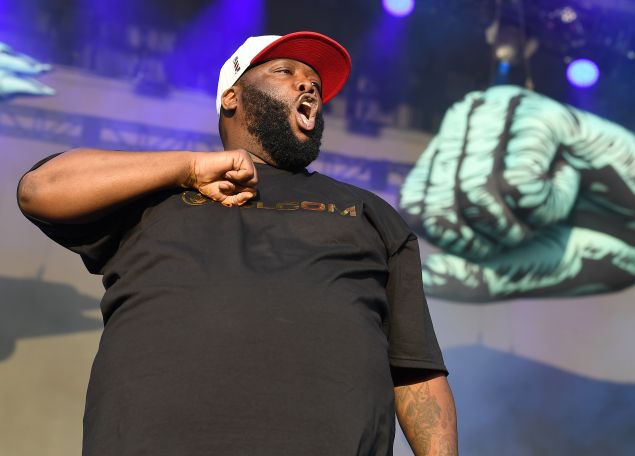 Killer Mike, half of rap supergroup Run the Jewels, doesn't want you to call him Killer Mike when he's not rapping. He's "only Killer Mike when he's on a stage." Otherwise, it's Michael Render.
The internationally known rapper recently said as much, during an appearance on Joy Reid's MSNBC show, after apologizing for a misunderstanding that seemingly turned the world against him for half a week.
His well-spoken apology was necessary. He'd wrongly interpreted Reid's Instagram use of the initialism "H&M" for an endorsement of the clothing chain H&M, which was accused of racism and boycotted after a young black boy was recently seen at its online store, modeling a green hoodie that read "Coolest monkey in the jungle," on its front.
To Mike, still probably smarting from Reid's recent public criticism, it must have looked like hypocrisy, and a chance to get some payback. So he chided her in a subcomment, but Reid was actually referring to "hair and makeup," and made this clear in a reply comment, which instantly made him appear out of touch at best, petty at worst.  
The timing didn't help. It had been about a week since he'd received massive backlash and issued a public apology after appearing in a video interview with NRA TV's Colion Noir, sharing passionate pro-gun-ownership views. It's no secret that Mike is a Second Amendment proponent, but the curious timing of the video's release (the same day as the March For Our Lives rally) ensured controversy, as people were still reeling from the Parkland school shooting. The result was Mike finding himself in traditional and social media's public-shaming crosshairs, kinda like that famous Public Enemy logo. Still standing defiantly, with crossed arms, except in this case it was self-inflicted character assassination.
It was far from the first time he's courted controversy. He's delivered legitimately jaw-dropping verses on his albums, such as, "A pope is a fraud / A church is a lie / A queen is the same damn thing / You should pray to your fake god that she die." Lines like these are what Long Island rapper Keith Murray once called "intellectual violence." Classic hip-hop fans love it, and Mike's got plenty. But that's Killer Mike, the rapper. In the real, Michael Render world, Tweets and subcomments can last much longer than the hype around good music. And without a beat behind them, controversial statements can get you in trouble. People think Killer Mike is cool. But this new guy? Michael Render? We'll see.
True to his name, he's always been a natural-born killer on the microphone. He's also wildly underestimated for his tactical understanding of how to inspire actual activism. He and T.I. are official advisors to recently elected Atlanta mayor Keisha Lance Bottoms, and both got lots of credit for getting out the vote on Election Day. The two men also led a boycott of Atlanta restaurant Houston's after word spread of alleged racist treatment of customers (Mike himself apparently had a problem there in 2015). The boycott ended March 1; a month later the Lenox Road location Mike and T.I. focused on permanently closed. The company says the closure was unrelated.
Killer Mike also directed African-Americans to move their money to black-owned banks in 2016, to make an economic statement on police shootings of unarmed black men. The call-to-action resulted in more than a million dollars moved to institutions like OneUnited and Atlanta-based Citizens Trust.
Killer Mike is powerful. And while Michael Render is certainly worth listening to, his platform is stronger because his rap alter-ego's fortunes have dramatically changed since joining forces with Jaime Meline, otherwise known as New York rapper El-P. Meline produced Mike's pivotal R.A.P. Music album, and became his partner in Run The Jewels, a two-man group that functions like a modern-day Public Enemy. And RTJ is doing very well these days, making money and building influence with grimy, revolutionary music, world tours, and a variety of endorsement opportunities, in television (ESPN's NFL playoff commercials, HBO's Silicon Valley), movies (Baby Driver), video games (FIFA '18), and other major brands (Goose Island Beer Co., Lexus). Mike also got lots of attention for endorsing Bernie Sanders. After 18 years of being underappreciated, he finally has a yuge, hard-won following of folks who want him to win.
That includes Kendrick Lamar, considered by many to be the best rapper alive. And though Pulitzer-Prize-winning emcee Lamar displays humility in real life, he hasn't always been, ahem, humble towards his rap contemporaries. You may recall this guest verse on Detroit rapper and Kanye West protegé Big Sean's song "Control," in which he put several respected rappers on notice that he was better than them. Yet on his song "Hood Politics," from his pivotal album To Pimp a Butterfly, Lamar conceded that there was one previously unmentioned rapper he respects: "Critics wanna mention that they miss when hip-hop was rappin' / Motherfucker, if you did, then Killer Mike'd be platinum!"
It was almost like Kendrick was creating a new litmus test for fans of true hip-hop. You say you support the culture? Prove it: Make Killer Mike rich, because he's awesome. But just after those two rap "bars," Lamar also said, "Y'all priorities fucked up / Put energy in wrong shit."
That last line wasn't originally intended for Killer Mike, but could apply to this situation as much as those fair-weather fans. Yep, they should be buying his songs and albums; maybe then Mike would focus more on rap than creeping on Joy Reid's Instagram. And maybe locking in on his exceptional talent as a rap artist is the best move right now, as he's finally finding commercial success as a decidedly anti-crossover rapper. Because it seems to me his attempts at retaining a national media presence between recording music are the biggest threat to him reaching the next level, if that's where he wants to go.
Killer Mike didn't build a career on Twitter. He's an "underground" hip-hop hero, regarded as one of today's most politically adept musicians. He's demanded respect as a lyricist since first showing up in hyper-aggressive form on OutKast's 2000 album Stankonia. He shined again a year later, winning his first Grammy for the 2001 OutKast song "The Whole World," which proved that his bouncy, flippable rhyme flow could hang with the Big Bois (and Andre 3000s) of the world.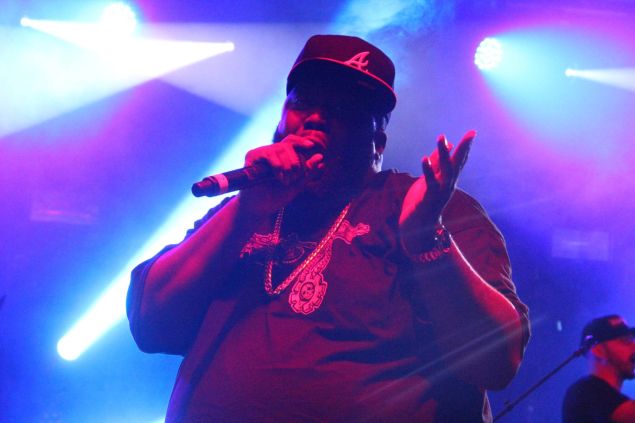 He's a man of the people, a proud representative of Atlanta's pre-gentrification westside, and a noted activist who regularly speaks on issues affecting African-Americans. There's part of me that appreciates his remove-the-middleman strategy of social media availability (especially since I've gotten him to retweet me). Plus, as a black journalist, I've noticed that sometimes, when black artists get non-black PR, only a certain class of journalists at a certain class of national media, can get stamped-out sentences to quote in stories. I'll take what I can get.  
I'm not saying Killer Mike should shut up and rap. Laura Ingraham's "shut up and dribble" comment to Lebron James and Kevin Durant is an example of society's insistence that black men stay silent in their assigned places of privilege or be seen as unappreciative. It's an interesting, Tetris-like phenomenon: A famous and successful black man pivots or rotates himself out of some designated orientation and someone else's control, and when he lands in a way that doesn't fit into the groove, a whole lot of problems stack up.
And his rap career has certainly had peaks and valleys, so I can't fault him for going as hard as possible while he has our attention. He once told Creative Loafing Atlanta he could make $50,000 a year as an underground rapper, and seemed totally fine with that. I remember having a lot of respect for that statement. "Getting it how you live," as they say, is more of a marathon, than a sprint.
But then again, less than 10 years ago, Killer Mike wasn't even sure he was Killer Mike. In 2009, he briefly changed his name to Mike Bigga, saying he'd been reading comments on sites like AllHipHop, who wondered why he had such a hard time finding success. "I don't suppose the name Killer Mike be holding him back," he quoted some anonymous source from some random, unnamed website's chat room. "You can't get corporate sponsorship with that." I'm glad he quietly changed it back—fans like me were invested in the name Killer Mike. Besides, who cares about corporate sponsorship, when you're the hip-hop Robin Hood, stripping the rich of their jewelry?
Maybe he's ready to move on to something bigger than Killer Mike, but the truth is that the world didn't want Mike Bigga, and it's not 100 percent sure it wants Michael Render just yet. But it definitely wants Killer Mike, a bold and talented rapper who might not realize just how big he now is. And he's only gonna get bigger, as long as he refrains from pointing those two fingers at himself, hijacking the hard-won opportunity that finally found itself in his fist.
This is all to say that I'm a big fan of Killer Mike. I know the real person is Michael Render, and I'm totally fine letting one take my money while the other plots his next move. But a fan has to wonder how good Run The Jewels 4 or his next solo album will be if he's too distracted by social media to see the big picture, which could be his potential future as Michael Render, a member of the Atlanta Board of Education.
I hope he can simultaneously make awesome rap songs if he decides to stay active on social media. I hope he understands that my criticism comes from a place of respect and genuine concern. And I hope this all results in a greater understanding of who he is, and the larger leadership role he seems destined to take, no matter what he calls himself. Not to sound like Laura Ingraham, but it's probably a great time to refocus on music and true leadership, instead of things that could paint him as an opportunistic social contrarian seeking political influence. I don't want Killer Mike to shut up and rap. I want him to be as smart as Michael Render really is about where he's using his voice.
Real people, famous and otherwise, have flaws. Rappers, when they're at the top of their game, are invincible. And I don't know what it's like to be in a position of that much power and influence, but I know what it's like to blow an opportunity because you're too distracted to see what's in your hands. Killer Mike is undeniably one of the best rappers alive, but even rappers have to know when to take the jewels and run.