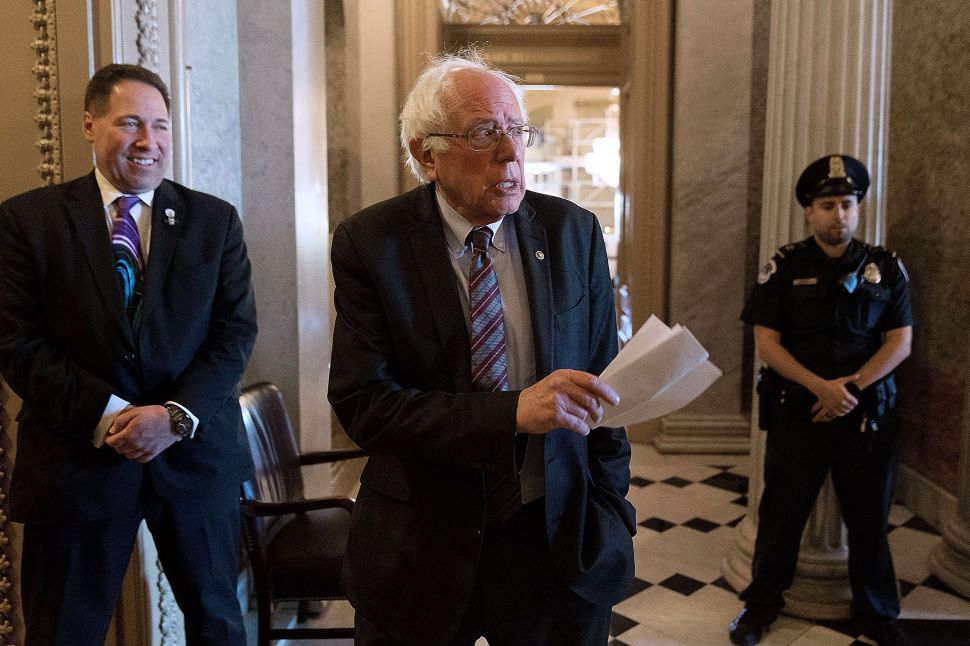 Conspiracy theorist and steroid snake oil salesman Alex Jones antagonized Bernie Sanders at Los Angeles International Airport, further distorting our norms over what is real and what is satire.
"Well if it isn't old Bernie Sanders," snickered Jones in a video uploaded to the fringe website Info Wars on Monday.
"Dude. No. Not Right now," one of the former presidential candidate's aides responded, throwing his body in front of Sanders like a human shield.
"Let me guess, you guys aren't flying first class, are you?" sniped Jones in his signature raspy drawl.
https://youtu.be/NiEGYF2BwHQ
For eight minutes, Jones and an Info Wars host sputtered off insulting attacks masquerading as questions like, "Mr. Sanders why do you think socialism works better than capitalism and why do you live in a capitalist country?" and "Do you enjoy living in million dollar vacation houses?"
"You going to apologize to the Sandy Hook families?" quipped the embattled aide in reference to the time Jones alleged the survivors of a school shooting were part of a government conspiracy.
"Karl Rove didn't run like this. He would at least have a conversation with me," Jones told the camera in reference to the time he bumrushed George W. Bush's aide Karl Rove at the 2016 Republican National Convention.
As Sanders boarded his plane, a Sanders "minion" blocked Jones from continuing his attacks.
"You deny Sandy Hook… And you're giving him a hard time?" said the citizen hero before calling Jones an "idiot."