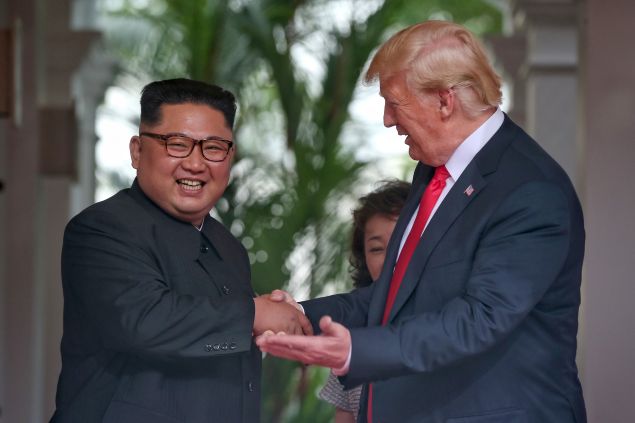 Melissa Hanham had exactly 19 minutes to talk, and then she had to get to another interview. As a senior research associate at Middlebury's Center for Nonproliferation Studies, Hanham is one of the country's foremost experts on North Korea's nuclear weapons program, an area of expertise that's been in high demand recently.
This week, President Donald Trump waltzed into the Capella Hotel in Singapore and shook hands with North Korean leader Kim Jong-un. Trump is the first U.S. president to ever meet a North Korean leader, and he didn't stop there: The two parties signed a vague document that… well, doesn't mean a lot. For almost an entire news cycle, reporters took endless live shots outside the Capella and 24-hour cable channels fought over every analyst with related credentials to give some sort of context to the summit (Hanham got drafted by CBS News, among others).
So Hanham's been busy. But at this point, she and many of her colleagues aren't even sure what they're supposed to say. Trump's foreign policy makes so little sense that the experts are pretty much ready to give up.
"What happened yesterday was like nothing else that has happened before," Hanham told Observer. "Other kinds of experts—ones that my heart goes out to—who examine the man, the myth, the leaders of North Korea and the U.S…. they probably have more to contribute to this discussion than I do at this point."
Part of this is because most experts have no idea what the hell is going on. John Wolfsthal, a scholar at the Carnegie Endowment for International Peace's Nuclear Policy Program, wrote a column on the subject in the New Republic on Tuesday entitled "What Just Happened?" Wolfsthal, to his credit, sort of answered his own question. To back up, here's generally what went down.
Trump and Kim shook hands in a big, showy ceremony, and then sat down privately to talk about the relationship between the two countries, which largely centers around North Korea's nuclear weapons program. The two leaders' relationship prior has been rocky to say the least, like if James and Lala on Vanderpump Rules were packing nuclear weapons instead of "pasta," and at some points has held the threat of real, thermonuclear violence. But against all odds (and National Security Advisor John Bolton's wet dreams of re-invading the Korean peninsula), Trump and Kim managed to actually speak to one another. Part of Trump's sales pitch for peace included a strange, inspirational YouTube video produced by the National Security Council that aired after the handshake. At one point, former NBA-star Dennis Rodman, a friend of both leaders, cried on CNN while wearing a MAGA hat and a shirt advertising a marijuana-based cryptocurrency. It was a weird day.
To nuclear analysts, the most significant part of the summit was the two leaders signing a document that signified some sort of agreement on how things would be going forward. Unfortunately, Wolfsthal writes, the document "has no details, no specifics, and kicks any commitment to concrete steps down the road."
"What happened yesterday was not an agreement to dismantle North Korea's nuclear weapons. It wasn't even a plan to dismantle their nuclear weapons," Hanham said. "I'm only 38, so I'm having a hard time drawing upon any historical moments that would help me better contextualize what happened last night."
The only nuclear-relevant line of the "agreement" states that the DPRK reaffirms a decision Kim Jong-un made in April to "completely denuclearize" the Korean peninsula. Experts have been tearing their hair out for months, because neither side will coherently define what "denuclearize" means.
And right now, the Korean peninsula is anything but. The DPRK's Hwasong-15 missile is an intercontinental ballistic missile capable of reaching the U.S., and Hanham and her colleagues are certain the regime has the technology necessary to stick a nuke on it. North Korea's flurry of tests in late 2017 effectively proved that it had the technology, and Hanham says that absolutely nobody expects them to just give it up. Analysts were hoping Trump and Kim would put together a clear joint statement that detailed how the two parties would work toward dismantling the DPRK's nuclear program and achieving peace. What they got was… not that.
"Taking apart nuclear weapons is important and difficult, and it should be taken seriously," Hanham said. "I tried very hard to be optimistic, like, that this would be the first step in a long, long process, but, Trump and Kim set the room on fire [in earlier diplomatic fights], and then we all applauded when they didn't set the next room on fire?"
The sheer confusion and chaos of the event eventually started to break people down. Hanham's team at the Center for Nonproliferation studies live-tweeted the whole thing. They ate pizza and despair enchiladas when things really stopped making sense.
At one point, Trump expressed a desire to stop participating in military exercises with South Korea, and even remove U.S. troops from the Korean peninsula—two moves that could be seen as major concessions to the North Korean regime.
Jeffrey Lewis, the director of CNS's East Asia nonproliferation program, started making a themed cocktail called the "Singapore Sling," and flirted with the idea of bashing his head into a wall.
To be fair, much of this behavior is tongue-in-cheek, black humor used to defuse days of constant stress. Hanham and her colleagues in the academic and nongovernmental arms control community are still paying sharp attention and are still extremely well-informed and insightful. But in the age of Trump-diplomacy, they can't help feeling like they're shouting into a void.
"Honestly to me, an expert on WMDs, it's like nothing matters anymore," Hanham said. "It doesn't matter how we prepare, how we inform people. It doesn't matter what recommendations we make. It's frustrating. The thing I'm working toward is just waiting him out. Hoping we'll stave off a crisis worsening."